The drought of 2012 that lifted the prices of corn and soybeans to all-time highs and caused wheat to trade at dizzying heights has faded in the market's rear view mirror in recent years. Bumper grain crops for three straight years caused the prices of all three major grains to plunge.
Commodity bear causes problems for commodity giant
Meanwhile, grains are not the only commodities that have suffered from falling prices since 2011/2012. A secular bear market in raw material prices accompanied the slump in agricultural commodities, with the prices of metals, minerals, and energy commodities all falling to multi-year lows over recent months. This has been bad news for major commodity producing and trading companies. Glencore (OTCPK:GLNCY) (OTCPK:GLCNF), the largest commodity producing company in the world and an aggressive trader of raw material assets, has seen the price of its shares swoon. In response, the company has cut costs and imposed measures to reduce debt over recent months. Building its cash position to survive bear market conditions has become a strategic goal for the company. Glencore was laden with debt as a result of its takeover of Xstrata at the height of the commodity bull market. They bought the highs.
Selling an asset to pay down some debt
In a recent move, the commodity trading company announced that it is likely to sell a 40% stake in its agricultural unit to Canada's largest pension fund for around $2.40 billion. The sale is part of a company-wide debt reduction program announced in September by CEO Ivan Glasenberg and is expected to be completed during the first half of 2016.
Canada Pension had been in competition with the state-owned Saudi Agricultural and Livestock investment Company for a piece of the Glencore asset. The Saudis are looking to diversify away from oil, but it appears that the Canadians beat them out in this case. Interestingly, Glencore purchased Canadian grain handler Viterra Inc. in 2012 for $4.6 billion, making the Swiss-based commodity trader a major player in the agricultural markets in Russia, the EU, Canada and Australia.
Selling the low in grains?
With grain prices at or near multi-year lows, it begs the question of whether Glencore is selling the lows in agriculture. The price of soybeans reached highs of $17.9475/bushel in 2012.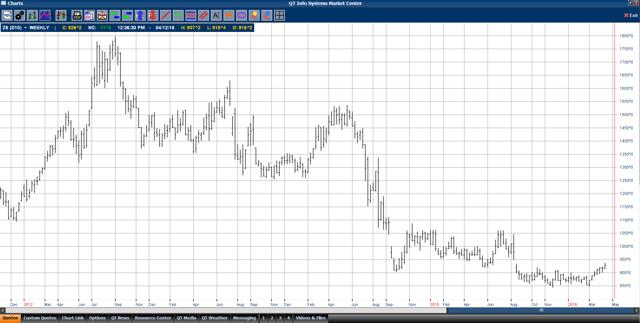 As of Tuesday, April 12 active month May soybeans were just under $9.30 per bushel after reaching lows of $8.73 in late November 2015.
The price of corn peaked at $8.4375/bushel in 2012.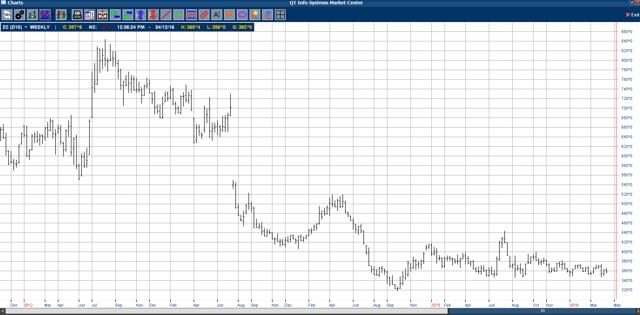 On April 12, the price of May corn futures stood at $3.57 per bushel after reaching lows of $3.1825 in 2014. Corn is less than half the price it was in 2012 and not far from the 2014 lows.
The price of CBOT wheat has plunged from highs of $9.4450/bushel in 2012.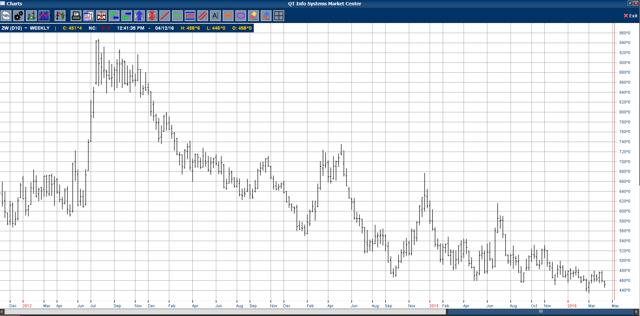 Wheat was trading around $4.51 per bushel on April 12. Like corn, it is less than half the price it traded at in 2012.
Buying the highs and forced out at what could be important lows
In 2012, Glencore purchased Viterra at a time when grain prices were making highs and they paid a pretty penny for the company. Now, they are selling a huge stake in that agricultural business in an environment of bargain basement prices for grains. If Glencore bought the highs in the agricultural sector, are they now selling the lows?
There are some clues that this may indeed be the case. Grain markets are fickle; the most important determinant of prices each year is the weather. After three straight years of supplies adequate to meet global demand, prices have fallen dramatically. While inventories of corn, soybeans and wheat remain at levels that will weigh on price in the immediate future and we could see the fourth year of bumper crops in 2016, there are no guarantees. Demographics point to a bright future for the grain sector. Each year, there are more mouths to feed around the world as the global population continues to grow. In 1960, there were less than 3 billion inhabitants of planet earth; in 2016, there are more than 7.3 billion people around the world.
The production of agricultural commodities is limited to the amount of arable land and available water to grow crops each year. While enhancements in farming technology have improved crop yields, there remains a ceiling on annual yields. Moreover, Mother Nature has the ultimate say over annual supplies each year, as we saw in 2012 when drought conditions in major growing regions caused prices to skyrocket. Global population is now higher than it was in 2012, suggesting similar crop issues could cause higher highs for agricultural prices in the future.
Additionally, the current trend in the U.S. dollar is supportive for grain prices as we head into this year's crop year. A lower dollar is historically bullish for grains as well as other commodity prices. On Tuesday, April 12, the price of the active month May CBOT soybean futures traded to highs of $9.3725 per bushel. That was the highest price since August 2015. Corn plunged at the end of March, but the price has recovered. Grain prices are currently at levels that are close to breakeven levels for farmers. This could mean that prices are close to or have reached important lows and are preparing to move higher.
Glencore, by virtue of massive debt and overextension, is selling a big part of their agricultural business at this time. They seem to be holding on to 60% of that business as they know that this business will yield profits in future years. However, given the levels of debt for the company and investor confidence, they have to improve their position in case of further bear market action in commodity markets.
At some point, crop yields will suffer once again as a result of cyclical weather patterns. Demographic trends promise to cause competition for food to result in prices revisiting and perhaps surpassing all-time highs in the years ahead. Glencore's purchase of Viterra came at the highs in grains; the sale to Canada Pension could be signaling an important low for agricultural prices. This could mean that this is a great time to add agriculture to your portfolio.
Disclosure: I/we have no positions in any stocks mentioned, and no plans to initiate any positions within the next 72 hours.
I wrote this article myself, and it expresses my own opinions. I am not receiving compensation for it (other than from Seeking Alpha). I have no business relationship with any company whose stock is mentioned in this article.
Editor's Note: This article covers one or more stocks trading at less than $1 per share and/or with less than a $100 million market cap. Please be aware of the risks associated with these stocks.