The takeover battle for Starwood (HOT) has implications for the broader hotel industry. The industry will see more consolidation and this will certainly not be the last attempt by a major Chinese company to acquire leading global hotel brands.
The one point that's clear from the Marriott (NYSE:MAR) and Starwood transaction is that size does matter in the hotel industry. The rationale for Marriott's takeover of Starwood is driven by the need for leverage with online travel agents and to be a more impactful with customers by offering a powerful global loyalty program.
Hotels Ranked by Number of Rooms as of 1st Jan 2016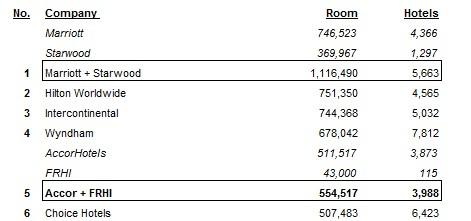 Source: Accor filings and investor presentation
In light of the recent transactions, the one company that jumps out is Accor (OTCPK:ACRFF, OTCPK:ACRFY), which is not only in the process of a significant operational turnaround but also has seen a significant stake of about 12% being acquired by a powerful Chinese company, Jin Jiang International, which is backed by a Shanghai based state-owned enterprise.
Accor operates a large portfolio of well-known hotel brands in the luxury (Sofitel, Pullman, MGallery by Sofitel, Grand Mercure, The Sebel), midscale (Novotel, Mercure, Mama Shelter, adagio), and economy (ibis) segments.
Since 2013, Accor has reorganized its business in two distinct areas of expertise: operator and franchisor, HotelServices; and owner and investor, HotelInvest. The HotelInvest hotels are managed by HotelServices under management contracts. The transformation of the business under the new structure is proceeding well, with a number of initiatives on track to driving superior performance. The market significantly undervalues the opportunities.
HotelInvest
As of the 31 December, HotelInvest operated 1,288 hotels of which 331 were owned and the remaining were operated under fixed and variable leases. Accor embarked on the restructuring of HotelInvest business in 2013. The key pillars to the restructuring plan were to reduce the lease portfolio and to keep owned hotels that met performance thresholds. The management has set itself the target of achieving 75% of NOI (Net Operating Income) from owned hotels.
In 2012 Accor generated about 50% of NOI from owned hotels. As of 2015, about 60% of NOI was generated from owned hotels, and despite significant exposure to Paris, HotelInvest has generated consistent improvement in operating margins. The full implementation of the transformation strategy would take another 12 to 18 months. Thus far, the company has achieved significant improvements in margins as shown below.
HotelInvest EBIT Margins 2013-2017E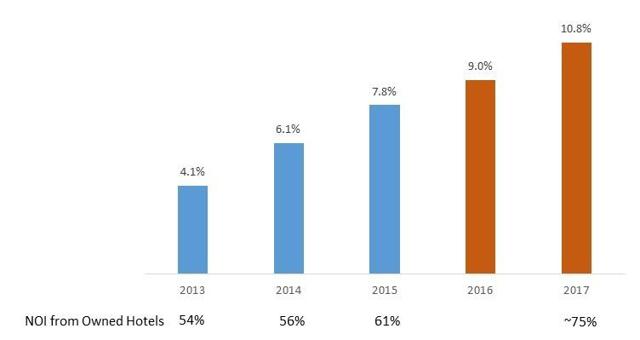 HotelServices
HotelServices is an asset light model that generates revenues from fee income. As of 31 December, it operated 921 managed and 1,664 franchised hotels (not including the acquisition of FRHI discussed below). This division continues to perform well. Operating margins have been impacted recently due to Accor's five-year, €225 million digital that was launched in 2014. The investment in the digital platform was driven by Accor's effort to streamline and personalize its communication with customers, employees and partners. This adversely impacted margins in 2015 (EUR32m impact) and will have an adverse impact (although diminishing) through 2018.
Acquisition of FRHI (part of HotelServices) - enhancing its exposure to the luxury segment and in North America
Late last year, Accor announced the acquisition of the acquisition of FRHI Holdings (FRHI), the parent of Fairmont, Raffles, and Swissôtel. FRHI has 155 hotels, of which 40 are under development. The acquisition provides Accor with significant presence in luxury hotels, a key differentiator for Hotels in the 'Airbnb world'. Accor's exposure to the luxury segment would increase to a quarter of its portfolio from 16%, pre transaction. The acquisition will enable Accor to compete more effectively with other global hotels such as Marriot & Starwood. The company expects FRHI to grow double digits, and the overall Accor platform will be more attractive to developers, enabling Accor to grow its fee based income.
The transaction is expected to close mid this year. Accor will pay for the acquisition by issuing 47 million new Accor shares and a cash payment of $840 million. The transaction multiple was rich at 13.8x 2016F EBITDA, post synergies.
Valuation
Accor trades at a valuation of 10.5x 2016F EBITDA taking into account the completion of the FRHI transaction mid this year (note that the EBITDA does not take into account the full year impact of the acquisition of FRHI which is expected to close in end June). The below table highlights the Sum-of-the-Parts (SOTP) valuation of Accor. The valuation approach is based on historical 2015 multiples and projected 2017 multiples which take into account some of the benefit of operational improvements and synergies from the FRHI acquisition. A few points that are worth highlighting:
· HotelInvest assets have an estimated gross asset value of EUR6.9bn, according to three valuation reports commissioned by the company.
· The FRHI transaction is expected to close mid this year. The analysis assumes that the FRHI transaction will be completed as planned.
· The analysis does not take into account some of the recent acquisitions and initiatives - a 30% stake in Oasis, a 49% stake in Squarebreak and onefinestay.
The below analysis shows that there is about 40% upside (based on closing share price of 4/11/2016) on a standalone basis for Accor. This does not take into account the acquisition scenario. If we assume a similar Starwood multiple for HotelServices, the likely upside could be over 50%.
Sum-of-the-Parts Valuation (EURm)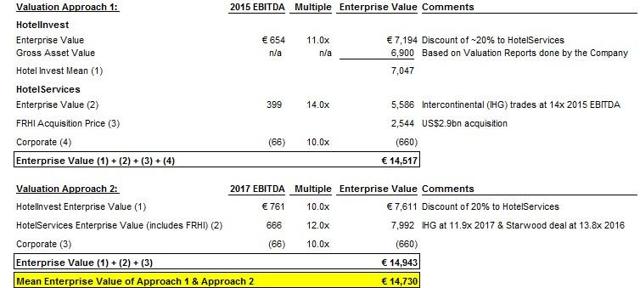 Fair Value of Accor (EURm)

Conclusion
Accor's upside is hard ignore. While the macro environment continues to be uncertain, Accor has significant financial flexibility with limited debt and an attractive dividend yield of 2.8%. Accor shares are down 26% over the last one year (as of 4/11/2016). The recent events in Europe will not make the first quarter compelling and could provide investors an even more attractive entry point. But don't wait too long, as rumors around Jin Jiang increasing its stake are already going around!
Source: Accor investor relations, financial reports and broker reports.
Appendix
Accor Historical and Projected Financial Performance (fiscal year ended December, EURm)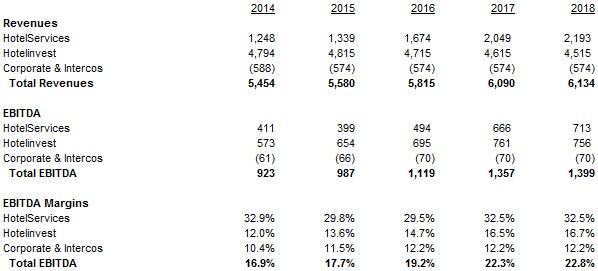 Source: Accor investor relations, financial report and broker reports.
Disclosure: I/we have no positions in any stocks mentioned, and no plans to initiate any positions within the next 72 hours.
I wrote this article myself, and it expresses my own opinions. I am not receiving compensation for it (other than from Seeking Alpha). I have no business relationship with any company whose stock is mentioned in this article.
Editor's Note: This article discusses one or more securities that do not trade on a major U.S. exchange. Please be aware of the risks associated with these stocks.