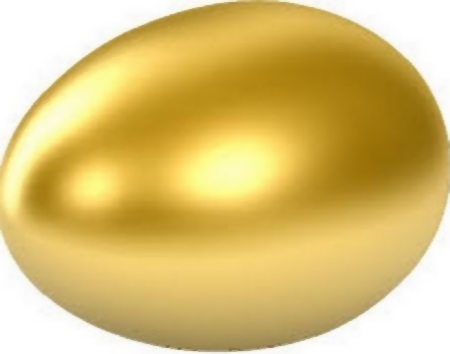 Golden Eggs.
Introduction
Every week, we closely monitor net speculative positions on the COMEX as well as ETF holdings inasmuch as the historical economic behavior of gold prices suggests that over a short-term horizon (<3 months), gold prices are largely influenced by changes in the forward fundamentals, reflected in changes in net spec length and ETF holdings.
In order to analyze more clearly the changes in net speculative positions on the COMEX and ETF holdings, we have decided to standardise the data by showing those changes in tonnes.
Speculative positioning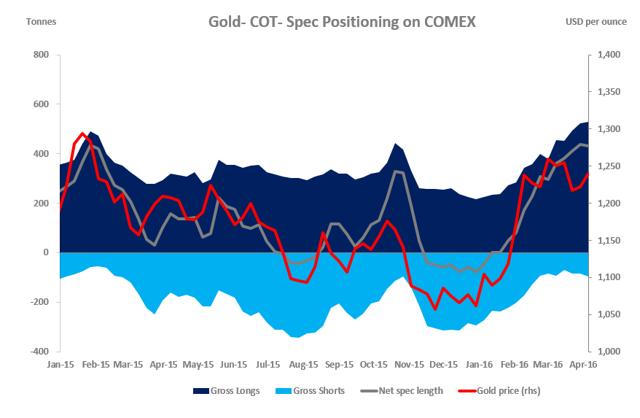 Source: CFTC.
Gold. According to the latest Commitment of Traders report provided by the CFTC, money managers, viewed as a relevant proxy for speculators, lowered marginally their net long position for the first time in 5 weeks as of April 5. Over the period covered by the data (i.e. March 29 - April 5), gold prices edged 0.79 percent lower.
The net long fund position now stands at 15.28 tonnes (152,758 contracts), down 4.10 tonnes (1,447 contracts) or 0.9 percent lower from the prior week.
The marginal deterioration in spec positioning was essentially the result of short accumulation (+11.42 tonnes w/w) that was partly offset by a relatively smaller increase in longs (+7.32 tonnes w/w).
The net long fund position remains at an extremely high level judging by historical standards. Last week, it reached its highest year-to-date level at 15.42 tonnes (154,205 contracts), breaking above its 2015 peak of 15.32 tonnes (153,237 contracts).
Gross longs: longs continue to extend further their positions, reflecting a brighter sentiment in favor of the barbarous relic. The speculators' tendency to overshoot leads us to understand that further increases in bullish bets are possible in the near-term horizon.
Gross shorts: shorts covered massively their positions in the early months of 2016, with the gross short leg as of March 15 setting at 69.24 tonnes, its lowest level since February 2015. Currently, at 96.27 tonnes, the gross short leg could continue to rise steadily in the next few weeks.
Looking ahead, we expect the net spec length could trend higher in the next few weeks because of the tendency of speculators to overshoot although we acknowledge that the speculative positioning looks quite overstretched. In the longer-term, we believe that a deflation in the net speculative length is inevitable, which should thereby lead to a temporary consolidation in gold prices. Having said that, we think that net long speculative positions will remain at an elevated level in the second quarter of the year, reflecting brighter fundamentals in the gold market.
Investment positioning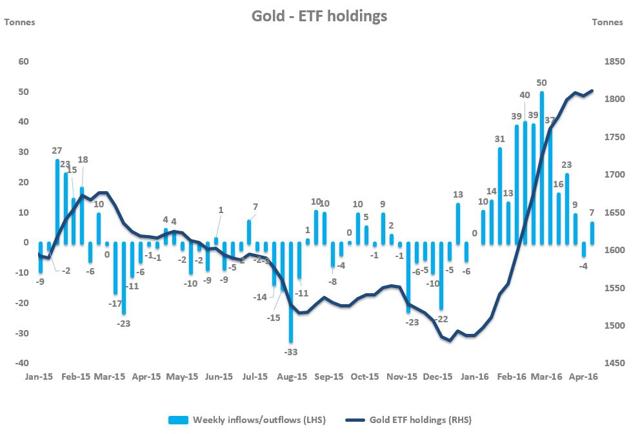 Source: FastMarkets.
Gold. ETF investors bought gold last week (April 1-8) after selling it in the previous week (March 25 - April 1) for the first time in 14 weeks. Total ETF holdings stand at 1,811 tonnes as of April 8.
ETF investors bought a total of 6.65 tonnes during April 1-8 after selling 4.22 tonnes in the previous week. ETF investors have accumulated roughly 10 tonnes of gold in April after buying 61 tonnes in March, 185 tonnes in February, and 74 tonnes in January. In the year-to-date, investors are net buyers of 330 tonnes of gold, in sharp contrast with their net selling position of 118 tonnes in 2015.
ETF buying resumed over April 1-8 because the macro environment remained supportive for gold.
Despite the release of positive US macro data, particularly the March employment report, published on April 1, which should in theory have resulted in a negative environment for gold through a stronger dollar and higher US real interest rates due to higher Fed tightening expectations, the market remained influenced by the repeated dovish stance adopted by Fed Chair Yellen. In a speech at the Economic Club of New York on March 29, she clearly confirmed her cautious attitude regarding the current monetary policy normalisation. First, she judged that the low level of inflation expectations would warrant more policy accommodation than envisaged in December 2015. Second, she indicated that given the low level of federal funds rate (FFR), the Fed's ability to respond to economic disturbances was asymmetric, in the sense, the degree of tightening (though rate increases), if conditions improve materially, is larger than the degree of loosening, (though rate cuts), if conditions deteriorate materially.
Against this backdrop, investors continued to deem the path for future rate increases very gradual, which in turn pushed the dollar and US real interest rates lower. This positive macro environment for the precious metals complex prompted investors to resume their buying, we think.
Although we maintain our view that the US economy will remain resilient and that the Fed will continue its monetary policy normalisation by raising twice its FFR in 2016 as indicated in the latest FOMC projections, we believe that the dollar and US real interest rates could continue to move lower for longer, reflecting external forces. Indeed, we believe that the macro backdrop could be challenged by growing political uncertainty in the US and the Europe, which in turn could push investors to unwind risk-friendly positions and seek safe haven assets. Under this scenario, the dollar could remain weak while US real interest rates could push lower, especially if inflation expectations start to rise, which could be likely given the strong recovery in oil prices.
Looking ahead, we expect ETF investors to continue to boost their holdings over the coming months, although we acknowledge that the pace of their buying should be smaller than in the first quarter of the year and we do not expect temporary periods of profit-taking should prices continue to move higher.
Spec positioning vs. investment positioning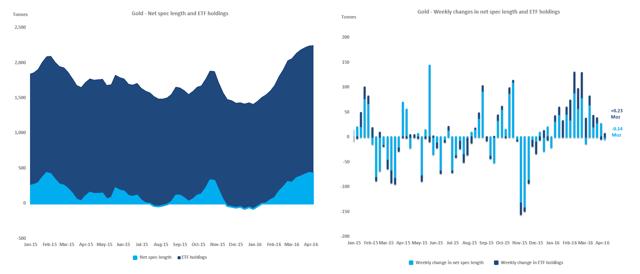 Source: MikzEconomics.
SPDR Gold Trust ETF (NYSEARCA:GLD) positioning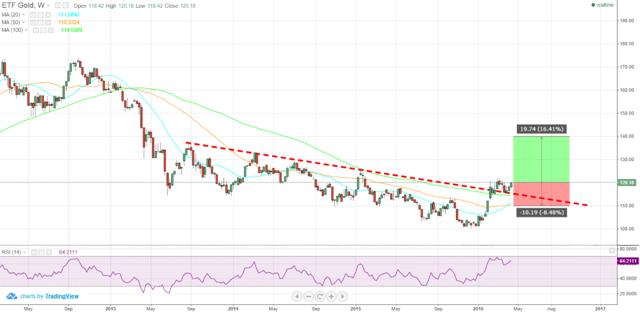 Source: TradingView.
GLD posted a positive weekly performance for the second consecutive time as of April 8.
As we correctly expected two weeks ago, the consolidation in the first half of March was technically driven and as such, transient. The recent GLD market action seems to confirm our initial intuition.
Although we expect some weakness to re-emerge in the second half of this year, we believe that GLD could spring positive surprises in the second quarter of the year. That said, we acknowledge that upward pressure should not be slower than that seen in the first quarter. In this regard, a potential trade idea could be to implement a long GLD position, with a stop-loss at 110 and a reward at 140, thus providing reward to risk ratio of 1:2.
To sum up, we have decided to revise upwardly our forecast for the second quarter but maintain our bearish bias for the second half of 2016. Over the long-term (i.e., 5+ years), we insist that we are friendly toward GLD, as we wrote in The Rational Reason to Be Bullish on Gold back in October 2013.
About: SPDR Gold Trust ETF, Includes: PowerShares DB Gold ETF (NYSEARCA:DGL), VelocityShares 3x Inverse Gold ETN (NASDAQ: DGLD), DB Gold Double Long ETN (NYSEARCA: DGP), DB Gold Short ETN (NYSEARCA: DGZ).
Disclosure: I/we have no positions in any stocks mentioned, and no plans to initiate any positions within the next 72 hours.
I wrote this article myself, and it expresses my own opinions. I am not receiving compensation for it (other than from Seeking Alpha). I have no business relationship with any company whose stock is mentioned in this article.