In January, Mark Fields, the CEO of Ford Motor Company (NYSE:F) announced that he has created a new division within the company. This new "smart mobility" division was given the task of expanding Ford's revenue stream beyond the production and sale of motor vehicles. The transportation market is rapidly transforming. Uber (UBER), Lyft (LYFT), Tesla (NASDAQ:TSLA), ZipCar and others have revolutionized how Americans get from point A to point B. Can "smart mobility" revitalize Ford?
A gauge of investor trust called the Thomson Reuters MarketPsych Indices indicates investors have lost faith in Ford's ability to transform itself. Moving averages of trust expressed in the media around Ford, the company's products, and its management team, show a recent downturn in trust. The following chart demonstrates 30 and 200-day averages of investor trust - expressed in news and social media - about Ford. The 30-day average of trust is nearing its 2016 lows.
The Thomson Reuters MarketPsych Indices (TRMI) are the world's most comprehensive finance-specific sentiment data. The TRMI data is produced by quantifying sentiment references to tradeable assets across thousands of news and social media articles obtained in real-time. Emotions (fear, uncertainty, trust, etc.) and financial topics (price direction, earnings forecasts, etc.) in the media are quantified and converted into a time series. 130 countries, 30 currencies, 34 commodities, 62 equity indexes, and over 8,000 global equities are covered. The TRMI data is used by large hedge funds and banks for the augmentation of trading strategies, research, risk management, and macroeconomic forecasting.
The monthly TRMI trust value has shown predictive value over U.S. stock prices since the financial crisis. The results of a cross-sectional study leveraging the Trust TRMI data can be seen below. The study first selected the 100 stocks most widely discussed in the media over the past one month. It then ranked these stocks by their level of trust over the past one month. It simulated an absolute return strategy in which it went long the 20 least trusted companies and shorted the 20 most trusted. It ranked and repeated this arbitrage every month, generating the following equity curve.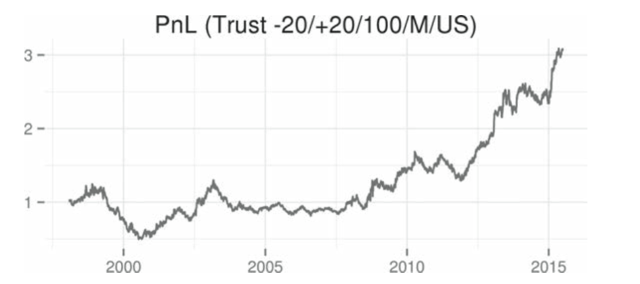 Historically, low-levels of monthly trust have, on average preceded positive price outperformance.
Our new book, Trading on Sentiment: The Power of Minds Over Markets (Wiley, 2016), explains how some media sentiments and topics create such trading opportunities.
The "smart mobility" division is located in Silicon Valley, where many large transportation service companies are located. Yet the division has been restricted to work only with Ford. The Verge's Chris Ziegler asked Fields if he could "see this [subsidiary] serving other automakers?" Fields' response: "No. We want it to be dedicated to Ford." He goes on to describe the relationship visually, "through an infinity symbol. We have the core over here and we have Ford Smart Mobility over here, one can help reinforce the other."
Since the start of 2016, Ford share prices have already slipped over 9.5%. This is part of a larger price decline which has been going on since the beginning of 2014. New, innovative companies are nibbling away at Ford's market share and Ford has yet to step up to its competition.
With such corporate obfuscation planted in the Darwinian culture of Silicon Valley, investors are rightly skeptical. While the trust sentiment data indicates a short-term bounce is in store for Ford stock, longer term Ford's corporate structure unlikely to keep pace with its nimbler Silicon Valley competitors.
Disclosure: I/we have no positions in any stocks mentioned, and no plans to initiate any positions within the next 72 hours.
I wrote this article myself, and it expresses my own opinions. I am not receiving compensation for it (other than from Seeking Alpha). I have no business relationship with any company whose stock is mentioned in this article.