History tends to repeat itself, and with AMD (NASDAQ:AMD) earnings coming up on April 21st we can expect one of two things. AMD's share price will either stay the same or it will drop precipitously. Companies really only have two approaches when it comes to earnings reports they can either sugarcoat things or give it to you straight. Here's what AMD had to say about Q1 in their most recent earnings report.
"For Q1 2016, based on a 13-week quarter, AMD expects revenue to decrease 14 percent, plus or minus 3 percent, sequentially."
Even that poor guidance cannot have taken into account the recent press release by Gartner indicating that worldwide PC sales in Q1 2016 were down 9.6 percent from Q1 2015.
Having no way to accurately predict that PC sales are going to improve in the near term, and also being likely to miss the already poor guidance given out in the previous earnings report, April 21st will likely be a bad day for anyone holding AMD shares. In essence, it's likely to be a repeat of what happened surrounding the Q4 2015 earnings announcement. Let's look at the share prices and try to surmise what was going through the minds of investors.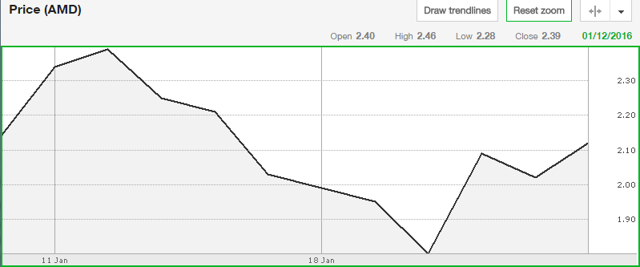 Jan 12: One week before earnings, AMD peaks due to investors' false confidence despite poor PC sales and previous consecutive losses.
Jan 13-18: AMD returns to its normal $2 level as investors realize earnings can do nothing but disappoint.
Jan 19-20: Earnings are released AH and stock plummets, while opportunists pick up shares knowing they will likely gain value with new product releases.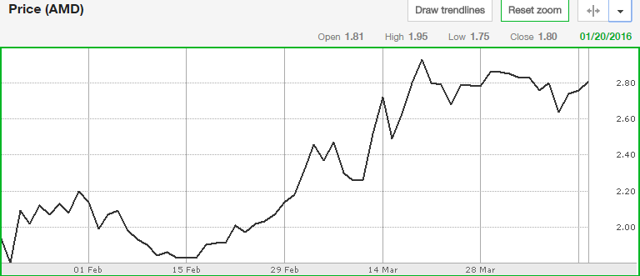 So, what happens next? First off, it's important to note that nothing has changed since the last earnings report. There were some new product releases and investor confidence has been boosted, but very soon history is going to repeat itself. If you own AMD stock I predict you have about two days to sell it.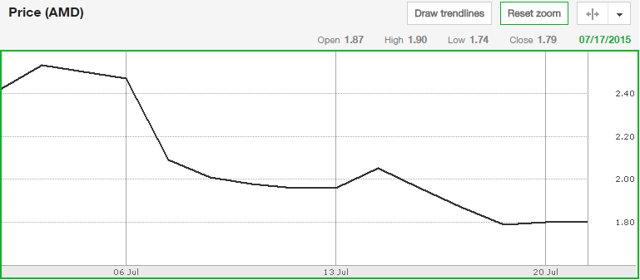 Does this look familiar? It should - it's AMD's stock price surrounding a disappointing earnings report. The prices are nearly identical, though the timing is a little different from the report released in January.
July 6: 10 days before earnings, prices are high due to investors' false confidence.
July 7-15: Share prices fall precipitously as investors realize earnings will be terrible.
July 16: Earnings are released and share prices bottom out.
The story has a second part, though. Just as has happened recently with AMD's share prices, following the July drop, the extremely oversold shares recovered a substantial amount of their value, such that anyone buying on the dip saw large percentage increases in the value of AMD over a short period of time.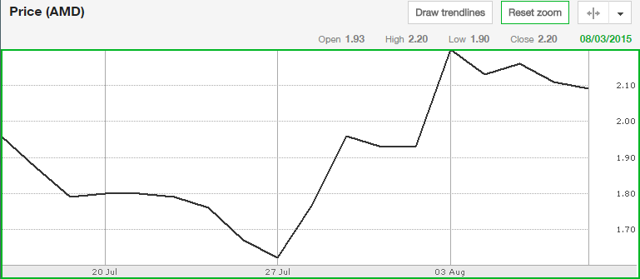 For those of you who are comfortable with the risks associated with shorting a stock, AMD provides an excellent opportunity. It is highly unlikely that AMD will provide strong guidance for Q2 given the continuing decline in PC sales, and AMD's share prices have clearly reached a peak value. History has shown that AMD share prices decline around the time when earnings are announced and rebound quickly thereafter. There are risks involved, but AMD is a company that struggles against strong competitors in the graphics card (NASDAQ:NVDA) and chip-making (NASDAQ:INTC) departments, both of which have much larger market shares and market caps than AMD.
Disclosure: I/we have no positions in any stocks mentioned, and no plans to initiate any positions within the next 72 hours.
I wrote this article myself, and it expresses my own opinions. I am not receiving compensation for it (other than from Seeking Alpha). I have no business relationship with any company whose stock is mentioned in this article.
Additional disclosure: I closed a position in AMD this morning.