Newly crowned Canadian Prime Minister Justin Trudeau sent marching orders to senior lieutenants just now to make Kinder Morgan's (NYSE: KMI) Trans Mountain pipeline expansion a reality. Trudeau's edict may have seemed like news to the casual observer, yet nothing could be further from the truth. It has long been known Trudeau backed the pipelines. In fact, some say he was elected for his ability to woo the opposition. These developments reminded me of a cogent maxim my father instilled in me. Never count your chickens before they hatch. Here's why.
What happened?
A recent story out reported Trudeau has been convinced by his Finance Minister Morneau and other influential voices that the pipelines must be built to achieve ambitious economic growth targets. This sent Kinder Morgan's stock flying nearly 5% on Tuesday as the news broke. Many outlets stated this was a new policy. This is not the case for avid followers of the situation. Let me explain.
The young Trudeau's position that Canada has no future without oil is well known and well documented. He supported the Keystone XL pipeline, and explicitly stated that no country that found 170 billion barrels of oil would leave it in the ground.
Nonetheless, his latest proclamation does carry weight. The problem has always been how the Liberals can sugarcoat the pipeline pill so the British Columbia greens will swallow it. According to the rumor mill, Christy Clark's B.C. Liberals hold the keys.
Clark holds the keys
The first test will be the Trans Mountain Pipeline expansion application approval. The application is currently under review by the National Energy Board with a final decision expected by Christmas.
It is a well-known fact Christy Clark's B.C. Liberals will need to be persuaded. Clark opposes the Kinder Morgan expansion. Even so, the pipelines may become a reality if the proposed projects can jump through all of Clark's hoops. Clark suggested five requirements need to be fulfilled to win her approval. The requirements basically come down to ensuring B.C. gets its fair share of the spoils and a world-leading marine oil-spill response, and prevention and recovery systems for B.C.'s coastline and ocean are deployed. Sounds like a costly walk in the park to me.
My take
I believe the Trans Mountain pipeline will get approved and completed at some point. As Trudeau noted, Canada is a resource country. They would be fools not to reap the rewards of the oil sands find. The problem is how to get the oil and gas to the coastline. With hurdles continuously being set higher and higher, I'm having trouble buying into the projected upside from the expansion. What's more, the undeserved spike in the price today has shot the stock's valuation into the stratosphere.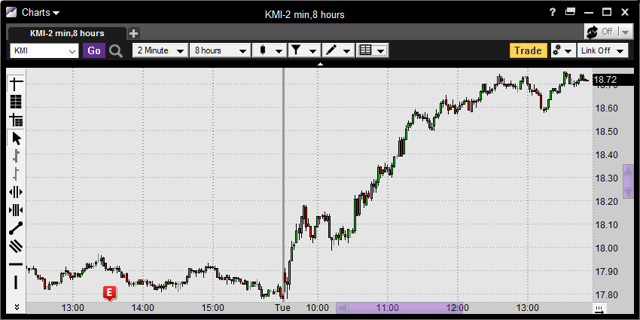 Source: Finviz.com
You missed the boat
The stock currently trades with a forward P/E of 22, much higher than that of its two closest peers. Further, the dividend yield is already a meager 2.8%. I submit you could find plenty of other dividend growth and income investments that provide this level of yield for much less risk.

Source: Finviz.com
Now, I am sure there are plenty of people that will dispute me using this metric. Many say Kinder Morgan is an MLP and should be valued based on distributable cash flow. Newsflash, we already tried that and it did not work out so well. Furthermore, with the stock's recent pop, all the good news is already priced in, I'm afraid you have missed the boat on this one if you did not already have a position. Yet, never fear, I'm sure you will get another opportunity to buy the stock at lower prices in the near future.
Conclusion
Tuesday was a good day for Kinder Morgan's shareholders all around. Nonetheless, not a whole lot has changed on the ground in Canada. The bottom line is, it is going to cost Kinder Morgan a pretty penny to get this thing done. I wonder how much of the so-called "spoils" will actually be left over for shareholders to scavenge after Clark and her cohorts take the lion's share? I contend it won't be nearly as much as previously thought. Already currency swings, delays, and project changes have caused the project price tag to increase by $1.4 billion from a previous $5.4B estimate. I can only imagine how much more it will be before it's all over. The application for the project was first filed in 2013 as it stands. I maintain my "no touch" call on the stock dividend growth and income investors at this time.
Final Insight
Please use this information as a starting point for your own due diligence and always consult an investment advisor prior to making any investment decisions. Those are my thoughts on the subject. I look forward to reading yours. If you found this article interesting, please click on the follow button above. I would greatly appreciate it.
Disclosure: I/we have no positions in any stocks mentioned, and no plans to initiate any positions within the next 72 hours.
I wrote this article myself, and it expresses my own opinions. I am not receiving compensation for it (other than from Seeking Alpha). I have no business relationship with any company whose stock is mentioned in this article.