Noble Corporation (NYSE: NE) is an offshore drilling company based in London, UK. The company plans to utilize its premium fleet, strategic differentiation, solid balance sheet, and robust liquidity to handle the crash and emerge stronger than ever. When oil prices recover, Noble Corporation will be able to restore its dividend and continue paying out rewards to investors.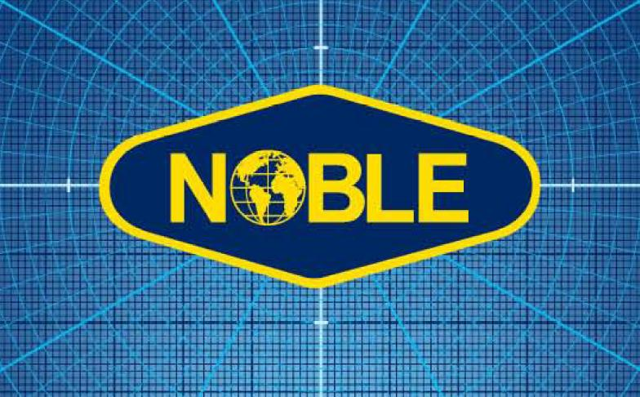 Noble Corporation Logo - Offshore Energy Today
Noble Corporation, like other oil companies, has had a very difficult time recently. The company has watched its stock price go from over $30 per share just before the oil crash down to recent lows of less than $7.50 per share. The company then briefly recovered up to just over $13 per share before dropping back down to less than $10 recently.
At the same time, the company was forced to cut its dividend from $1.52 per share at its height down to $0.60 per share in recent quarters, a significant cut of 60%. While still better than most other offshore drillers, Noble Corporation is still in a difficult place with its ability to earn income and reward shareholders.
The company also has a very impressive fleet. The company has a total of 8 drillships, 8 semisubmersibles, and 14 jackups. The company's average fleet age of 10.0 years makes it the second youngest fleet in the industry behind Seadrill, (NYSE: SDRL). The company has had a difficult time contracting its semisubmersibles but its ultra-deepwater drillships a primary source of income remain contracted.
Premium Fleet Distribution
Let us begin by discussing Noble Corporation's fleet distribution.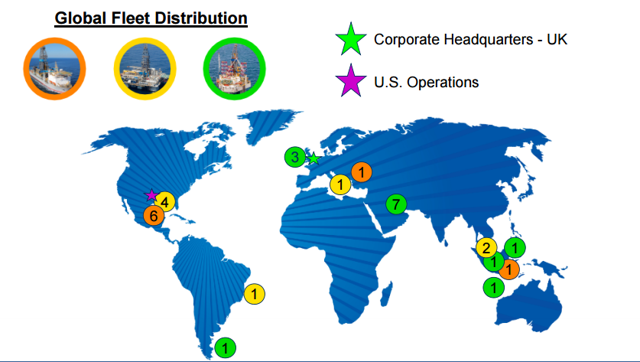 Noble Corporation Global Fleet Distribution - Noble Corporation Investor Presentation
Seadrill's global fleet is distributed across the world with its primary areas of operation being the Gulf Coast of the United States and Indonesia. Out of these, the Gulf Coast represents the most important source of income as the United States is known for its stable policies, and the Gulf representing a source of major oil exploration.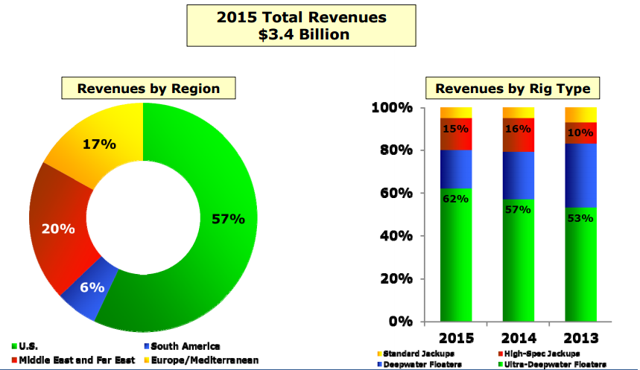 Noble Corporation Totle Revenues - Noble Corporation Investor Presentation
Noble Corporation's premium fleet is providing the company with strong revenue. In 2015, the company earned $3.4 billion of revenue that came from increasing jackup revenue. Jackups prices have been dropping and they tend to have contracts that last a year to two before they are recontracted. As a result, it should be assumed that Noble Corporation will be able to get some new contracts for its jackups as they run out.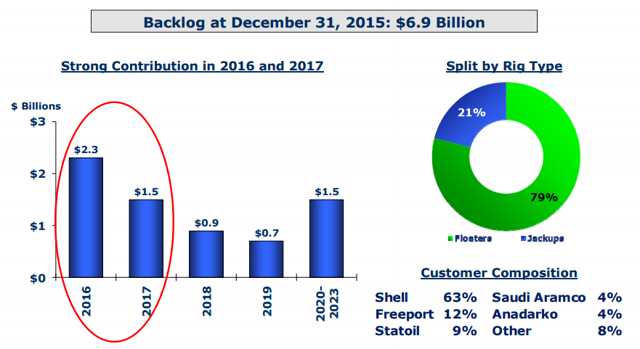 Noble Corporation Backlog - Noble Corporation Investor Presentation
However, even with this premium fleet, trouble can be seen in Noble Corporation's backlog. The majority of the company's ships are contracted with Royal Dutch Shell (NYSE:RDS.A), a company that may choose to cut contracts if necessary and needs to save its cash for an enormous acquisition with BG Group.
The company's current backlog is $6.9 billion of which $3.8 billion will be used up this year and next year. While the company's backlog for this year will be similar to previous years, the company's 2018 to 2019 earnings will be in noticeably more trouble if the company can't find additional contracts.
Contract Changes
Now that we have talked about the company's fleet including its location and backlog, it is now time to talk about the company's contract changes. While the company's $2.3 billion dollar market cap is minimal compared to its $6.9 billion backlog, the company has seen changes to its backlog that need to be taken into account.

Noble Corporation Dayrate - Noble Corporation Investor Presentation
The company has been forced to decrease the dayrates of two of its more expensive rigs down by approximately 1.2%. Keep in mind that these changes are from 2015 when oil prices hit significant lows in January, March, and August. While these lows were higher than the lows set in January to February of this year, the fact that dayrates are decreasing in a low oil price environment are disappointing.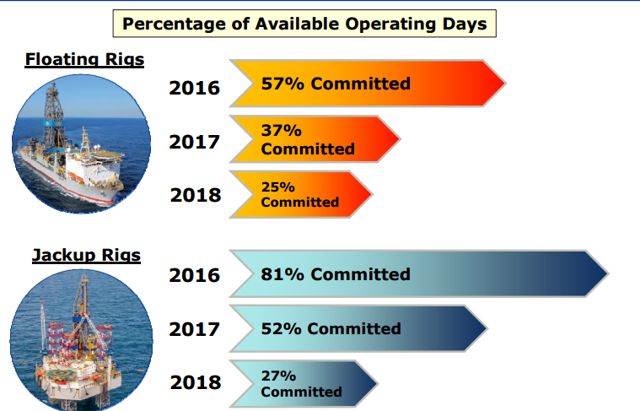 Noble Corporation Percentage of Available Operating Days - Noble Corporation Investor Presentation
At the same time, the percentage of committed operating days has been decreasing significantly down to 25% of the floating rigs committed for 2018 and 27% of jackup rigs committed. In 2016 already, the company's expensive floating rigs are only 57% committed hurting its income.
More so, keep in mind that uncontracted rigs are a lose-lose prospect in both scenarios. In the first case, these rigs are no longer providing essential revenue for the company. In the second case, these rigs still require maintenance costs that need to be paid while the rig isn't earning income. More importantly, if the company chooses the cold-stack the rig it faces an expensive one-time cost that must be handled in exchange for lower maintenance costs in the present term.
Consistency
There are some positives to be had, however. In a market that has been cyclical for decades like the oil markets, owing to the high costs of finding resources, consistency is the name of the game. Companies that ramp up spending and investment during cycle high points like Chevron (NYSE: CVX) or Freeport McMoRan (NYSE: FCX) tend to have a more difficult time than their peers during the market crash.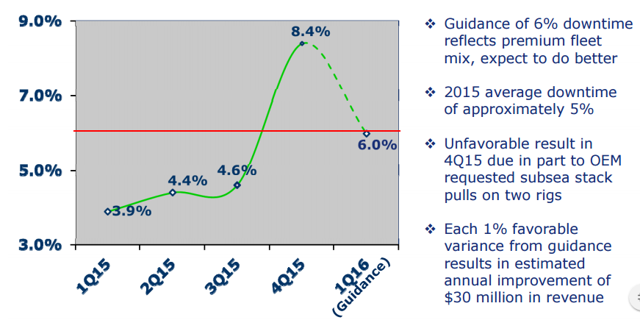 Noble Corporation Downtime - Noble Corporation Investor Presentation
In these senses, Noble Corporation has done an impressive job of keeping the revenue flowing while minimizing costs. The company's operational downtime has dropped significantly from the previous quarter where it was over 8% and the company remains focused on decreasing further, something that should be helped by its premium fleet. More importantly, every 1% the company can decrease its downtime will provide an estimated $30 million revenue increase.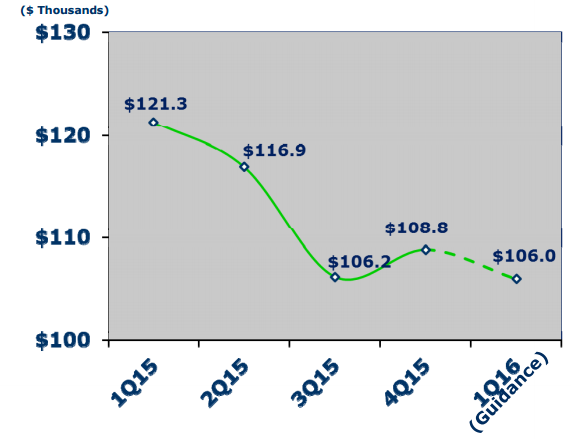 Noble Corporation Dayrate Guidance - Noble Corporation Investor Presentation
At the same time, drilling rates which were over $120,000 a day in the first quarter of 2015 have dropped significantly to $106,000 per quarter estimated in the most recent quarter. With prices staying approximately constant in the past three quarters, the company will be able to more effectively plan for a future of consistent low prices. Again, this consistently helps with planning which helps the company's long-term potential.
Liquidity
Now that we have talked about the company's premium fleet along with important contract changes and the importance of consistency, it is time to talk about the company's liquidity to paint a better picture of its ability to survive the oil crash.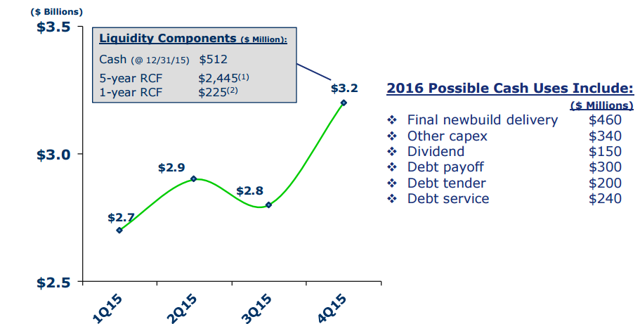 Noble Corporation Liquidity and Cash Uses - Noble Corporation Investor Presentation
The above image provides an overview of Noble Corporation's liquidity situation. The company currently has $0.512 billion in cash amounting to approximately $2 per share in cash. At the same time, even in 2015, the company continued maintaining strong earnings and growth.
The company has listed a number of potential uses for its cash with the most significant being a final newbuild delivery that will effectively end its Capex costs. However, the company has also expressed significant interest in retiring its debt. Reducing such debt now is very important in case the crash lasts longer than expected, the company will be able to continue operating with minimal costs.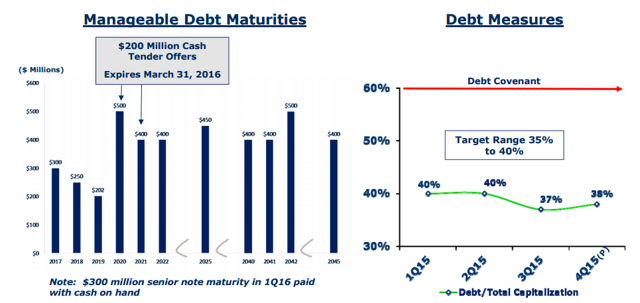 Noble Corporation Debt Maturities - Noble Corporation Investor Presentation
At the same time, the company can easily handle its debt maturities. The company's current debt to total capitalization ratio is at 35 - 40% noticeably below the debt covenant triggered at 60%. And while a dramatic market movement could put the company in a tough position with regards to this covenant, the company maintains a strong position in the debt markets.
More so, the company's cash on hand is enough to cover all of its debt maturities into 2019. As long as the company can earn $200 million of additional cash over the next 3 years, it will be able to survive into the 2020s with plenty of room to spare. While the company faces more than a billion dollars of maturities from 2020 - 2022, it is likely oil markets will have recovered by then.
Oil Markets
Now that we have an overview of the company's liquidity, let us spend some time discussing the oil markets to determine the timeframe of an expected recovery. Such analysis will give insight into whether the company will have to worry about raising money for its debt in the early 2020s.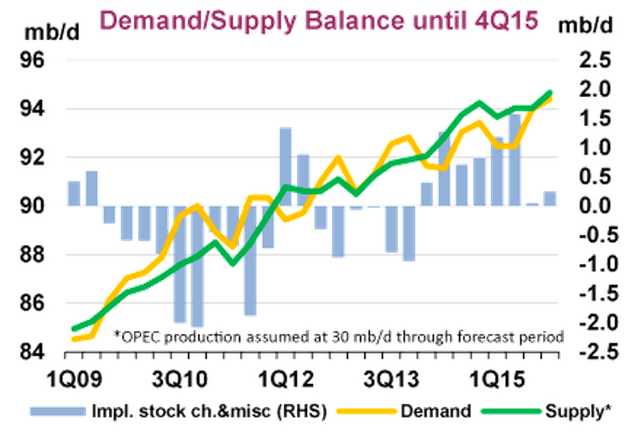 Noble Corporation Demand / Supply Balance - Scientific American
The above image shows the current oil supply and demand balance. Around mid-2013, the overtake of demand by supply that led to the current oil crash can clearly be seen. From this point it took approximately a year and a half for oil prices to hit their first significant low around January 2015.
As we continue along the graph, we can see the that towards our current time frame of mid-2016 or potentially another 6-12 months from now, we can expect the demand supply balance. If we assume a worst case scenario of late-2017 for a recovery in the demand supply balance, this means it will take until mid-2019 for prices to recover.
Since we expect the company to be able to easily handle its debt load at least until 2020, that means there is a year or more buffer between a worst case oil price recovery situation and when the company will start to get in trouble with its debt load. For this reason, I believe Noble Corporation will see prices recover long before its debt poses any major issue meaning current fears are overblown.
Conclusion
Noble Corporation, like most other offshore drilling firms, has had a very difficult time recently. However, the company still has huge potential that should not be ignored as a long-term dividend play. With a current dividend yield of 6% and the potential to significantly increase that, the company has the potential to provide shareholders with long-term income.
At the same time, the company has an impressive fleet that is well diversified around the world. The company recently completed a newbuild program from the height of the cycle and has just under half a billion dollars in expenses left for this program. Such a program means the company has a young fleet with minimal expenses during the downturn.
Looking at the company's debt maturity cycle, it should be more than fine in handling its debt up until 2020. At the same time, looking at the oil supply and demand balance, oil prices are expected to recover by 2019 under a worst-case scenario assumption. Such actions mean the company has more than ample room to manage its dividend.
Disclosure: I am/we are long NE, CVX.
I wrote this article myself, and it expresses my own opinions. I am not receiving compensation for it (other than from Seeking Alpha). I have no business relationship with any company whose stock is mentioned in this article.