EXCO Resources (NYSE:XCO) has been given up on as a bankruptcy candidate by many investors causing its stock to hover near one dollar. But the company has made compelling strides in restructuring its balance sheet. The stock market has not yet rewarded EXCO Resources' efforts.
Yesterday, Chesapeake Energy (NYSE:CHK) confirmed it had reached a deal with its banks to maintain its $4 billion line of credit and keep its maturity date in 2019. Furthermore, the banks agreed not to redetermine the amount of the line until June of 2017. This has caused an over 50% spike in Chesapeake's stock price in just the last two days. In return, Chesapeake basically pledged the vast majority of its assets as collateral to the banks. In effect, Chesapeake bought a years worth of time to see if either oil or natural gas prices can rebound. More info on Chesapeake can be found here.
EXCO Resources is in good shape with its bank line of credit. But it had $750 million in notes due in 2018. It has arranged new second lien financing of $700 million due in 2020 and reduced its debt due in 2018 to $158 million by year-end 2015. The company also had $500 million in notes due in 2022 and has reduced that amount to $223 million at year-end 2015. Here is a look at the changes in EXCO Resources' cash and debt on its balance sheet in 2015 versus 2014:

EXCO Resources has reduced its debt net of cash from $1,382 million at year-end 2014 to $1,115 million at year-end 2015 without significant asset sales. The company has managed to work with the holders of the 2018 and 2022 unsecured notes in restructuring its debts. Effectively, the debt exchange changed the lenders from an unsecured status to a second lien status with a higher interest rate. In exchange, the holders of the notes took a $193 million haircut on the principle giving EXCO Resources a gain on the reduction of debt in 2015.
It gets even better. According to EXCO's 10-K, since the end of the year they stated "we have purchased an additional $9.5 million of 2018 Notes with $2.2 million in cash and $39.9 million of 2022 Notes with $4.5 million in cash. The 2018 Notes and 2022 Notes repurchased will be canceled by the trustee following customary settlement procedures." Shareholders of EXCO have picked up another $42 million gain in debt discounts. Here is a visual look of EXCO's debt after the latest transactions: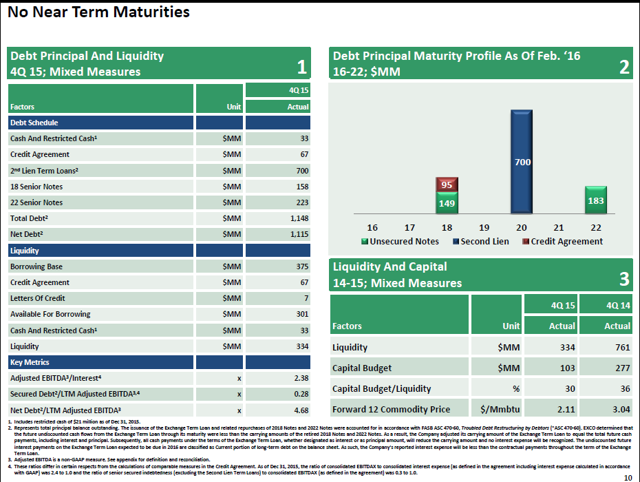 As one can see, EXCO Resources has made a lot more progress on its debt problems than Chesapeake has. Yet what makes EXCO Resources really interesting is the potential of its mostly held by production acreage, with a balance of oil assets and natural gas assets. EXCO Resources has 97,600 net acres in the Haynesville with positive rates of return in the current commodity environment. They also have a somewhat hidden asset in 137,700 net acres in the Marcellus. The company has only completed test wells in the Marcellus to confirm its commercial viability. They do not have many Marcellus producing wells, therefore they do not have much in the way of proven non-producing reserves booked for this asset.
However, the crown jewel asset for the company is probably its 65,800 net acres in the Eagle Ford. The acreage is prospective for the Eagle Ford, Buda, and Austin Chalk. Below is its acreage position: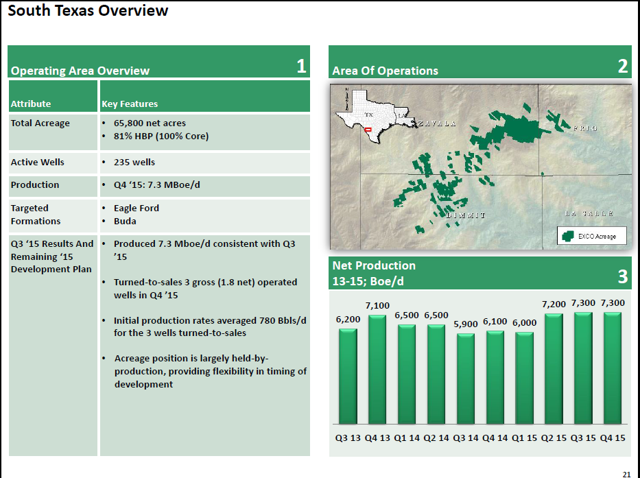 The most recent Eagle Ford wells in northeastern Zavala county in Texas are seeing 40% plus internal rates of return at $50 per barrel oil. It won't take much of a rebound in oil prices for the Eagle Ford wells to be lucrative again.
EXCO recently started drilling in the Buda with a lot of success. In parts of Zavala, Dimmit, and Frio counties the Buda is naturally fractured and well costs are about half of the cost of Eagle Ford wells. Additionally, the Austin Chalk is also naturally fractured in parts of these counties, including on lands leased by EXCO Resources. The Austin Chalk offers real upside to EXCO and it is not factored into its stock price. More information on the potential of the Austin Chalk sweet spot can be found here.
Like Chesapeake and many other oil and gas drillers, EXCO Resources needs a higher commodity price environment to survive and thrive. If a higher priced environment comes, then EXCO is well positioned to provide outsized returns to investors. The debt restructuring moves the company has made has bought it time until at least 2020 for higher prices to arrive. Compare that to Chesapeake that may only have until 2019 when its bank line of credit expires. EXCO is worth a look for highly speculative investors looking for a big bounce in oil and gas stocks.
Disclosure: I/we have no positions in any stocks mentioned, and no plans to initiate any positions within the next 72 hours.
I wrote this article myself, and it expresses my own opinions. I am not receiving compensation for it (other than from Seeking Alpha). I have no business relationship with any company whose stock is mentioned in this article.