The recent recovery in commodity prices has helped to fuel the ongoing market rallies. With the oil price rising, so is investors' interest in oil & gas master limited partnerships (MLPs). It was just reported this week by the chief executive of energy giant Chevron (NYSE:CVX): "Oil markets will balance out in the coming months as cuts to capital investment by the big oil companies lead to a drop in supply." This is very bullish for oil & gas MLPs.
MLPs are great long-term investments as they provide high dividend income and are positioned to grow their revenues and distributions over time. Many of these companies have sold-off due to lower oil prices, despite the fact that most have no, or limited, direct exposure to the price of the oil commodity. The selloff has resulted in quite attractive valuations and dividend distributions near their all-time highs.
Attractive Valuations
Following the sharp selloff in the oil price over the past 2 years, the ALPS Alerian MLP ETF (NYSEARCA:AMLP), a popular ETF which tracks a basket of the largest oil & gas midstream MLPs is down 35% over the past 12 months, dragged by oil price (NYSEARCA:OIL), which is down by about 50% for the period.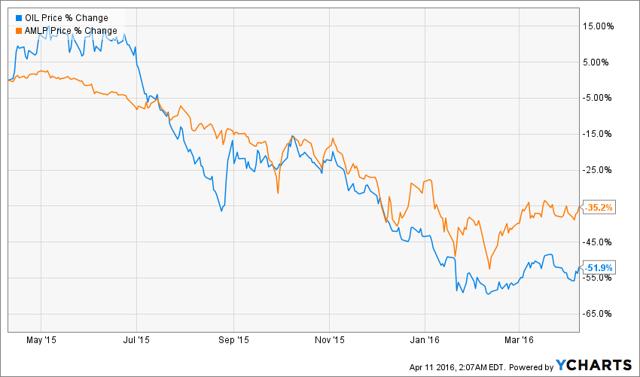 The selloff has resulted in a unique opportunity for high-yield investors:
1 - Dividend Yield: One way to measure the value of master limited partnerships is to look at the yield. The distribution yield for the ETF AMLP has risen from 6% in 2014 to about 10.9% now.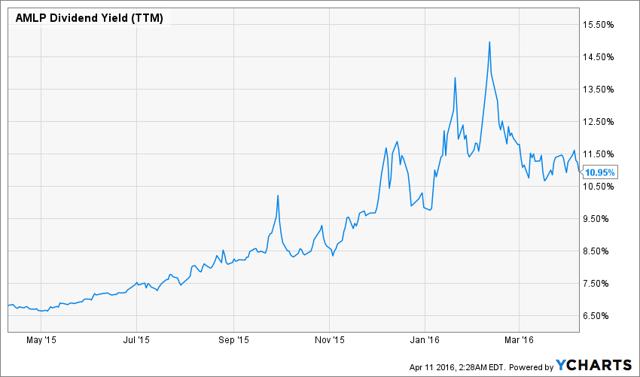 AMLP's yield gap over Treasuries has become at its widest if we consider the benchmark 10-year Treasury note yields 1.7%. AMLP's yield looks quite attractive compared to other high-yielding stocks, such as the U.S. real estate REITs sector (NYSEARCA:VNQ) which currently yields about 4% and the utilities sector (NYSEARCA:XLU) which yields 3.2%.
2 - Price/Book ratio: Based on Price/Book ratios, oil & gas master limited partnerships are trading close to multi-year lows. The following chart depicts the Price/Book ratio over the past 2 years for 3 of the largest MLPs around: Buckeye Partners, L.P. (NYSE:BPL), Enterprise Products Partners L.P. (NYSE:EPD), and Energy Transfer Partners, L.P. (NYSE:ETP).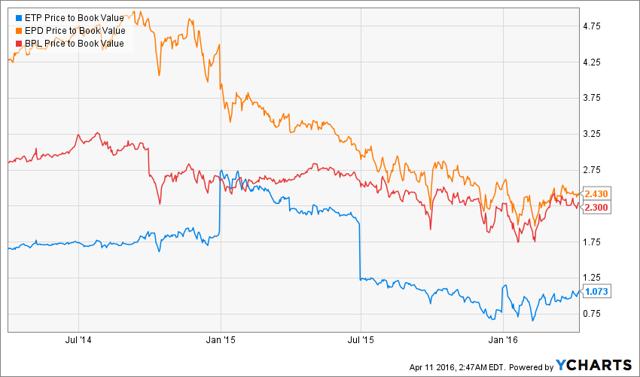 Sector Upgrades by Large Banks
Now with oil prices stabilizing, the oil & gas MLP sector is seeing strong upgrades by banks and analysts. For example, Merrill Lynch raised its price objectives for a dozen MLPs (March 7, 2016), citing low valuations, higher oil prices, and financially driven fundamentals.
I expect upgrades for this sector to keep coming as the oil price continues to stabilize.
New Trends working in favor of Oil & Gas MLPs
Higher Oil Prices: Over the past few months, it has become clear that oil prices below $30 are not sustainable. Neither major oil producing nations nor upstream companies are able to function at these levels. Therefore, the recent strength in the oil price is based on fundamentals rather than short-term trades by speculators. Oil prices are projected to continue to go higher and stabilize at the $40-$50 level. The Energy Information Administration (EIA), a top energy watchdog, expects the wide gap between oil supply and demand to narrow later this year, paving the way for a more meaningful oil price recovery in 2017.
Increased Global Oil Demand: The year 2015 saw one of the highest volume increases in global oil demand (EIA report March 8, 2016). The growth was dominated by increased demand for gasoline fueled by lower oil prices. Lower oil prices are good for midstream companies in the long run as they will continue to fuel demand for this commodity, leading to more volumes transported and higher profits.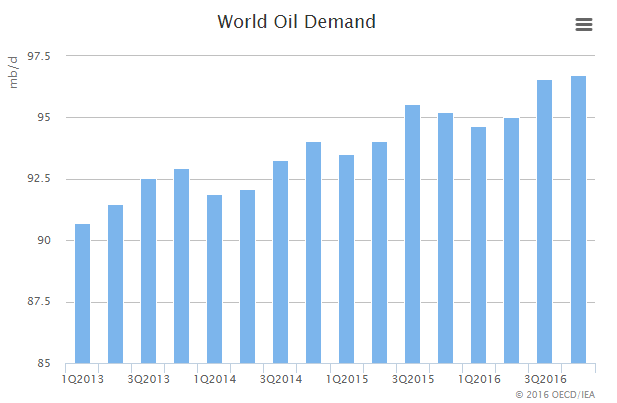 Source: EIA
Lifting of the U.S. Export ban on oil: Following the lifting of the U.S. oil export ban last December, U.S. oil exports are expected to pick up. U.S. oil has already reached European, Asian and South American destinations. It is expected that the U.S. ally countries will be the major importers of U.S. oil as many have put plans to diversify their energy imports in order to limit their energy exposure to volatile regions such as the Middle East. This new trend will greatly benefit oil infrastructure companies.
New Trends in Natural Gas: Global demand for natural gas and LNG (liquefied natural gas) is booming due to low natural gas prices, and because of a move by major world economies to a less polluting form of energy. The U.S. has a major advantage due to low production costs. The Energy Information Administration forecasts that the United States will be a net exporter of natural gas in mid-2017, driven by its LNG export capacity. Over the next 5 years, the U.S. will emerge as a major global natural gas supplier, helping its allies to diversify their energy supply sources. Oil & gas MLPs with exposure to natural gas are likely to see their profits greatly improve.
Increased need for infrastructure: Strong U.S. oil and gas exports will result in additional need for midstream capital investments, especially for coastal infrastructure. New projects will help MLPs to grow their income and dividend yields over time.
Record investor inflows in the MLP space: After record net investment outflows from oil and gas MLPs in late 2015, asset managers are reporting that retail investors have become net buyers in 2016. The latest asset manager to report this news was UBS Bank in a report issued last February.
Attractive yields and valuations: With global interest rates at record low levels, demand for high-yield securities is bound to continue to increase. The undervalued oil & gas midstream space is likely to see increased investors' interest during 2016. In my opinion, investors who get in at the current attractive levels are likely to get rewarded with great returns, both in terms of capital gains and very generous dividend yields.
Investors should note, however, that not all oil & gas MLPs are positioned to provide good returns. Investors should focus on the largest players in the sector, especially those which have showed a consistent income growth and are able to produce enough cash to cover distributions.
AMLP - One of the best ways to invest in the sector
The ALPS Alerian MLP ETF still provides one of the best ways to invest in the oil and gas MLP space:
The majority of its holdings are the blue chips of the sector and include Enterprise Products Partners LP , Magellan Midstream Partners (NYSE:MMP), MPLX LP (NYSE:MPLX), Plains All American Pipeline LP (NYSE:PAA), Buckeye Partners, Energy Transfer Partners, ONEOK Partners (NYSE:OKS), and EQT Midstream Partners (NYSE:EQM). Most of the above companies have recently reported strong results and are still seeing their distributions grow. The following are AMLP's top 12 holdings which constitute 76% of its portfolio.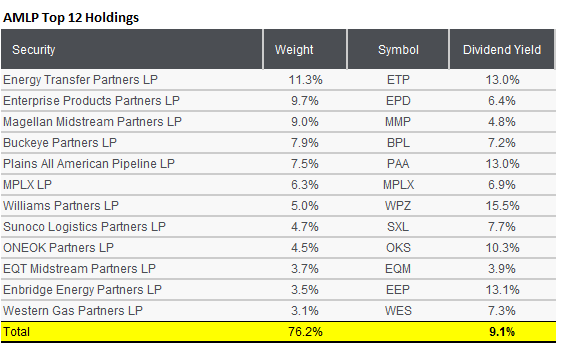 AMLP is very liquid and has total assets under management of $7.2 billion. Its assets have been growing over the past couple of months.
It provides investors with simplified tax structure as they do not have to deal with K1s and other complications that come with directly investing in master limited partnerships.
This is a well-rounded product which provides investors with an instant diversification.
The current yield stands at 10.9% which is quite attractive.
New MLP Leveraged Security on the Market - MLPQ
Oil & gas MLP investors who used to trade the UBS ETRACS 2x Leveraged Long Alerian MLP Infrastructure Index ETN (NYSEARCA:MLPL) received some great news late February. Following the closure of the MLPL security late January 2016, UBS Bank reissued a new and improved leveraged security ETRACS 2x Monthly Leveraged Alerian MLP Infrastructure Index ETN Series B (NYSEARCA:MLPQ). As MLPQ is set to pay twice the yield of the AMLP index (current yield 10.9%), the yield on this MLPQ should be close to 20%.
What is MLPQ?
MLPQ is an exchange-traded note set to generate the monthly compounded 2x leveraged performance of Alerian MLP Infrastructure Index. Effectively, this security is set up to pay twice the dividend yield and to produce twice the performance of its non-leverage counterpart AMLP. Investors should note, however, that they are taking twice the risk. The following are some useful notes about MLPQ:
Similar to the rest of UBS leveraged products, MLPQ has an inherent problem which stems from the fact that it is reset on a monthly basis. This means that MLPQ is set in a way that is likely to outperform its underlying assets during market rallies, but at the same time it will under-perform its underlying assets during market downturns. This acceleration effect is however much more mitigated than leveraged securities which are reset on a daily basis; therefore it is more suitable to be held on a long-term basis.
UBS introduced a new protection mechanism in MLPQ which will trigger in case of severe market declines and is intended to limit the acceleration effect of this security in case the underlying index has declined by 20%. I find this new feature as a great improvement compared to the previous leveraged product MLPL
MLPQ has an expense ratio of 1.65%. In my opinion, this is a pretty low expense ratio, especially if we take into account the leverage fee which is included. If one would want to duplicate a similar leverage at their broker, they would pay 6% to 8% in margin fees alone (Schwab, Etrade, Fidelity, Merril Edge, etc.)
For aggressive MLP investors, in my opinion MLPQ with a dividend yield of about 20% is a safer alternative to other ETFs focused on smaller midstream companies such as Market Vectors High Income MLP ETF (NYSEARCA:YMLP) or Global X Junior MLP ETF (NYSEARCA:MLPJ). According to Morningstar, YMLP yields of 28% while MLPJ yields close to 15%. At the end of the day, MLPQ, similar to AMLP, is mostly exposed to the Blue Chips in the MLP space.
MLPQ should only be considered by investors with a high risk tolerance. Readers are encouraged to read the full prospectus of MLPQ posted on UBS website as it contains more information on conditions and limitations of this security.
Conclusion
The recent strength in oil price is based on fundamentals rather than short-term speculation. With several new trends working in favor of the midstream oil & gas companies, investors who put new money in this sector today have the potential to achieve high returns both in terms of capital gains and dividend income. In my opinion, it is best to get into the sector ahead of the crowd before valuations start going up again. AMLP currently provides the best way to get exposure to the sector while receiving an exceptional dividend yield.
Join us at High Dividend Opportunities in our journey to uncover high-dividend stocks trading at bargain prices, and benefit from Live Alerts to pick them up. Our service includes a monthly newsletter and a high-dividend model portfolio currently yielding 9%. We are dedicated to bring you the most profitable and newest high-dividend ideas. For more info, please click here.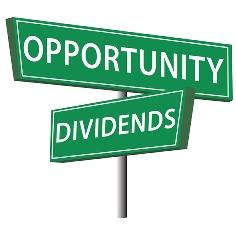 Disclosure: I am/we are long AMLP, MLPQ, EPD.
I wrote this article myself, and it expresses my own opinions. I am not receiving compensation for it (other than from Seeking Alpha). I have no business relationship with any company whose stock is mentioned in this article.