If you're a beer drinker, there's great news. The number of breweries in the US is at all-time highs. It has surpassed even the late 1800s when your local beer was really local. Without fridges, a horse and cart limited the distance for a cold beer. Prohibition was the cause of the large dip in the 1920s.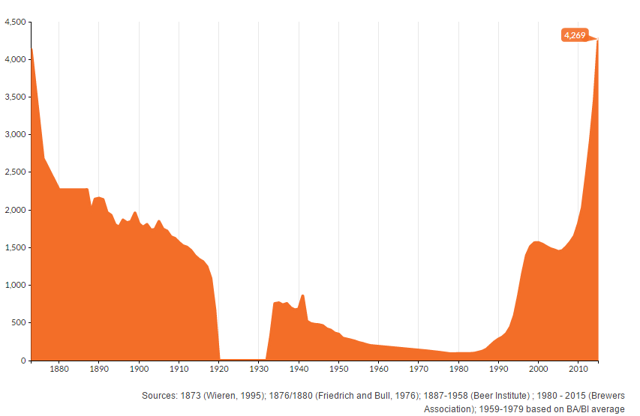 The range of beers has increased significantly, but as an investor it's hard to get exposure as the majority of craft beer are local private companies. One listed craft brewer is Samuel Adams (Boston Beer Co.) (NYSE:SAM). They sell Angry Orchard Cider and Twisted Tea. SAM has grown so tremendously that the Brewers Association of Craft Beer has had to change its barrel production limit from 2 million to 6 million to accommodate their growth. SAM is a great company, but the competition in craft beer and their 'size' has led to slower growth, with sales for SAM's declining last year. The major beer companies have bought into a number of smaller craft brewers.
While growth for SAM has slowed, it's hard to count them out. Angry Orchard is the no.1 cider brand and they are also introducing nitro beers. Apparently, nitrogen gas gives beer a creamier, smoother texture. If that doesn't work, they are also introducing alcoholic sparkling water. SAM is continuing their innovation alongside the 4,300 other brewers. The investment outlook is cloudy but it sure is a great time to have a drink.
Decisive has no position in Boston Beer (SAM). The material in this article is for informational purposes only and in no way constitutes a solicitation of business or investment advice. The material has been prepared without regard to any client's or other person's investment objectives. Before making an investment decision you should consider the assistance of a financial adviser and whether any investment or service is appropriate in light of your particular investment needs.