One of the things that make W.P. Carey (NYSE:WPC) and VEREIT (NYSE:VER) unique in the real estate investment trust, or REIT, industry is their asset management arms. These divisions, though relatively small compared to their property portfolios, sell what are known as non-traded REITs. That's a niche space and it's come under regulatory scrutiny of late. But the recently released Labor Department rules on advisor fiduciary duty left Carey and VEREIT happy campers. Here's why...
What's a non-traded REIT
Non-traded REITs are similar to publicly traded REITs in that they allow small investors to pool their money and hire professionals to run a property business. The allure is a high level of income. The downside is that you can't call your broker and easily sell a non-traded REIT because there isn't a public market for them. So higher income, less liquidity.
For many investors that trade-off isn't an issue. They just want their dividend check to show up every month. For others, however, it's a big problem. That said, there's some other issues investors face, too. For example, without a public market getting a value on a non-traded REIT isn't exactly simple, so figuring out net worth is kind of hard. New rules about this will likely lead to more clarity, but even then the outcome is going to be a best guess.
For example, VEREIT's Cole Capital business, it's non-traded REIT sponsor, recently started offering net asset values for two of its non-traded REITs. To come up with these figures, it hired real estate services giant Cushman & Wakefield. But here's the thing: "The Board intends to determine an estimated per share NAV on at least an annual basis going forward." That line was repeated for each of the two non-traded REITs being valued. A year is a long time wait to know the value of something...
To be completely fair, however, going from a big question mark to a valuation of any kind is huge improvement. And hiring someone to perform a valuation comes with a bill that shareholders will have to pay, for assets with values that probably don't change much over time. So once a year might be the right trade off between cost and benefit, but time will tell what frequency works best.
The bigger problem with non-traded REITs, however, is that they tend be sold with relatively high commissions that can be difficult for less-sophisticated investors to understand. That can lead to inappropriate sales tactics even if the product lives up to all expectations and is operated in a completely ethical manner. And that's why the Labor Department rules were such a worry.
Dodged a bullet
Non-traded REITs were specifically targeted as the Labor Department was looking to impose new fiduciary duty standards on the financial advice industry. In effect, if early versions of the rule had gone into place, non-traded REITs would have been barred from retirement accounts. That would have been a devastating blow to Cole's business and to the non-traded REIT business of W.P. Carey.
Luckily for both, that didn't come to pass. Instead, the Labor Department went with a broader mandate, saying that advisors basically need to offer products that were in the best interest of their clients. For someone who wants income and doesn't intend to trade very often, a non-traded REIT could be perfect. And, of course, putting a non-traded REIT in a Roth IRA would be ideal since the income would avoid taxation.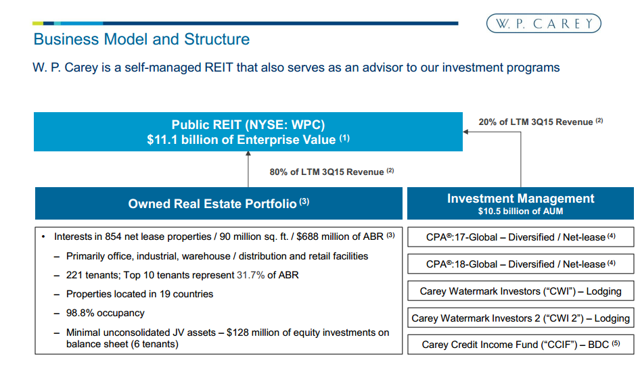 Does VEREIT's Cole look valuable again?
So it looks like VEREIT and W.P. Carey's non-traded REIT businesses will remain important to their respective futures. This, however, was probably a far bigger deal for VEREIT than for Carey. In fact, Carey has been reviewing its corporate make up, with one possible outcome being the spin off of its asset management business. The softer than feared rules on non-traded REITs might change the outcome here, keeping this business, that generated around 20% of the company's revenues, in house.
And for good reason, by having a non-traded REIT business, both Carey and VEREIT gain access to capital that other REITs can't. So, while their owned portfolios may not grow because of non-traded REIT portfolio acquisitions, they are increasing the income they earn for shareholders via the management fees and deal fees they earn. If public markets are pricing public REITs at a level that makes issuing stock undesirable, this pair may very well be able to keep on growing-just through their non-traded REIT arms.
For better or for worse, VEREIT is a case in point. After an accounting issue a few years ago, VEREIT is in turnaround mode and its stock is trading at relatively low levels. The turnaround currently means selling less desirable assets cobbled together during a growth binge under prior management. So VEREIT is getting smaller and even if it was looking to buy property, the stock price is so low that it might not pull the trigger.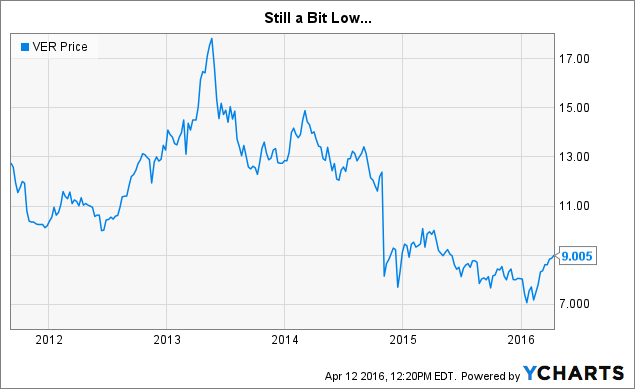 VER data by YCharts
But take a look at these numbers. VEREIT sold roughly $1.4 billion worth of property last year from its owned portfolio. At the same time, however, it bought nearly $1 billion worth of assets for Cole's non-traded REITs. And that was a slow year.
Indeed, VEREIT is probably the bigger winner from the Labor Department regulations because it is still rebuilding its Cole operation. Cole's business is really very separate from VEREIT's, with each non-traded REIT retaining its own independent board and working under a different accounting system from the parent company. So the accounting issue that felled VEREIT had no impact on Cole's non-traded REITs, except that confidence in anything attached to VEREIT was pretty much destroyed.
And, thus, brokers who were selling Cole's products stopped supporting the company. That led to a deep fall off in capital raise for Cole's products. But, with a new team leading VEREIT (and the company coming through on its stated goals), Cole's business has begun to pick up again. Although it didn't contribute much to funds from operations in 2015, if VEREIT can build the business back up to historical levels, Cole could account for as much as 10% of VEREIT's funds from operations. That would make the business a notable contributor again. Since the Labor Department rules didn't squash that potential outcome, VEREIT looks to me to be the bigger winner here as its retail partners come back without the risk of potentially negative Labor Department rules hanging over the process.
Revalue the non-traded REIT business
If you have been looking at W.P. Carey and VEREIT and thinking that their asset management arms were liabilities, you might want to rethink that. The rules that have come out to contain abuses associated with the niche industry haven't been as bad as feared and both REITs are working hard to stand out as solid citizens. Assuming nothing changes from here, the non-traded REIT businesses at these two REITs could very well provide far more benefit than investors are pricing in right now.
Disclosure: I am/we are long VER.
I wrote this article myself, and it expresses my own opinions. I am not receiving compensation for it (other than from Seeking Alpha). I have no business relationship with any company whose stock is mentioned in this article.