For the first time in 2016, Managed Futures posted negative performance in a month, with the average performance of -2.50%, of the 4 indices we track. Despite March's numbers, the asset class average performance remains positive on the year, up 2.21% (Disclaimer: Past performance is not necessarily indicative of future results). The month of March was full of reversals and market consolidation, as both crude oil and world stocks reversed months of downward prices with big up moves.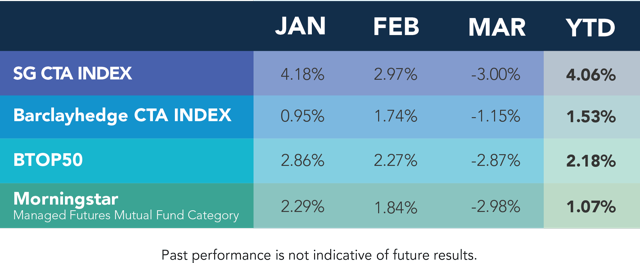 As a whole, the volatility we watched in January and February seemed to all but disappear on us in March. The $VIX is 45% off its highs, and the market certainly responded to that. Commodity markets have transitioned from a trending environment to being range bound (see Gold, Crude, Coffee, and Cattle). Crude Oil rebounded almost 15% in the month of March, but there are plenty out there that say this upward movement is running out of stream (here and here). Ultimately, it could be that the commodity markets have transitioned to being range bound due to the lack of volatility.
It will be interesting to see if Crude Oil and the stocks break from their recent correlation. It will be interesting to watch both markets in April to see if this recently increased correlation continues, and if the VIX will stay at its lows in the crude market gives up its recent upward movement.