Gilead Sciences (NASDAQ:GILD) is scheduled to release its first-quarter results at the end of trading on April 28th. The report is anxiously anticipated by the GILD bulls; many are looking for continued strong top-line growth. The article below will highlight a key few points I am looking at from the upcoming release and subsequent conference call.
Upcoming event data courtesy of Wall Street Horizon, a fabulous app that keeps you up to date on upcoming events.
International Liver Congress
The International Liver Congress, a four-day affair begins in Barcelona, Spain, on the 13th of April. I am keenly interested in additional data that may be unveiled during the conference. On the 13th, the conference will commence with a focus on NASH (non-alcoholic steatohepatitis), an area of significant unmet need. In my view, NASH is the single best opportunity for GILD to meaningfully differentiate its revenue stream away from the infectious disease franchise. NASH apparently remains an area of focus for the management as evidenced by the recent $1.2 billion purchase of Nimbus Apollo. While there are scant guarantees of success, as an investor, I can appreciate GILD's continued focus on a viable treatment for NASH. GILD appears to be taking the approach of developing a combination therapy to treat NASH as evidenced by the development of the clinical pipeline which includes simtuzumab and the recent acquisitions of GS-9674 and Nimbus Apollo phase 1 product. In my view, NASH should remain the primary focus of GILD's clinical pipeline.
The second day of the symposium, the topic will shift to an area also quite familiar to researchers at GILD, hepatitis B (HBV). GILD currently has two molecules in phase 2 trials: GS-4774, a Tarmogen T-cell immunity stimulator, and GS-9620, a TLR-7 agonist. While the HBV marketplace is not nearly as large as the opportunity in NASH, meaningful advances in HBV would be welcomed by the medical community and investors alike. I view the HBV space as GILD's second most promising area of study. Apparently, any additional abstracts or results disclosed over the next couple of days could meaningfully move the share price of GILD and the entire biotech industry.
Stock Price Momentum
The stock price action of GILD has finally turned positive after a very rough beginning of the year. As we can see from the chart below, the stock price bottomed in February along with the overall market and has begun to steadily regain the ground lost.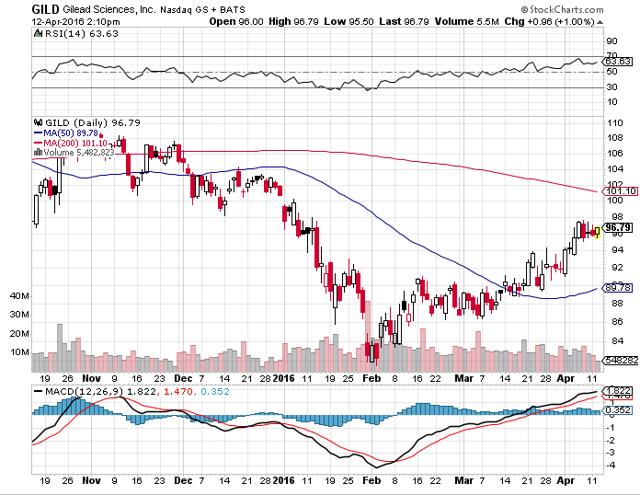 Interestingly, the shares of GILD are performing better than the biotech index IBB as shown below. In my view, the more speculative names are having significant difficulties regaining prior momentum. The loss of share price altitude directly plays into the strong hand held by GILD. GILD has a burgeoning cash hoard looking for attractive molecules to further its clinical pipeline. The depressed share price environment may allow the company to purchase assets at a far more reasonable price than what was readily available just a year ago. Patience remains a virtue here; I expect additional acquisitions to be announced as the year progresses. Upside resistance for Gilead should come in at the $100-102 level, the site of GILD's declining 200-day moving average. A meaningful close above may set the stage for a move up into the $110 area before the dog days of summer descend upon the market.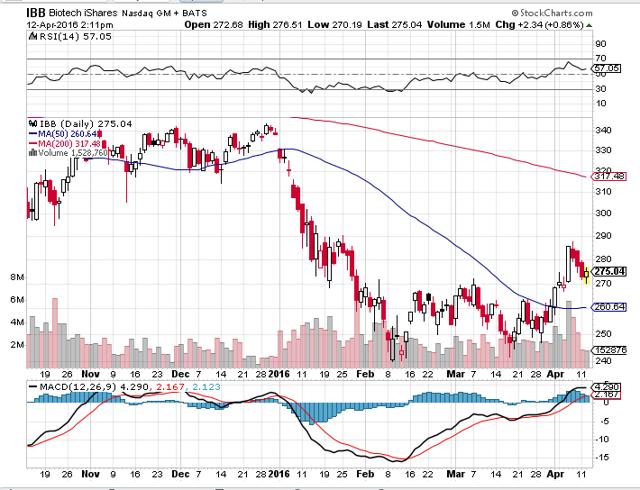 Earnings Release
GILD's first-quarter earnings release remains the most widely anticipated event of the quarter. I expect earnings to come again stronger than expected with revenue from the HCV compounds again leading the way. I fully expect GILD to retain the lion's share of all HCV revenue generated; its share may come in at well above 90% once again with Merck (NYSE:MRK), the newest entry, failing to gain much traction. I would not be surprised at all if GILD's management team once again raises yearly revenue and earnings projections. I suspect the share price may rise a bit, yet for the stock price to meaningfully advance, GILD would need to demonstrate a near-term replacement for the expected drop in revenue from the HCV franchise as it matures.
GILD remains aggressive in maintaining its dominance on the field with a PDUFA date of 6/28/2016 for its pan-genotypic NS5B/NS5A inhibitors dubbed Velpatasvir/Sofosbuvir. GILD is once again utilizing Sofosbuvir as the clinical backbone of its latest improvement in the treatment of HCV. I view the newest treatment as incrementally positive, yet far from a game changer. It does maintain GILD's lead in HCV which will continue to generate an abundance of revenue over the course of the rest of the decade. GILD continues to utilize the profits created to reward shareholders via a combination of dividends and share repurchases. Those who remember GILD as a heady growth play are disappointed as the hyper growth of yesteryear is replaced with an enviable stream of free cash flow. GILD should now be viewed through the same lens as the more established biotech/pharma players such as Pfizer (NYSE:PFE), AbbVie (NYSE:ABBV) and Amgen (NASDAQ:AMGN). On the post-earnings conference call release, the primary focus should remain on the progress of the clinical pipeline with particular attention paid to NASH and HBV.
Finbox.io Fair Value Model
The fair value model for GILD will be updated post the upcoming earnings release. As we can see from the table above, I am modeling for a decline in revenue out until 2019, which will more than likely be proven to be very pessimistic. I would be very surprised if GILD does not advance its own molecules through the regulatory process over the next few years. Barring complete clinical failure of its late-stage pipeline, I can easily envision a scenario similar to the tactics employed by ABBV to purchase a late-stage compound that has gained approval from the FDA. For now, I remain content to sit back and wait, reinvesting the dividend. I suspect as the pipeline matures, the fear of a sudden revenue decline will abate, equating to a higher share price.
Conclusion
The month of April will remain an interesting one for the GILD bulls. The upcoming Liver Congress may shed additional light on the path forward for GILD's ambitions in the NASH and HBV. The earnings conference call while detailing the past three months' results should serve as an additional opportunity to assess GILD's clinical pipeline. I would like to thank you for reading, and I look forward to your comments.
Investors are always reminded that before making any investment, you should do your own proper due diligence on any name directly or indirectly mentioned in this article. Investors should also consider seeking advice from a broker or financial adviser before making any investment decisions. Any material in this article should be considered general information, and not relied on as a formal investment recommendation.
Disclosure: I am/we are long GILD, ABBV, PFE.
I wrote this article myself, and it expresses my own opinions. I am not receiving compensation for it (other than from Seeking Alpha). I have no business relationship with any company whose stock is mentioned in this article.