Business Atmosphere
Activision Blizzard, Inc. (NASDAQ:ATVI) is in one of its most critical years since its inception following the merger of the two video game giants in 2008.
The company has a number of key releases and expansions in its 2016 pipeline. These include its first-person shooter Overwatch, the Warcraft movie, World of Warcraft: Legion, a Destiny expansion, multiple Call of Duty map-packs and in-game content, various Hearthstone: Heroes of Warcraft updates, the MLG eSports segment and its King acquisition coming on-line.
This is a company that heavily relies on establishing immersive franchises which tend to grow and retain its consumer base. This is evidenced by the cyclical releases of new content for old franchises - a new Call of Duty game released each and every year, for instance. These established franchises are extremely material to the financial well being of the company - the Call of Duty, World of Warcraft, Skylanders and Destiny franchises accounted for 71% of consolidated net revenues in FY15. As these franchises become more and more dated, I would speculate that they will start seeing stagnant sales growth. Although Call of Duty sales have remained strong, we have seen an ongoing decline in World of Warcraft subscribers ever since the peak near 12.5 million in 2010 (to below 8 million subscribers in this past year).
This type of business atmosphere puts pressure on Activision Blizzard to replace dying - or at least declining - franchises with new ones in order to replace lost sales and develop future growth prospects.
Financials
Share Price: $33.09
Market Capitalization: $24.30 billion
Price-to-Earnings Ratio: 27.79
Debt-to-Equity Ratio: 50.56%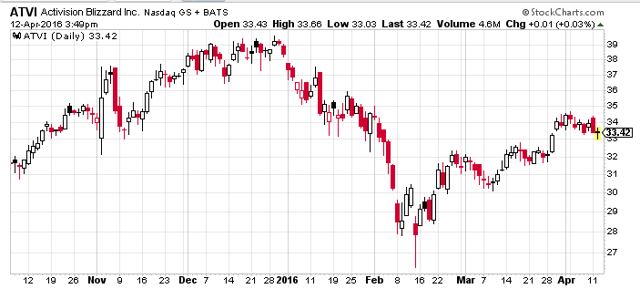 Growth Opportunities and Risks
As previously mentioned, the primary growth driver powering Activision Blizzard is the development and implementation of strong franchises. Although franchise growth is a core principle of the company's revenue structure, it is supplemented by a few other key drivers which come with a significant level of uncertainty.
Activision Blizzard continues to broaden its target audience, while expanding into new platforms and geographic regions. In 2015, the company grew its PC-based sales by 17.6% and its overall console-based sales by 11.3%. This came at the expense of online, mobile and "other" sales, which saw single-digit growth shrinkage ("other" consists of media networks and studios). Additionally, Activision Blizzard launched three new games in China in 2015, leading to Chinese sales growth of 87% y/y. Both of these aspects are incredibly important to both established and new franchises. The company must be able to provide its consumers with games they love on the platforms they prefer. If it is unable to expand onto these platforms and into new regions, its market share will be limited, capping growth potential.
The company also seeks to drive deeper engagement within developed franchises by providing outstanding gameplay and regular content updates. Full-year 2015 consumer time spent playing Activision Blizzard games was up 16% to a record of over 14 billion hours. This shows strong growth in consumer involvement metrics. However, this growth is heavily associated with just a few of its major titles - once these franchises hit a critical mass of players, both sales growth and hours played will stagnate.
Additionally, Activision Blizzard is shifting towards a year-round player investment model and away from a cyclical and seasonally-based model, which traditionally revolved around game releases. The purpose of this shift is to develop more stable cash flows, while reducing earnings volatility and dependence on new releases. In 2015, Activision Blizzard grew in-game content and services yielding over $1.6 billion in related revenues, growing 57% y/y.
The company has also been heavily involved in M&A activities, specifically with its expansion into eSports via the MLG acquisition and into mobile gaming platforms via the King acquisition. eSports is a global entertainment industry representing 80 million players and 130 million spectators, which has doubled in size over the past three years. Activision Blizzard acquired King for $5.9 billion in February 2016 - this purchase was under the premise that "the addition of Kind's highly-complementary mobile business will position the Company as a global leader in interactive entertainment across mobile, console and PC platforms, and positions the company for future growth." These are untested waters for Activision Blizzard and could present great platforms for continued delivery of the games and franchises its fans know and love.
Business Segments
Activision Blizzard consists of a number of business segments that are based around target platforms. In my analysis, I have also looked at revenues and expenses related to Activision and Blizzard as individual segments, in addition to target regions (North America, Europe and Asia Pacific).
The Online segment consists of revenues from all World of Warcraft products, including subscriptions, boxed products, expansion packs, licensing royalties, value-added services and Call of Duty Elite memberships. Online revenues are down 1.7% y/y representing declining sales in certain established franchises. I see a continued shrinkage of online sales as this trend continues on these mature brands.
The PC segment consists of games sold on the PC platform, which saw a 17.6% sales increase y/y primarily due to higher revenues recognized from the Hearthstone and Heroes of the Storm franchises. I forecast continued growth in the PC segment, as the underlying titles are trending upwards in popularity. Additionally, all of the new intellectual property in the 2016 pipeline should help push forward PC segment growth.
The Console segment consists of prior-gen systems (PS3, XBox 360 and Wii) and next-gen systems (PS4, Xbox One, Wii U). Predictably, prior-gen system sales saw sales shrink by 37%, as consumers are upgrading their hardware. Next-gen systems saw a large sales increase of 107.1% heavily associated with PS4 and Xbox One sales, along with the release of various Activision Blizzard games coinciding with this reporting year. I forecast slowing growth in the Console segment due to a lower number of console-specific titles being released as compared to prior years.
The Mobile and ancillary segment consists of revenues from handheld, mobile and tablet devices, as well as non-platform specific game-related revenues, such as standalone sales of toys and accessories from the Skylanders franchise. The King acquisition will drastically boost sales for this segment and help Activision Blizzard secure a larger percentage of this vast market. However, 2016 cash flows will be inordinately low primarily due to acquisition-related costs.
The other segment consists of media and studio-based sales. This is where the Warcraft movie will fall. There has been substantial hype behind this release, but only time will tell of the actual financial impact it will have.
Free Cash Flow-to-Equity Analysis
My cash flow of choice is FCFE, which is constructed via revenue/expense modeling and balance sheet trend analysis, while taking a number of aforementioned assumptions into account. I calculate FCFE as net income - change in working capital - net capex + net new debt. The forecast was extended through the end of FY25.
To calculate the cost of equity for the firm, I use a combination of historical firm data, market data (S&P 500) and forward-looking analyst estimates. The following is the process flow for calculating the relative cost of equity. I compare the historical and forward betas to calculate two different costs of equity and typically use the average of the two for a "baseline", with which I then adjust accordingly.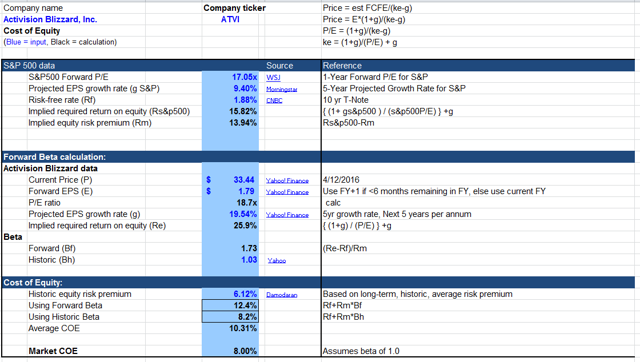 DCF Sensitivity Analysis
Discounting ten years of forecasted free cash flow-to-equity yields the following price ranges based on cost of equity and terminal growth sensitivity.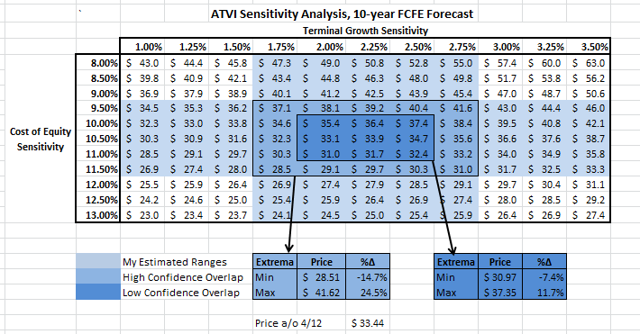 As can be seen, according to my forecasts and estimations, Activision Blizzard appears to be relatively fairly priced at the moment. I see potential upside in the $35-40 range, with potential downside towards the $28-30 range and the current price right in the middle. However, tweaking cost of equity and terminal growth (in either direction) has a large impact on the fair share value.
This will require future adjustments as the company begins rolling out new titles, expanses and features throughout 2016.
Conclusion
Activision Blizzard appears to be fairly priced given my assumption that current trends will continue and new releases will perform "average" when compared to previously released titles. These assumptions lead to middle-of-the-road cost of equity and terminal growth estimates. If new 2016 releases and franchises perform more poorly, these metrics should be shifted downwards, leading to a price target in the mid-to-upper $20s. However, if new releases perform better than expected, I could foresee a price target just north of $40 per share.
All in all, with the amount of new products in the pipeline and various change on the horizon, it is very difficult to price Activision Blizzard with any level of certainty - I currently rate the stock as a hold due to similar levels of upside versus downside.
Disclosure: I/we have no positions in any stocks mentioned, and no plans to initiate any positions within the next 72 hours.
I wrote this article myself, and it expresses my own opinions. I am not receiving compensation for it (other than from Seeking Alpha). I have no business relationship with any company whose stock is mentioned in this article.