2015/2016 natural gas withdrawal (heating) season has ended (in terms of how heating/injection season is traditionally defined). Whether you are an investor or a producer, if you have reasons for prices to be high, 2015 and 2016 (so far) have been painful to say the least - who would have thought but some people would jump up and down if gas hits $2.50. There is no debate as to how dire the macro picture is when it comes to natural gas: working natural gas inventory at its highest level going into injection season (essentially same as when storage season ended in 2012); we are coming out of one of the hottest winters on record (cumulative heating degree days during 2015/2016 heating season were 17% below normal); and record high dry gas production (albeit expected declines). Not surprisingly, in early March, April NYMEX contract settled at $1.666/MMbtu, the lowest contract settlement since 1999.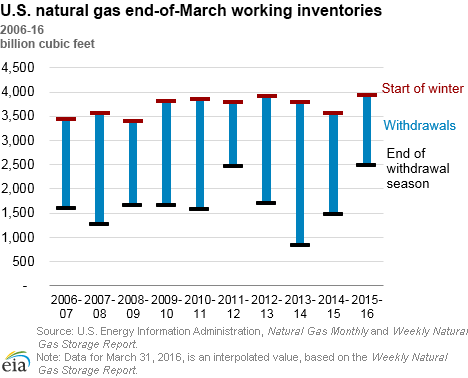 The past few months of the heating season were flooded with news around record high working inventories, 2-5 bcf/d of undersupply in the market, more than offset by one of the warmest winter temperatures in history. Rightfully so, we are also exiting this heating season at historically low rig counts and gas prices. We are now entering injection season where impact of weather is relatively muted and we will get to monitor when and how quickly supply/demand balance moderates working inventory levels to a more normalized level in the coming seven months (maybe it won't). On the one hand, 2012 is a very recent example of how macro 101 plays out in real life - on the other extreme end, some say that inventory will hit physical US storage capacity which is believed to be roughly 4,300 bcf by the end of injection season.
This article summarizes historical working inventories and provides data points to monitor this year. Also, it attempts to lay out primary bullish and bearish fundamentals seen in the US market (on a weather-neutral basis).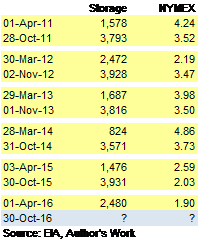 Again from the table above, we have already established the fact that we just ended the heating season at a record high level that is in line with 2012. With respect to injection figures to monitor this year, historical average injections (~70bcf/week) would leave US gas storage at above 4.5 Tcf which is above storage capacity; 2012 average injections (~47bcf/week) would get storage to slightly below 3.9 Tcf which is only slightly above 5-year average of when injection season ends. So, where will storage be when injection season ends later this year?
The exhibit and excerpt below from RBN Energy summarize what happened in 2012: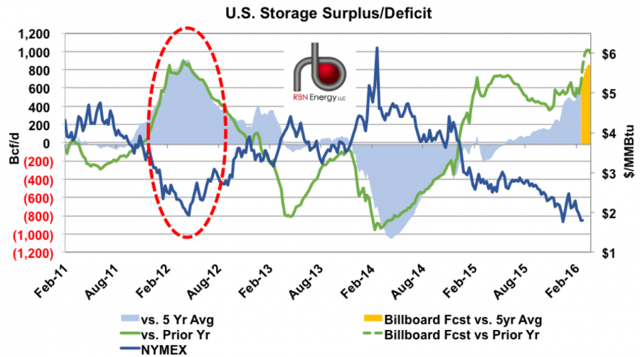 "…correction in 2012 was entirely due to increased demand. That summer, storage injections were just 1,435 Bcf compared to between 2,000 and 2,800 Bcf in the other injection seasons from 2011 to 2015. While supply averaged more than 2.0 Bcf/d higher in summer 2012 versus 2011, hotter weather helped prop up demand by increasing gas-fired electricity generation use for air conditioning. On top of that, lower gas prices helped incentivize higher gas to coal power switching… Looking back at that summer of 2012, the evidence suggests that the surplus was largely whittled down by the impact on demand of the significant natural gas price correction to below $2.00/MMBtu in April. Something similar is needed this summer"
At any given point in time, a lot of directional arguments can be made for macro considerations and the same goes for natural gas as well. While I cannot make a precise price prediction or time anything, I at least think US natural gas fundamentals are far more "contained" than fundamentals of oil - and while extreme weather will have an overriding impact on natural gas price than any other variables (probably combined), below provides some analytical framework for what natural gas fundamentals look like under the assumption that you are not making a "weather beta" play.
BULL: Rig Count
Natural gas rig counts fell below 100 for the first time in Baker Hughes' (NYSE:BHI) 29-year rig data history (88 gas-directed rigs by end of March 2016) - this compares to roughly 250 gas rigs in 2014 and far less than what was estimated by research community towards the end of 2015. As this has been a persisting trend in both oil and gas, we all know that lower rig count does not immediately translate to lower supply. It has a lagging effect and when the supply/demand balance gets tighter or shifts to an undersupplied market, adding rigs also does not translate to increased supply immediately (depending on intensity of pad drilling, lead time for a new rig ranges between 6-9 months). If and when the pendulum shifts, today's record low rig count will provide tremendous tailwind for gas price.
BULL: Associated gas production
About 1/3rd of total US gas production comes from associated gas production, gas that is produced as a byproduct of the production of crude oil. Decrease in US oil production has a quite significant impact on gas supply and the current trend of operators high-grading (drilling their best wells) is still focusing new drilling on oilier liquids-rich play.
BULL: Dry gas production outlook/E&P CapEx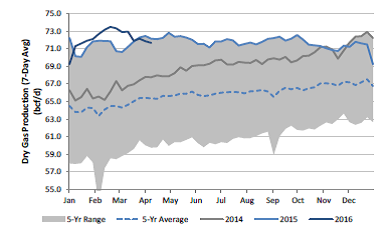 Source: EIA, Raymond James
Natural gas production remains somewhat depressed already in the mid 71bcf/d level, according to pipeline flow data in April (estimated). This compares to roughly 74bcf/d of gas production in February 2016 when it peaked.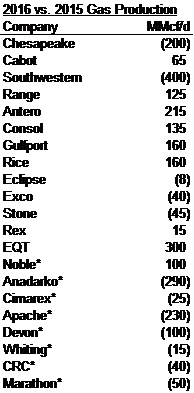 * denotes only natural gas portion of 2016 production estimates
Source: Capital IQ, Company Data and Investor Presentation (CHK, COG, SWN, RRC, AR, CNX, GPOR, RICE, ECR, XCO, SGY, REXX, EQT, NBL, APC, XEC, APA, DVN, WLL, CRC, MRO)
Per aggregate data from E&P operators in the US post-Q4 earnings, industry capex guidance in 2016 is down 40+% year over year (c. $45 billion). On a bottoms-up basis, you have a mix of gas-weighted names that will grow production due to strong hedges and production momentum (names like AR, RICE, GPOR, EQT) and both large-cap and small-cap names that are struggling due to some form of financial distress (names like CHK, SWN, ECR, XCO). However, on the more oil-weighted or oil-and-gas balanced names, "associated production" volumes are rather consistently projected to come down this year. Aggregate productions are already coming down but we shall see how it plays out for the remainder of 2016.
BULL: Power demand
For the first time ever, US natural gas-fired power plants are generating more electricity than coal-fired counterparts. Also, EIA recently forecasted that gas will overtake coal as the primary source of generation in 2016. This is partly due to coal-to-gas switch but more so around federal environmental rules tightening - a combination of coal plant shutdowns and replacements with new gas-fired generation facilities.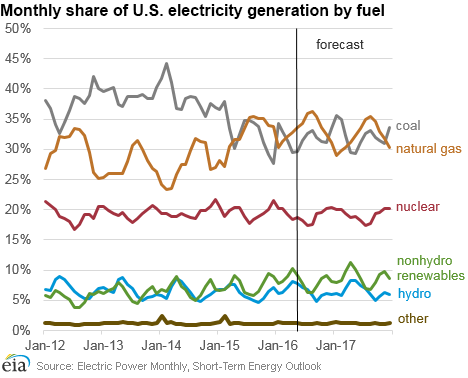 An important consideration when it comes to "incremental" demand from natural gas-fired generation is the concept of "coal-to-gas switch." It is the price parity point where it makes natural gas more attractive to fuel electricity generation with natural gas rather than coal. However, today's generation mix already takes into account a lot of coal-to-gas switch that has already occurred - higher cost Appalachian coal in the Northeast (PJM) has probably already been displaced (parity point near $3 gas). Any incremental switch that could move the needle will be in the Southern region that uses cheaper PRB coal (switch point near $2 gas). In any case, the sheer magnitude of natural gas-fired generation on a run-rate basis and especially in today's pricing environment supports a robust demand picture for natural gas.
BEAR: DUCs
No one knows exactly but it is estimated that there are over 4,000 drilled-but-uncompleted (DUCs) wells in the US - vast majority of the inventory is in the oil-weighted basins including Bakken, Eagle Ford, Permian, DJ, etc. (I have heard that the number is around 1,000+ for Marcellus/Utica/Haynesville but I am not sure). The implication of these DUCs on natural gas supply/demand landscape is that they can quickly contribute to supply and can be turned on based on more short-term price outlooks. It also obviates the impact of low rig counts, given that these wells are already drilled and can be completed with short lead time. To complicate the dynamics, many rigs in place today are to build up DUC inventories for when operators exit 2016 as opposed to drilling for the purpose of tying them into production this year (this is to either position for an upcycle or to be able to prevent falling off a cliff in 2017 if price continues to stay the same, hedges roll off and no liquidity). In any case, one could theorize that a large inventory of DUCs would push production back up even if there is a price recovery and hence driving price right back down.
BEAR: Drilling efficiency/Recovery factor
Throughout this commodity price downcycle and long before we started seeing price declines in summer 2014, drilling efficiency and higher recovery factors across all shale basins in the US have been a consistent theme behind rapid production growth and plethora of capital into the E&P space. Specifically with respect to key gas-weighted basins, Marcellus and Utica, new well results especially in the dry Utica continue to support ample natural gas production. From a high level resource potential perspective, despite short production history, these wells in the dry gas window in southeast Ohio, northwest West Virginia and southeast Pennsylvania are yielding EURs north of 20Bcf per well with IP results north of 40mmcf - now, many of these new wells have prohibitive well costs associated with them (for example, EQT Corp. drilled a Utica well with an IP of 72mmcf/d but had a well cost of $30 million! - this is an outlier but most monster Utica wells cost north of $10 million/well). From an operational point of view, Rice Energy's Bigfoot 9H well has a 500+ day production history with impressive decline rate: it produced at a restricted rate of ~15mmcf/d for over 500 days at which point it declined to below 10mmcf/d. Eclipse Resources also has some interesting slides in the investor presentation around best practices on their Utica wells in terms of pressure management. The takeaway is that no one should be appalled by the initial production rates other than the fact that they are prolific wells - the real takeaway is that when Utica wells are produced at restricted rates of 10+mmcf/d initially, these wells can go for about half a year before they see any decline.
In terms of macro picture, many people look back at 2012 when gas rig counts dropped dramatically and yet production increased significantly - there is absolutely no denying in that newer vintage wells are more productive and more efficiently drilled. The caveat, however, is that in the 2011-2013 timeframe, while gas directed rigs dropped 50%, oil directed rigs increased more than 2x - during this time, associated gas production increased by more than 2bcf/d. Again, drilling efficiency and higher recovery factor probably trump the impact from associated gas production but this time, both gas and oil rigs are at trough levels.
BEAR: LNG export
First cargo left Cheniere's (NYSEMKT:LNG) Sabine Pass terminal on February 24, 2016, a vessel carrying a little more than 3 Bcf of LNG bound for Petrobras (NYSE:PBR) in Brazil. First set of liquefaction trains that have started will contribute 650 MMcf/d of gas demand and this will ramp up to 3.5+Bcf/d once all six trains come on line from Cheniere. Approved and under construction terminals bring up liquefaction capacity to 9.2 Bcf/d.
While LNG export was expected to be the saving grace when it came to natural gas prices for years, it was never a significant demand contributor in the near term. In any case, US LNG export economics has dramatically compressed as a result of the precipitous drop in oil price. Most buyers of US LNG traditionally purchased gas on oil-linked indices such that when oil was $100/bbl, the price arbitrage more than justified the cost of liquefaction, transport, and regasification off of Henry Hub price (even at $3-4/MMbtu) - this arbitrage no longer exists and it is more economical to secure LNG in Asia in the spot market.
In early March 2016, Veresen's (OTC:FCGYF, TSE: VSN) proposal to build Jordan Cove was rejected - FERC alongside denied plan to build a pipeline with Williams Partners LP (NYSE:WPZ) to supply gas to Jordan Cove. Veresen is appealing and I have no idea what the outcome will be but this recent event is a testament to the difficulties in justifying economics of an LNG export project. This is one example but for the time being, prospective projects without offtake contracts are indefinitely put on hold or cancelled.
BEAR: USD (vs. CAD)
This is a more minor and inevitably shorter term headwind as it is FX related between USD and CAD. However, in a less evident way, the unusually strong USD relative to CAD has made Canadian natural gas more competitive in US import market. Unconventional gas in select basins of Canada are very competitive from a resource and economics point of view - having said this, due to inevitable basis differential, with the exception of areas that lack infrastructure in the US and seasonal demand during winter, there is no compelling reason to be importing a whole lot of gas from Canada. In any case, despite the recent moderation, FX is still a headwind for US natural gas competitiveness.
Other considerations:
Mexico: Increased natural gas exports to Mexico have been a bright spot in the natural gas demand picture. As more pipeline capacity gets built, it just makes a lot of sense for Mexico to be importing cheap natural gas from the US. Exports have doubled since beginning of 2014 from 1.7bcf/d to roughly 3.5bcf/d.
Northeast takeaway pipeline delays: Uncertainty around timing of Rover (ETP - 3.2 Bcf/d); Constitution (NYSE:WMB) has officially shifted six months to 2H 2017 (as NY stalls on permitting; 0.65 Bcf/d); Atlantic Sunrise has seen permitting delays (1.7Bcf/d) with start date getting pushed out to January 2017 (hurts Cabot and Chief Oil with 850MMcf/d and 420MMcf/d of firm capacity). While this may be a huge consideration for northeast E&P companies, this probably does not have a huge implication on near-term natural gas prices other than hindering some northeast operators from ramping up production as quickly as possible (probably was not going to happen anyway).
NGL price: Logic here is analogous to oil/associated gas production. NGL prices which tend to be linked to oil price used to be much higher to a point where operators were producing wet gas to market NGLs and considered dry gas as a byproduct. "NGL uplift" is essentially gone at this point and no operator is further incentivized to drill solely based on NGL economics.
Switching to electric vehicle: This really does not move the needle but more of a fun fact, if anything. According to Macquarie Research, average residential power consumption per customer could nearly double in many regions if he/she decides to switch to Tesla (NASDAQ:TSLA) or the likes. Drivers spent $1,962 per household on gasoline fuel in 2015 which compares to less than $1,000 increase in expected electricity bill for a customer who maintains same driving habits but pays local utility instead of gasoline (while utility bill could potentially double in certain regions, on average, ~70% increase in the US).
Conclusion:
At the end of the day, record low temperatures next winter or even record high temperatures this summer will increase gas prices against how other variables actually play out - alternatively, mild summer combined with another unusually warm winter will keep gas prices depressed regardless of export volumes to Mexico or power demand. Furthermore, coming out of this injection season at a certain inventory level does not guarantee a certain price for natural gas either. In any case, despite being an extremely difficult task, I do think you can try to mimic fundamentals-driven & non-weather beta investing for US natural gas at certain pricing points. To put it bluntly, whether weekly injections trend closer to 2012 or even historical lows, there is no reason why gas prices should go up to $3 in the next 3 months. Having said this, absent a continuation of three-sigma events on the weather front, I think there is an asymmetric risk/reward at today's pricing level to the upside. Without non-economic incentives to drill as an E&P company or without relying on hedges, no new gas drilling is economic at today's pricing and with megatrends and market fundamentals providing robust support (in my opinion), I think commodity-related gas ETFs and ETNs (UNG, UNL, UGAZ, BOIL) could provide a potentially rewarding investment opportunity.
Related Exhibits: Historical and Average US Natural Gas Demand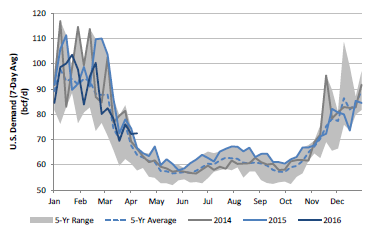 Source: EIA, Raymond James
Related Exhibits: 2016 Summer Weather Estimate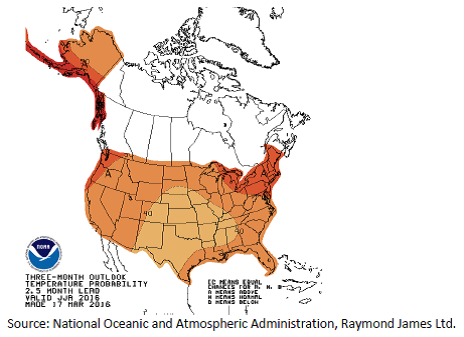 Disclosure: I am/we are long UNG, UNL.
I wrote this article myself, and it expresses my own opinions. I am not receiving compensation for it (other than from Seeking Alpha). I have no business relationship with any company whose stock is mentioned in this article.
Editor's Note: This article covers one or more stocks trading at less than $1 per share and/or with less than a $100 million market cap. Please be aware of the risks associated with these stocks.