It's great to have a fan club and I especially like hearing from my #1 fan, RoseNose. With over 3,500 followers of her own, this dividend diva is not only a savvy investor, but also a well-respected writer on Seeking Alpha. In her most recent article she explained several of her most recent REIT trades and also stocks I own, Care Capital Properties (NYSE:CCP) and Chatham Lodging (NYSE:CLDT).
It's always good to see investors with mutual interests and I was especially glad to see RoseNose grab a few shares of one of my favorite "cracker jack" lodging REITs, Chatham Lodging. In her words,
I begin to "see the light" or "smell the roses".
Indeed, there is plenty to like about Chatham, and as I said, owning this small-cap REIT is akin to opening a box of Cracker Jacks, there's always a surprise worth waiting for. RoseNose opted to "take the boot" with CCP and focus her hard-earned capital on CLDT.
In this article, I will break open the box of Cracker Jacks so that everyone can unlock the secret ingredients that make Chatham Lodging so special. Let's dig in...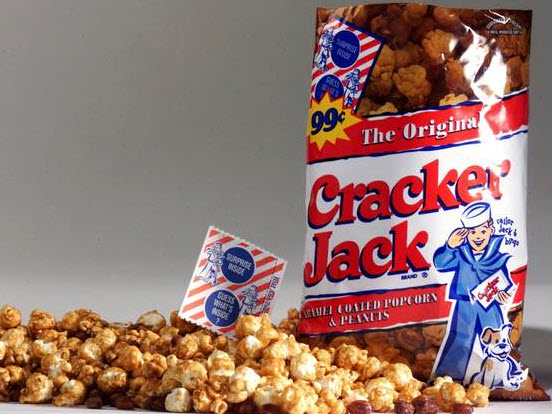 Some Background
In over six years (the IPO was in April 2010), Chatham Lodging has grown in assets from around $222 million to more than $1.339 billion (as of Q4-15). The company is a lodging REIT that invests in upscale extended-stay hotels and premium-branded select service hotels. At 12/31/2015, the company owned 38 hotels with an aggregate of 5,675 rooms. The company also has a 10% interest in two joint ventures owning 95 hotels.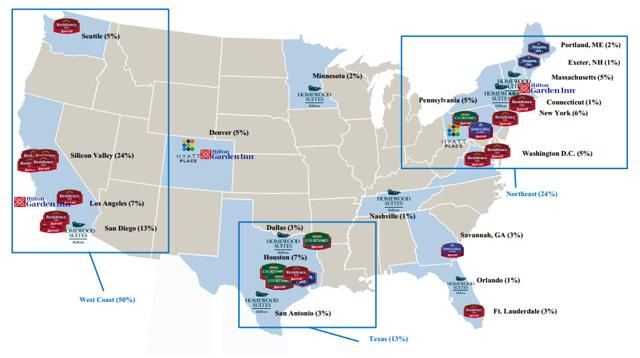 CLDT invests in lower cost facilities commonly referred to as Premium-Branded, Upscale Extended Stay and Select Service. I like this category because the hotels have higher profit margins than full service with a higher growth profile as it relates to consumer demand.
As you can see (above) CLDT has a Coastal Preference: 50% of the portfolio is located on the West Coast and 24% in the Northeast. The 2nd highest exposure to West Coast markets of all U.S. lodging REITs.
Also, CLDT has NO exposure in Manhattan. In 2015, the company acquired four high-quality hotels in leading MSAs (San Diego, Boston, Ft. Lauderdale and Los Angeles). All strong market growth, multiple demand generators and high barriers to new supply in each of these markets.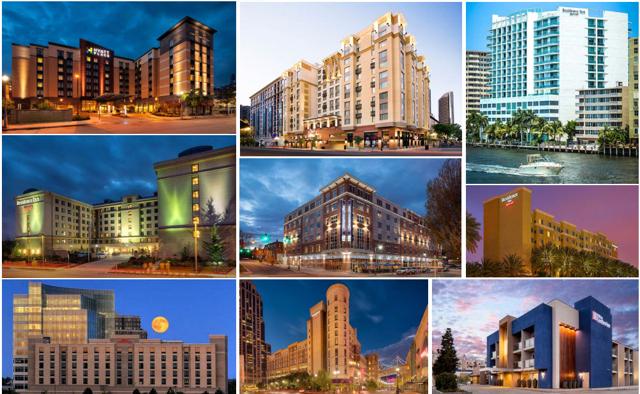 Over the last two years, CLDT has completed $845 million of hotel investments and the portfolio consists primarily of Hilton and Marriott brands, attaching the REIT's continued success to the success of these brands.
Note that should sentiment/perception turn negative on Hilton and/or Marriott, CLDT's results would be materially affected. As illustrated below (based on market cap), CLDT is a smaller fish in the big pond, but like RoseNose, good things often come in smaller packages.

What Are The Growth Drivers?
CLDT pursues a unique strategy of focusing on "premium brand select" service hotels, such as Residence Inn, Homewood Suites, Hyatt Place, Courtyard and Hampton Inn. The company concentrates on upscale Extended Stay properties that generate a 10-15% occupancy premium.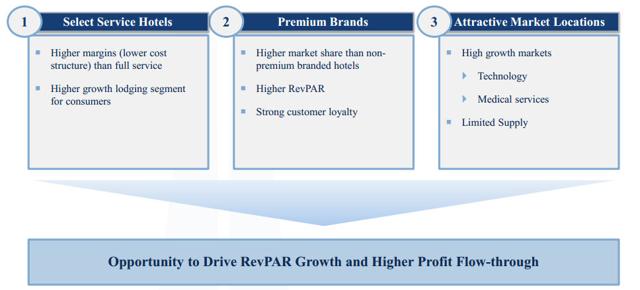 By focusing on these "premium brand select" hotels, CLDT earns higher RevPAR and market share than other select service hotels. That means higher margins, lower cost and attractive cash flow that is not dependent on group business models.
Here is a snapshot of CLDT's premium brand select service hotels compared with full service. (In full disclosure, I just wish I could get a room in NYC for $124 per night… I'll tell you my Airbnb story in a few days).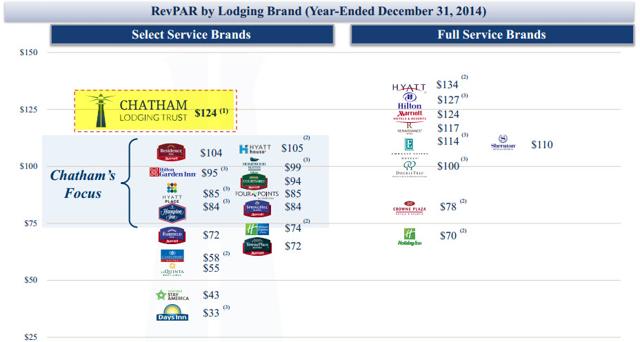 At this point, Lodging is 67 months into a cycle, which is longer than the last cycle. But given the fact that new supply is still fairly well contained for the next couple of years, most industry experts believe this will be a longer cycle, similar to the cycle that lasted 111 months which began in the mid-1990s.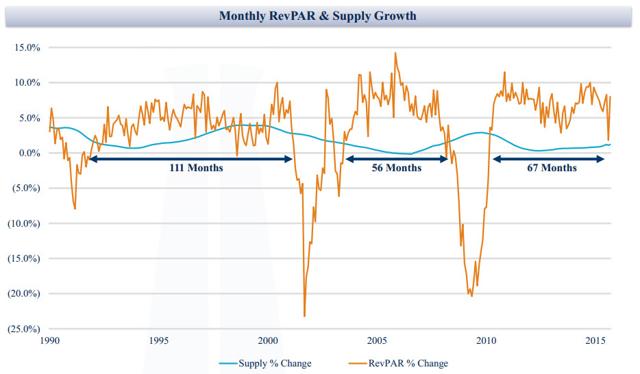 One ingredient for CLDT's continued success is the strong RevPAR growth of 4.7% announced in Q4-15. That was slightly below the company's guidance range (5% to 5.5%) but adjusted FFO per share of $0.42 was within the guidance range provided. During the quarter, RevPAR grew 4.5% in October, 5% in November and 4.5% again in December. Here's how the company's RevPar performed as it relates to the peers: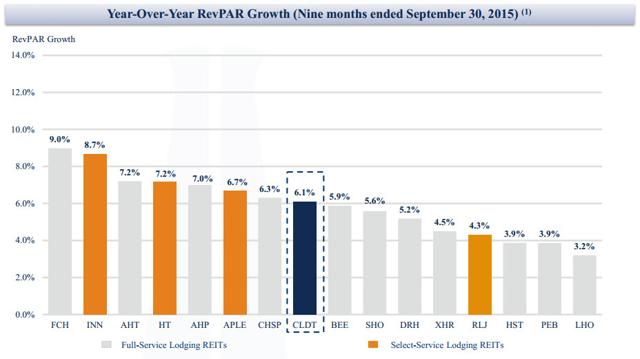 Other factors influencing CLDT's RevPar performance in the last quarter was a 3.1% increase in occupancy to 77% and a 1.5% increase in ADR to $154. CLDT's RevPAR growth at 4.7% was among the highest in the lodging REIT sector and the solid growth outlook provides a valuable indicator that should drive profits higher in 2016 and 2017.

Impacting CLDT's Q4-15 results were higher than expected expenses (property taxes, OTAs) as revenues were in line with expectations. As a result, adjusted EBITDA was $1 million below the low end of guidance and hotel EBITDA margin was 37.5% versus guidance of 39.3%-40.3%. Note that CLDT's 2015 hotel EBITDA margin of 43.0% remains the highest in the industry and current projections call for 43.0%-43.6% in 2016.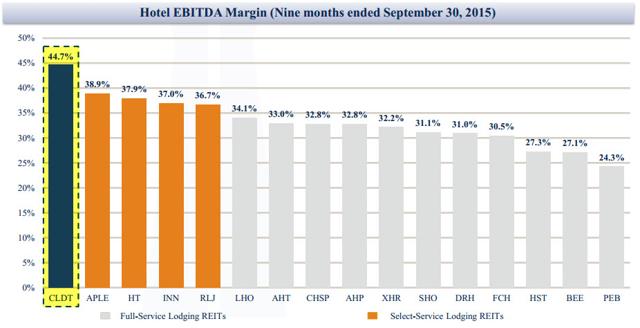 High occupancy creates the opportunity to increase room rates (or ADR) which drives higher profit flow-through/Hotel EBITDA growth (rate increases are primarily profit). Here's a snapshot of CLDT's occupancy rate (for 9 months) compared with the peer group:

The Capital Structure
CLDT is not investment grade rated (as RoseNose pointed out) but the balance sheet remains in excellent condition. The company's net debt was $589 million at the end of the quarter and the leverage ratio was 41.2%. The company's weighted average costs of debt was 4.4% and 90% of debt is fixed rate.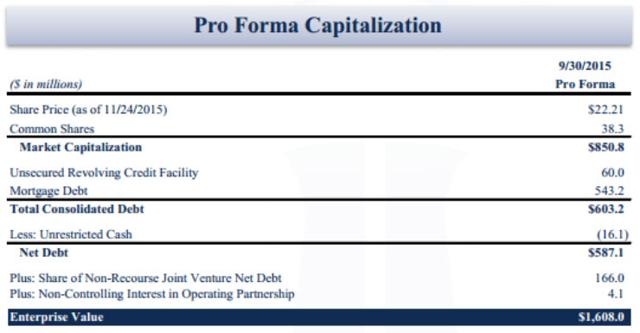 During the fourth quarter, CLDT refinanced its $175 million secured credit facility with a new $250 million unsecured credit facility. The new facility matures in November 2020 and is priced at LIBOR plus 165 and at the current leverage level, this represents an 85 basis point reduction from the spread in the previous facility. The weighted average debt maturity is ~ 8 years and only $6 million of mortgage debt is maturing before 2020.

In addition, the new credit facility now allows $75 million in share repurchases. That said, the company is currently prioritizing funding its Silicon Valley expansions over share repurchases.
In 2016 CLDT is still expected to add material value to its Silicon Valley portfolio, the San Mateo portion may need to be adjusted as updated plans may not support the previously planned expansion efforts. Originally projected to add 43 rooms, updated plans now only allow for less than 30 rooms which could halt expansion plans for this asset (a recent hiccup in the air rights).
Still, with Mountain View currently scheduled to be completed in Q2-16 and the Sunnyvale expansion plans set to begin in Q4-16, the projected output still calls for the addition of 220 rooms generating an incremental $10 million of EBITDA and $6.5 million in FFO ($0.17/share). I see no material impact to the Silicon Valley properties; however, I always caution potential disruptions related to severe weather or perhaps earthquakes.
Now For The Prize
As promised, there's always a prize in the bottom of a box of Cracker Jacks and there is also for Chatham. The most compelling argument to own shares is the strong AFFO per share growth. As you can see below, CLDT has generated 27% CAGR in AFFO per share between 2011 and 2015:

This compares very favorably to the peers (3rd best in the Lodging sector):

Here's a chart (using FFO) that I prepared for modeling purposes:

You can see the steady earnings history with very steady and predictable growth. Now, in 2016 the company has guided $2.45-$2.55, which implies +9.2% earnings growth. As you can see below, I used $2.52 as the mid-point estimate:

Typically, when you see a REIT with growing earnings, dividends follow. That's precisely the case for CLDT. As you can see below, the company has maintained a consistent dividend growth record and the company recently raised its monthly dividend to $0.11/share from $0.10/share, or $1.32 on an annualized basis.

That new dividend payout equates to a 6.6% current dividend yield. The 2016E FAD payout is 61.1%.

Let's take a look at CLDT's Total Return performance, starting with the 1-year history:

Now let's take a look at YTD performance:

In terms of valuation, we must recognize that the hotel industry is cyclical and heavily dependent on both the consumer and business sentiment/environment. A slowdown in economic activity is likely to negatively impact the lodging industry, leading to lower-than-expected results.
Given where we are in the cycle, it seems that the select-service segment provides a healthy balance of defense and growth, especially for a company such as CLDT, which appears to have stronger internal growth catalysts than most peers and does not necessarily need additional external investment to drive earnings.
I must also draw attention to CLDT's healthy dividend growth record and like RoseNose, I have become a fan of this "cracker jack" investment because of its very reliable dividend history. What about adding more shares today? Take a look:

Shares are still cheap, so there're plenty of "cracker jack"s left. If you want to stick your hand in now, take a look at the FAST Graph below: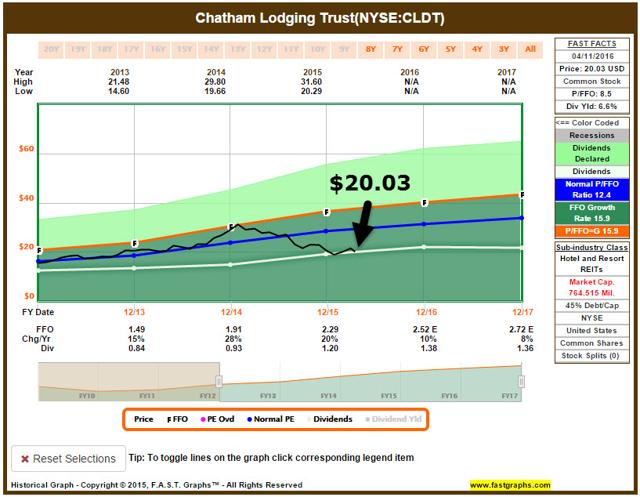 In closing, RoseNose exactly where to find the best treats in REIT-dom and she has unlocked the secret behind the successful business model known as Chatham Lodging. As RoseNose pointed out, CLDT is also a "monthly payer" and that makes the special treat even more delicious to savor, you can taste the delightful dividends each and every month. Without a doubt, RoseNose Chatham Lodging Has All Of The Ingredients For Something Special.
Author's Note: I'm a Wall Street writer, and that means that I am not always right with my predictions or recommendations. That also applies to my grammar. Please excuse any typos, and I assure you that I will do my best to correct any errors if they are overlooked.
Finally, this article is free, and my sole purpose for writing it is to assist with my research (I am the editor of a newsletter, Forbes Real Estate Investor), while also providing a forum for second-level thinking. If you have not followed me, please take 5 seconds and click my name above (top of the page).
The only guarantee that I will give you is that I will uncover each and every rock I can, in an effort to find satisfactory investments that "upon thorough analysis promises safety of principal and satisfactory return. Operations not meeting these requirements are speculative." (Ben Graham).
Sources: SNL Financial, FAST Graphs and CLDT Filings.
REITs mentioned: APLE, AHP, AHT, DRH, FCH, HT, HPT, HST, LHO, PEB, RLJ, INN, SHO, XHR, RHP.
Disclaimer: This article is intended to provide information to interested parties. As I have no knowledge of individual investor circumstances, goals, and/or portfolio concentration or diversification, readers are expected to complete their own due diligence before purchasing any stocks mentioned or recommended.
Disclosure: I am/we are long O, DLR, VTR, HTA , STAG, GPT, ROIC, HCN, OHI, LXP, KIM, WPC, DOC, EXR, MYCC, BX, TCO, SKT, UBA, STWD, CONE, BRX, CLDT, HST, APTS, FPI, CORR, NHI, CCP, WSR, CTRE, WPG, KRG, SNR, LADR, HCP.
I wrote this article myself, and it expresses my own opinions. I am not receiving compensation for it (other than from Seeking Alpha). I have no business relationship with any company whose stock is mentioned in this article.