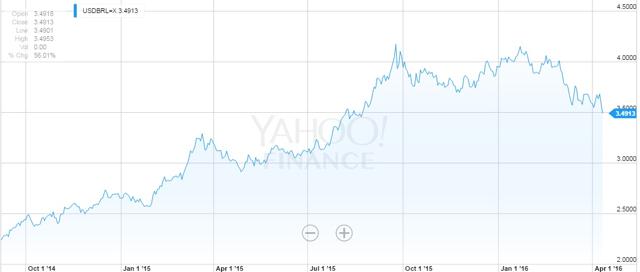 Source: Yahoo Finance
Recently, Brazil's lower house of Congress voted in favor of impeaching President Dilma Rousseff. If the upper house decides to put her on trial, she will be suspended for six months and the Senate will decide her fate. The Brazilian Real has appreciated sharply anticipating a recovery in the economy.
Economic growth
The Brazilian economy is expected to shrink 3.66% year-over-year (or yoy) in 2016. Growth will resume next year and the country is expected to grow 0.35% yoy. Its growth is dependent on its major trading partner China, which slowed down in the last one year. Brazil's beef and iron ore exports will improve as growth resumes in China.
Foreign investment
Foreign investors have invested $1.71 billion ( 5.97 billion Reals) in the domestic equity market in the first half of March 2015. The country's high interest rate of 14.25% is attracting investment in the debt market. The domestic real estate market also appears attractive. Foreign investors are likely to pour in more money hoping that a political change will revive the Brazilian economy.
Weak U.S. dollar
The U.S. dollar index is hovering around 95 levels in the past few months. It is unlikely that the Fed will hike interest rates this year due to weak global growth and the impact of a stronger U.S. dollar on the U.S. economy. This could lead to appreciation of emerging market currencies including the Brazilian Real.
Final Thoughts
I remain bullish on the Brazilian Real with a price target of 3.0 against the U.S. dollar by current year end.
Disclosure: I/we have no positions in any stocks mentioned, and no plans to initiate any positions within the next 72 hours.
I wrote this article myself, and it expresses my own opinions. I am not receiving compensation for it (other than from Seeking Alpha). I have no business relationship with any company whose stock is mentioned in this article.