Introduction
It's been a tough year to be an oil bull. Like many others, I have a view that given enough time, low price will eventually reduce supply and balance the market. Many famous names in commodities have gotten the price of oil wrong; Andy Hall, Harold Hamm, David Demshur, Mike Rothman, and Boone Pickens are a few of the renowned bulls that have been proven wrong in 2015. Like these gentlemen, I maintain that timing is the variable that was miscalculated. Don't get me wrong - timing is everything if you actually want to make money in the stock market, but it's not a reason to change your thesis on the direction of a commodity like oil.
2015 was also a tough year for investors in a popular oil exchange-traded funds (ETFs) like the United States Oil ETF (NYSEARCA:USO) or the iPath S&P Crude Oil Total Return Index ETN (NYSEARCA:OIL). I've been long energy in 2015 via Linn Energy (LINE), BreitBurn Energy Partners (NASDAQ: BBEP), Transocean (NYSE:RIG), First Solar (NASDAQ:FSLR), and more recently, Legacy Reserves (NASDAQ: LGCY) and Mid-Con Energy Partners LP (NASDAQ: MCEP).
In this article, I will provide 10 reasons for my bullishness and explain why I think the price action in 2015 will be very different from that in 2016. I believe being on the sidelines in oil right now is akin to selling the S&P 500 when it ran up 50% from the low of 676. Many retail investors missed the recovery because the arguments that drove the S&P to 676 were still being presented as it moved up. If you hang onto the reasoning of why the market moved down and ignore the reality that the market probably wildly overshot the downside to 676, you'll think it's way overpriced several hundred points later. Of course, history shows you would have been wrong.
My current view is that oil is likely capped at $65 for the next couple of years, but it will not stay below $40 for any extended period of time from now on.
For some key background and my take on the recent history and background of the current glut, please read here.
Ten reasons why oil will trade in a $40-65 price range
Reason 1: The marginal cost of a barrel is much higher than $40. The marginal cost is the cost to produce one more barrel of oil in the current environment. In a perfectly efficient market, that final barrel would be the most expensive one to produce, and would only be produced if the market price supported it. I go into more detail on this in my fourth point. However, arguments have recently been presented suggesting that $40 is too high of a price in the current market for oil. These arguments appear to be mostly rooted in the feeling that because it was momentarily priced at $26, $40 is too high. That's an emotional argument, not one driven by data. The market can be largely driven by emotion, but eventually, data will win. This brings me to my second point.
Reason 2: The quality of the data around crude oil production is terrible. Even the solid monthly EIA production data is a couple of months behind and only represents the U.S. This data gets revised with little coverage, and can be wildly misleading for all but the most eagle-eyed of investors. For example, the December 2015 monthly data was revised downward 27 Mbbl/d (thousand barrels per day), but this was largely missed in the reporting of this critical decline number. If you look at the difference between the December and January production alone, you'd see only a 56 Mbbl/d decline and miss this adjustment. That small miss can make all the difference when it's extrapolated. If you modeled U.S. production for the rest of the year based on the December-January decline of 56 Mbbl/d and not the adjusted 83 Mbbl/d, you'd come up with an annual decline of -672 Mbbl/d instead of -996 Mbbl/d. While there is plenty wrong with this kind of simple calculation, I use it to illustrate how one piece of bad data can make for some very incorrect conclusions. To cite another example of how bad the data is, there is question around whether or not 550 million barrels of the current reported glut is somewhere in storage, was used, or never existed at all. This difference could mean oil demand is 1 MMbbl/d (million barrels a day) higher than the data suggests, and is clearly material. In my day job, I lead teams of people that utilize data to make recommendations about business decisions. I can tell you from experience that one incorrect assumption, or making assumptions about the integrity of data, can completely change the direction of a business investment decision. Bottom line: If you don't trust the data, your decision becomes a gamble.
Reason 3: Production hedging skewed the economic reality of production in 2015. Upstream E&P hedge books were very strong in 2015, with 25% of total production hedged in North America at very high prices. The chart below shows 2016 hedging at just 11%, at an implied price of $69/barrel: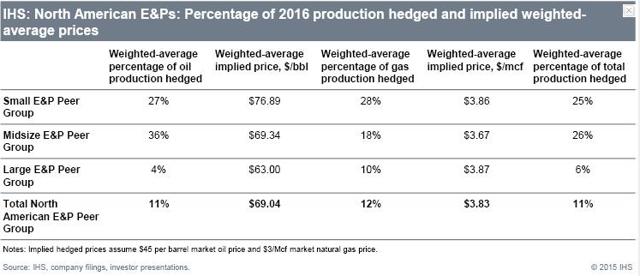 Reason 4: Overly optimistic reporting on costs of production from U.S producers. The chart below would be funny if the people that produced it didn't believe it. This chart came to my attention courtesy of Bloomberg. The arrow was added by the influential Bloomberg reporter, Javier Blas.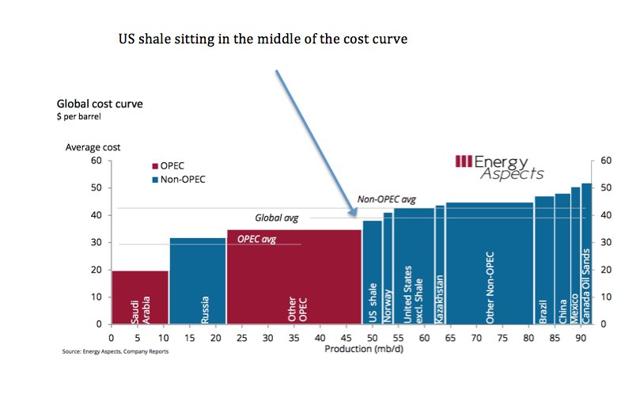 I don't believe this is the fault of Energy Aspects or Mr. Blas - just that oil companies are being very fast and loose with how they calculate and report their breakeven production cost. People who collect this data take and run with it because of a lack of anything else, but you can see how, as described in Reason 2, more bad data could be built on top of this bad data, leading to terribly inaccurate conclusions. While I love analyzing data, I don't enjoy generating it. I will defer you to this piece on Pioneer Natural Resources (NYSE:PXD) that questions a lot of the claims made by the company about its profitability in the current price environment. U.S. shale production is extremely capital-intensive. I believe U.S. shale production companies have been understating how much of that capex is attributable to the first year of production. If you recall, this is how WorldCom made its numbers look so good. In this case, what U.S. shale is doing is not illegal - just highly misleading, in my opinion - and possibly highlights the need for some changes in accounting standards on this new method of production. In addition to this, there were recent claims by the CEO of Schlumberger (NYSE:SLB) that much-lauded gains in drilling efficiency are attributable to reduced oilfield service costs, not any actual improvement in efficiency.
Reason 5: The price of oil is much lower, on average, in 2016 versus 2015. For all those worried about the recent run-up to $40, this was close to the 2015 lows, and is a price where we saw U.S. production start to actually decline even in 2015. If you believe that U.S. shale breaks even at $40, I can see where you might disagree with me here. The key takeaway here is that you should follow what companies do, not what they say. At $40 oil, capex is not coming back, because it's just not profitable.
Reason 6: The Drilled Uncompleted Wells (DUCs) are not to be feared. Anyone who is a fan of the late comedian Bill Hicks will recall his bit on Iraqi Elite Republican Guard during the first Persian Gulf War in the early '90s. The basic premise is that during the invasion of Iraq, the media warned of an elite group of Iraqi special forces called the Elite Republican Guard. These special forces were purportedly a significant threat to the U.S troops' approach to Baghdad - these soldiers were to be feared. Not long after, the Elite Republican Guard was conquered (or they ran away) and didn't even present a minor roadblock. For those that closely followed the second entry into Iraq in 2003, the Elite Republican Guard were once again portrayed as an incredible hurdle to the U.S in their efforts. Once again, they were not a threat, and were never heard of again. The reason I love this story so much and included it here is that I was too young to be following the first Gulf War, and was certainly not old enough to listen to Bill Hicks, but I followed the second Iraq War very closely and remember the deep concern presented by the media over needing to defeat the Iraqi Elite Republican Guard. Knowing that Bill Hicks made these observations before this falsehood was spread a second time makes it so funny. If you haven't seen the video of Bill Hicks and are OK with offensive language, I recommend searching for the video (repeat: not safe for work). The DUCs are about as much concern as the aforementioned Elite Republican Guard. They were likely not economical in 2015, and likely won't be in 2015 at any large scale. Robert P. Balan wrote an excellent Seeking Alpha instablog on DUCs that is a must-read, in my opinion.
Reason 7: The sweet spots don't last forever. During 2015, drillers were targeting their best, most profitable acreage. While this made the 2015 numbers look good, it can't last forever, and means that their remaining production will have a higher average breakeven cost. It seems pretty clear that the Bakken doesn't have too many sweet spots left worth drilling.
Reason 8: Decline and massive capex cuts. Unlike many other commodities, oil wells require continual capex to maintain the same level of production. It's like the force of gravity pulling you back to zero production - you need constant investment to fight it. Exactly where that level of investment is needed to keep production flat is not known, but what we do know is that it's significantly lower than what it was in 2015. The chart below tracks the changes in upstream (exploration and production) budgets from 2015 to 2016.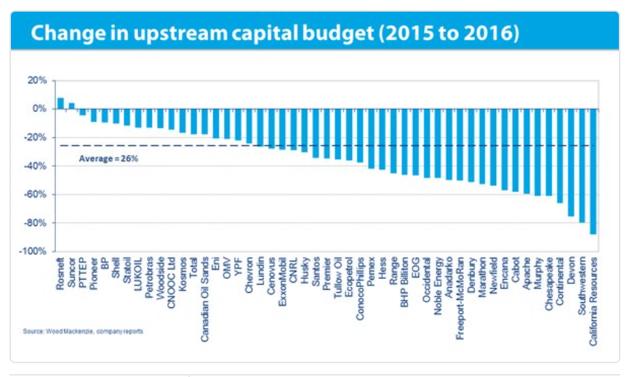 Even the shale producers are admitting that their production will decline, although the year-on-year (Y-O-Y) percentage metric is misleading in itself. The bottom line is that U.S. production is going down. I submit to you that it's going down more than many think.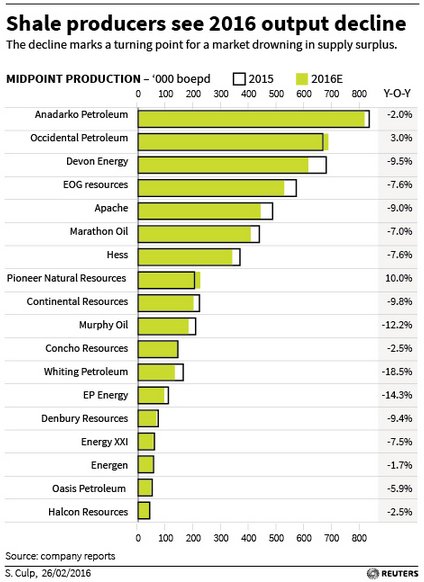 Reason 9: The easy money is gone, most of it anyway. According to a recent article published on OilVoice, $39 billion of private equity funds were raised in 2015, and a significant amount of money was left over from 2014. Only a select few producers still have that capital intact and can utilize it to increase production or subsidize production that is unprofitable.
Reason 10: The final, and least compelling, of the reasons is that eventually, bulls will be right. Even a broken clock is right twice a day, but if that clock were to change its time after being wrong for six or seven hours, it may never show the right time.
Where to invest to take advantage
Firstly, it's important to invest based on your risk profile. All the names here are for those that have a 1-3 year time horizon. I expect to exit some of these names in the summer of 2017, if I am correct on where oil is headed. It's hard to predict that far out, so pick names that you are comfortable holding. If you're looking for a low risk with a respectable reward, my favorite is Chevron (NYSE:CVX). I also like ConocoPhillips (NYSE:COP), and Exxon Mobil (NYSE:XOM) gets an honorable mention, as the company have the balance sheet to survive an apocalypse. I cannot recommend Shell (RDS.A, RDS.B) at this time. For high-risk investors, my favorites are still Legacy Reserves (NASDAQ:LGCY) and Mid-Con Energy Partners (NASDAQ:MCEP). For more detail on Legacy, please see my recent article here.
Conclusion
There is no doubt that the oil bears won 2015. There was clear evidence that $60 oil brought back U.S. rigs into operation during 2015. While I think that this was largely due to hedging, remaining easy money, and the hope of a quick price recovery, it cannot continue in 2016. As stated, I have been wrong about the timing of an oil recovery, but I believe all the reasons above will prove that it's just a matter of time. While no one knows the exact timing of the recovery, I believe like-minded investors should seek out investments that can sustain a period of lower prices, but will recover strongly when they do.
Disclosure: I am/we are long LGCYO, LGCYP, MCEP.
I wrote this article myself, and it expresses my own opinions. I am not receiving compensation for it (other than from Seeking Alpha). I have no business relationship with any company whose stock is mentioned in this article.
Editor's Note: This article covers one or more stocks trading at less than $1 per share and/or with less than a $100 million market cap. Please be aware of the risks associated with these stocks.