In one of my recent articles, I spoke about how Under Armour's (NYSE:UA) launch of their golf line with brand ambassador Jordan Spieth had put them squarely in yet another area of competition with Nike. The timing of this launch was brilliant because Spieth was on his way to defend his Masters title. That didn't work out as planned for UA, but even worse was Morgan Stanley's analysts slashing the price target on UA from $62 to $34 citingconcerns over growth momentum.
The Problem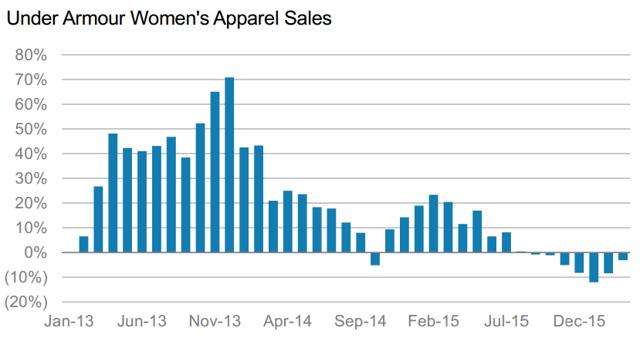 "UA's 'young, hungry and fearless' brand image may not be resonating with females and at the same time, the competitive landscape in that space has become intensely crowded," analysts wrote in a report.
Overall, Under Armour saw a 2% decline in wholesale apparel, indicating that it "is losing market share for the first time in three years," according to the report. - Business Insider
There's no denying that this is, indeed a problem. On the one hand, Spieth's performance may well be responsible for some of the losses the stock incurred, but the bulk of it will have come from the analysts' outlook.
Under Armour doesn't report segment results based on gender, so it is a bit difficult to put a number to the impact of the declining sales in the Women's apparel segment on their overall numbers. Consulting firm Conlumino estimates Under Armour's women's business at around $1.14 billion and men's business to be around $2.69 billion, so that's indeed significant.
However, that doesn't explain how a few quarters of below-average results can overshadow and undo a significantly long string of above-average quarters. The answer may well lie in the strong valuation the company has been commanding.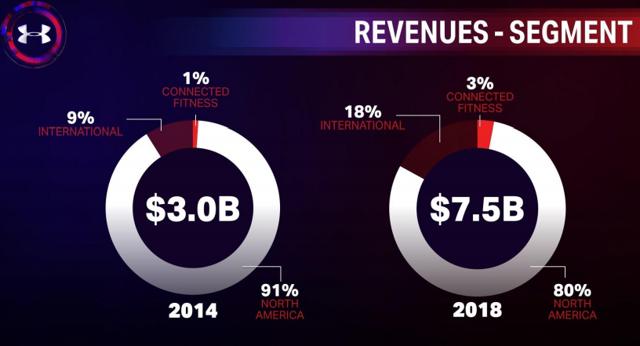 The last 30 days have been a rollercoaster ride for Under Armour's investors. Aside from problems with dipping sales in the women's segment and the Spieth fiasco, there was a recent stock split, the details of which were covered in detail by fellow author Robert Bezede. Under Armour's stock is now trading near $40, down by more than 6% from the high of $45.43 it reached on April 8th.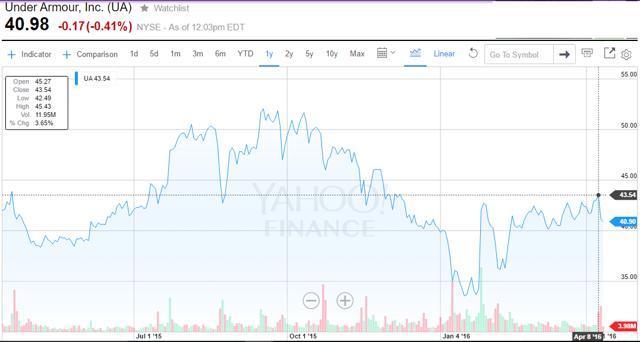 But Is It a Real Problem?
Declining sales is not something Under Armour can afford now, but looked at in perspective, sales dipping in one segment is not necessarily a sign of impending doom, as many are forecasting. In this particular case, it may just be a question of repositioning their brand to address that specific market and make gains there.
As you can see from the chart, a drop of more than 5% is not something new to Under Armour. Yes, there were two important things that happened during the week that have taken their toll on investor sentiment - first, Jordan Spieth's loss and then Morgan Stanley's decision with respect to their growth story - and that's the curse for any stock that trades with such high valuations. The stock is trading at a Forward P/E more than twice that of Nike.
UA PE Ratio (Forward) data by YCharts
However, such valuation is not unduly abnormal for a company that grows its revenue by more than 20 percent for 23 straight quarters. The side effect of rich valuation is the volatility, and at these levels even small hits on sentiments are bound to reflect disproportionately on the stock.
I believe that's exactly what we have witnessed this week. This is not the first time it has happened to Under Armour, and you can be sure it won't be the last.
Investor-speak: BUY, But Watch How You Buy
The real question here is whether the drop provides a significant buy opportunity. If you've been reading my earlier articles on Nike (NYSE:NKE) and Under Armour, you'll know that I love the company and I love this segment. Not for personal reasons, but purely as potential investments in such basics as clothes and shoes - things that will never go out of fashion. You might argue that branded apparel and footwear do not match that description, but I hold that they've become such an integral part of daily life that most of the people I know wouldn't even dream of stepping out of the house wearing "generics". Consumers are creatures of habit, and those habits die hard.
I love this space for that and many other reasons, but I also think that as an investment opportunity, the best possible way to invest in these companies is to DRIP it after entering it at dips. The same goes with Nike, and I recently wrote a piece on that as well.
To make a point, even after the hit UA is still trading at twice the forward valuation commanded by industry leader Nike. Room for growth is still very much there, obviously.
Under Armour's quarterly results are just ten days away - April 21. More than the results, all eyes will be glued on their guidance to see what the company is thinking about their planned growth for the year. If they come up with weak guidances, the stock will likely take a huge hit as it will validate Morgan Stanley's view; if not the stock will simply continue its upward trend.
I once again re-iterate that DRIP is the best way to build a position on Nike and Under Armour - not by timing our purchases, which may or may not work in our favor. Keep building into your position and, while you are at it, add a bit of NKE as well. Again, try to invest in the space rather than trying to identify the best company within that space.
Disclosure: I/we have no positions in any stocks mentioned, and no plans to initiate any positions within the next 72 hours.
I wrote this article myself, and it expresses my own opinions. I am not receiving compensation for it (other than from Seeking Alpha). I have no business relationship with any company whose stock is mentioned in this article.