Welcome to the April 13th edition of Seeking Alpha's Eye on Tech newsletter.
Eye on Tech Coverage
Facebook Makes Its Own Apps A Priority At F8
Facebook launched a Messenger chatbot platform and a slew of other features/services at its F8 developer conference.

It remains to be seen how much third-party developers embrace the chatbot platform. Messenger's 900M monthly active users act as a big selling point.

Compared with past F8 conferences, Facebook has placed a greater emphasis this time on creating new experiences for its own site and apps.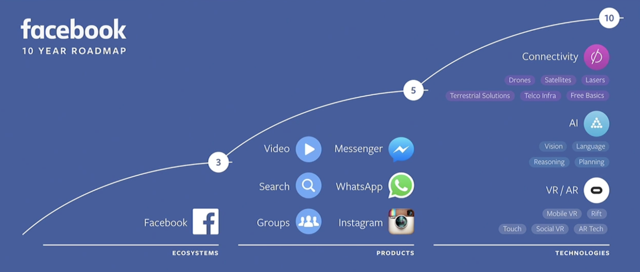 Alibaba Dials Up Its M&A Activity As Chinese Growth Slows
Alibaba has bought a controlling stake in Southeast Asian e-commerce firm Lazada for $1B.

The Lazada deal, together with other recent news/rumors, suggest Alibaba is once more stepping up its M&A pace, after having raised fresh funds.

While many of Alibaba's M&A deals feature synergies with the company's core marketplaces, they also diversify the company as it deals with slowing GMV growth and Chinese macro pressures.
Noteworthy Tech News
Micron launches new enterprise SSDs, reference architectures - Micron (NASDAQ:MU) is launching Accelerated Solutions, a set of server/storage reference architectures that pair Micron SSDs with 3rd-party hardware and software. An initial solution places Micron's drives within a Super Micro (NASDAQ:SMCI) server running VMware's (NYSE:VMW) Virtual SAN storage virtualization software. Another features a Super Micro server and support for the Ceph distributed object storage platform, and a third is meant for storage software upstart Nexenta's NexentaEdge platform (runs on commodity Linux servers).
Micron has also launched new enterprise SSDs - two support the high-speed NVMe interface, and two low-cost models the traditional SAS interface - and has disclosed Crucial will launch an SSD that uses Micron's 3D NAND flash (promised to be much dense/cheaper than Micron's existing NAND flash technologies) later this month; data center 3D NAND offerings are promised for 2H16. Further down the line, Micron and Intel plan to offer enterprise solutions based on 3D XPoint, a next-gen memory technology that promises to be much faster/durable than NAND flash, and much cheaper/denser than DRAM. Cowen's Tim Arcuri provides favorable comments on Micron's product launches, as well as on 3D XPoint's potential.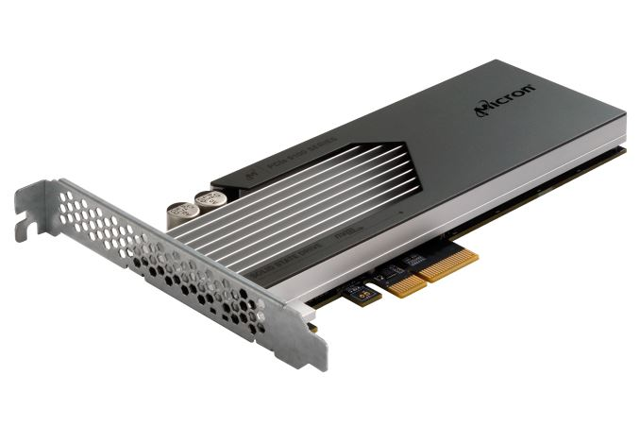 Micron's new 9100 SSD. Supports the high-speed NVMe interface.
The enterprise SSD market is growing quickly as app workloads continue shifting to flash from hard drives - EMC expects production workloads will be largely flash-based by 2020 - and features relatively high margins. But it's also very competitive: Intel, Samsung, Seagate, and SanDisk/Western Digital are among the other firms battling here - Micron has a NAND manufacturing partnership with Intel, and a NAND supply/SSD development partnership with Seagate.
CRN: Amazon Web Services prepping managed services offering for enterprises - Amazon's (NASDAQ:AMZN) solution, codenamed Sentinel, will reportedly let large enterprises manage/monitor their public cloud workloads via automated tools that take over some of the work currently handled by managed service providers (MSPs). This could be a problem for Rackspace (NYSE:RAX), which launched managed services for both AWS and Microsoft Azure last year. However, Amazon has reportedly tried to calm MSPs by telling them Sentinel is only meant for a handful of big customers, and covers simple workloads that don't involve customized software.
Either way, Sentinel would further an Amazon effort to drive enterprise AWS migrations that was taken to another level last fall at the AWS re:Invent conference. Then, Amazon announced a storage appliance for moving data to AWS, database-migration services, and a partnership with Accenture to enable AWS migrations. AWS has also launched (and seen a strong reception for) Aurora, an enterprise-class database that's much cheaper offerings from the likes of Oracle and Microsoft.
Box partners with Amazon and IBM to create international storage zones - Box's (NYSE:BOX) solution allows content to be stored at Amazon and IBM's (NYSE:IBM) European and Asian cloud data centers, and is aimed at foreign clients who (for privacy and/or compliance reasons) need to keep their data local. Microsoft recently launched German cloud services that attempt to address local privacy/data-access concerns.
The service follows the launch of Box encryption key and data governance tools meant to give clients better control of their data. Box has argued (amid fears the enterprise file storage/collaboration space will be commoditized by the likes of Microsoft, Google, and Amazon) such services differentiate its platform. The company claims 59% of the Fortune 500 used its offerings (to some extent or another) as of the end of January.
Cloud analytics software firm Domo reportedly plans IPO - Domo Technologies (Private:DOMO) was valued at $2B in its last two funding rounds, and (with corporate interest in analytics/visualization tools that can be used by non-technical workers soaring) has done brisk business selling cloud-based software that lets workers quickly create dashboards and visualizations that can leverage data from thousands of sources. Like Nutanix and Dell's SecureWorks unit, Domo delayed its IPO plans due to the market's swoon, but is now apparently willing to test the waters.
Logitech buying sports headphone/wearables maker Jaybird for $50M-$95M - Jaybird sells Bluetooth headphones and a fitness band aimed at the sports/active lifestyle wearables segment. Logitech's (NASDAQ:LOGI) sales have been a mixed bag in recent quarters - sales of PC and tablet-related products have been weak, while mobile speakers, gaming products, and videoconferencing gear has fared better. With the Jaybird deal, the company is entering another growing (if competitive) market, with the hopes of using its distribution reach to boost Jaybird's sales.
Noteworthy Tech Commentary and Reports
Piper: Snapchat tops Instagram in popularity among U.S. teens - Piper's spring 2016 teen social networking survey found 28% of respondents calling Snapchat (Private:CHAT) their most important social network, up from 19% last fall. Instagram fell to 27% from 33%, Twitter fell to 18% from 20%, and Facebook (NASDAQ:FB) rose to 17% from 15%.

Source: Piper Jaffray
75% of teens said they use Snapchat, 74% Instagram. 59% Facebook, 58% Twitter (NYSE:TWTR), and 27% Pinterest (Pending:PINT). 51% said Amazon Prime exists in their household, leading Piper to estimate there are 57M-61M U.S. Amazon Prime subs. 26% of teens who play mobile games said they make in-app purchases, up from 24% last fall. Piper considers this a positive for publishers such as Zynga (NASDAQ:ZNGA), Glu Mobile (NASDAQ:GLUU), and Activision/King Digital (NASDAQ:ATVI).
SA contributor Brian Nichols: Juniper's Big Problem Begins To Show - In the wake of Juniper's (NYSE:JNPR) Monday Q1 warning, Nichols argues (long-time Juniper partner) Nokia's merger with (Juniper carrier router rival) Alcatel-Lucent is weighing, as is Cisco's (NASDAQ:CSCO) new alliance with mobile infrastructure giant Ericsson. Cisco/Ericsson claim their partnership has already yielded hundreds of engagements.
After talking with an industry contact, contributor Mark Gomes thinks SDN and NFV adoption is starting to take a toll on Juniper and Cisco. UBS' Steve Milunovich, who downgraded Juniper to Hold, believes the company could be immune to NFV in the short-term, but adds rival products based on Broadcom's (NASDAQ:AVGO) Jericho switching chips (they support routing functionality) could start cannibalizing its edge router sales next year. "We have longer-term structural concerns with Juniper being caught between a much larger Cisco and a more nimble Arista."
Of note: Though Cisco initially sold off in response to Juniper's warning, it closed nearly unchanged on Tuesday. Juniper finished down 7.4%.
Wired: Facebook believes Messenger will anchor a post-app Internet - A look at Facebook and Messenger chief David Marcus' (ambitious) goals for the Messenger bot platform. Much depends on how avidly developers who still care about driving users to their own apps embrace the platform, as well as how effective the (A.I.-driven) platform becomes at handling natural-language human requests and also proactively delivering content. Gizmodo/Engadget co-founder Peter Rojas recently offered some interesting thoughts on when bots built into messaging apps can prove useful.
Goldman: U.S. survey points to strong iPhone 7 demand - A Goldman survey of over 1,000 U.S. consumers found 44% saying they plan to buy an iPhone 7 (NASDAQ:AAPL), with 24% of those planning to buy currently using another platform. The firm also notes a third of all replacement demand "is coming from current generation (i.e. less than 1-year old phone) users," something it thinks could point to shorter replacement cycles as smartphone installment/upgrade plans grow in popularity.
Disclosure: I/we have no positions in any stocks mentioned, and no plans to initiate any positions within the next 72 hours.
I wrote this article myself, and it expresses my own opinions. I am not receiving compensation for it. I have no business relationship with any company whose stock is mentioned in this article.