Entering my 42nd year as an investor, I am finding more and more that the stock markets of the world are going in the polar opposite direction of the reality that one finds as an analyst on Main Street. Because interest rates are near zero, corporate CEOs and company management who should know better are borrowing money hand over fist and buying back stock with the proceeds of that borrowing. The problem is that most companies on Main Street are suffering terribly right now as here are the projections of what is coming this earnings season.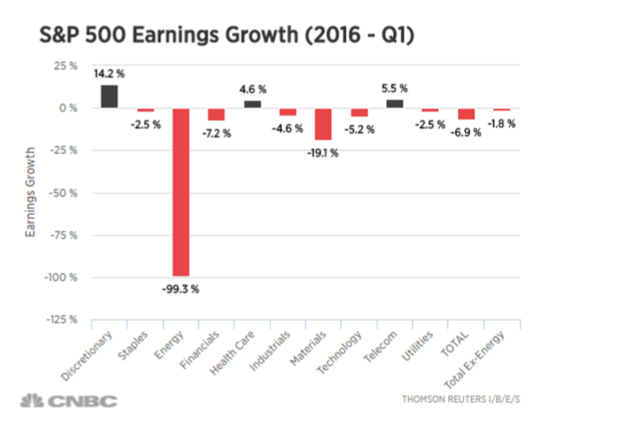 So you would figure that with things being so bad that corporate CEO's would tighten up the purse strings and be more conservative and not borrow as much. But unfortunately when the Federal Reserve is dangling zero interest rates in front of these CEO's eyes, it takes a very ethical person at the helm to refuse to borrow money and buy back stock even though each CEO knows that business is not going well on Main Street, as the chart above clearly shows. So if business is not going well, then why are these CEOs borrowing money to buy back stock? Well basically everyone involved is exhibiting excessive greed and that greed has overtaken logic and common sense among what are supposedly very educated people. Once ethics are replaced by outright greed and only looking out for number one is the rule (so they can vest their stock options) we have the clear makings of a train wreck coming. But wait, maybe this behavior is benefiting shareholders of these firms compared to if these CEOs had not practiced this hand over fist borrowing to buy back stock? Well the facts tell a very different story.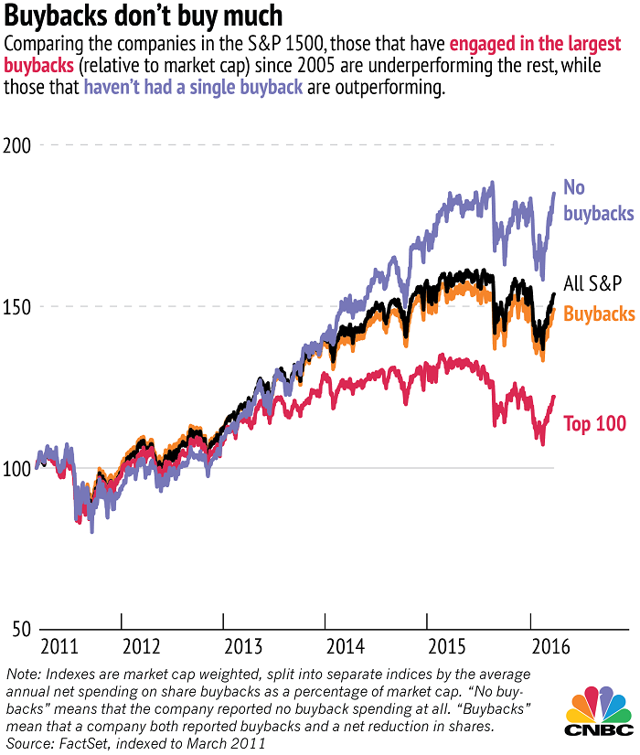 Seeing all this manipulation happening all around the world, as an analyst and consultant I have a fiduciary duty to concentrate all my attention on Main Street and only go to Wall Street when I actually have to make transactions. Following the herd with blinders on has not worked well for investors over the last 16 years as these are the actual average yearly gains per year since January 1, 2000, for the following:
Dow Jones Industrial Average = 2.99% (NYSEARCA:DIA)
New York Stock Exchange Index = 2.59%
S&P 500 Index = 2.39% (NYSEARCA:SPY)
Nasdaq Index = 1.19% (NASDAQ:QQQ)
The average portfolio manager at Mutual Funds, hedge funds and ETFs have not done much better as a group as most active investors have even underperformed those paltry returns shown above because of poor decisions made without much analysis done to back them up. Computer scientists have a motto of "garbage in = garbage out" and one cannot expect to invest wisely if one practices poor judgment backed by little analysis as hedge funds have exhibited in the disastrous investments in Sun Edison (SUNE) and Valeant Pharmaceuticals (VRX). Everything with those companies was looking great on Wall Street as the Ponzi effect of billions of dollars in hedge fund and pension fund assets were propping them up. Unfortunately for those investors and those poor souls who followed them into those train wrecks a simple GAAP analysis of each firm would have shown that there were manipulated pro-forma numbers that almost equaled the mass manipulation of an ENRON or WorldCom did a few decades back. Plato said some 2,500 years ago that "Experience is what man calls his mistakes" but that is only if man learns from those mistakes and does not repeat them. I lived through the crash of 1987, the recession of 1990 and the boom and busts of 2000 and 2008 and have a ton of experience from the mistakes I have personally made. But one thing I try to do (that Wall Street never does) is not to repeat those mistakes. Unfortunately Wall Street only knows two modes of action and that is outright greed or outright panic and God help you if you get caught being fully invested when the outright panic starts.
From all the years of working in the trenches I try to follow a simple motto of "Capital Appreciation through Capital Preservation". In other words, work very hard every day to find something that I can buy at an attractive or "bargain price" based on solid research on Main Street. For those of you who like to do research and kick the tires you know full well right now that being fully invested could cause some serious damage to your financial well being as markets do not always go up and when they do go down the drops are usually ruthless. For my clients I tend to take them to cash when things are overvalued like I believe them to be right now, but many investors hate to be in cash and struggle to find ways to practice capital preservation without sacrificing capital appreciation (if the markets continue to go up) and stress out to the point where one's quality of life suffers.
Well in writing this article I believe that I may be able to alleviate some of that suffering and provide a solid way to hedge against a bear market. The way to do so I believe is to invest in forensic accounting based ETFs where the analysts who do the research are highly respected forensic analysts and dig deep like I do into what is happening on Main Street with each firm. One of the best forensic analysts I know is a dear friend of mine John Del Vecchio who wrote a real masterpiece along with another friend Tom Jacobs called "What's Behind the Numbers", which I highly recommend. On the cover of that book it says "A Guide to Exposing Financial Chicanery and Avoiding Huge Losses in Your Portfolio". Well that pretty much sums up what I will talk about next as there are two ETFs out there that are run in conjunction with John Del Vecchio and they are called:
1) Weatherstorm Forensic Accounting Long-Short ETF (NYSEARCA:FLAG)
2) AdvisorShares Ranger Equity Bear ETF (NYSEARCA:HDGE)
The Weatherstorm fund allows an investor to go 130% long while at the same time go 30% short the market and is basically an ETF that provides some of the benefits of a long/short hedge fund would do without the average hedge fund fees of 2% of assets under management and 20% of the profits. Thus you have a lower fee alternative that basically does what a high priced hedge fund will charge you for a fraction of the price and not only that but you will also have one the best Forensic Analysts in the world picking the stocks for the ETF. Not only that but you can also see on a daily basis what the holdings are by going to Weatherstorm's website. Thus you can be fully invested and still have some downside protection because the ETF shorts as well as goes long.
Now if you want to just keep your portfolio the way it is and don't want to get involved in doing shorting on your own John Del Vecchio also is involved with the AdvisorShares Ranger Equity Bear ETF, which only goes 100% short the market and can be considered a pure hedge. If one were to invest in this ETF one should think of it as a form of insurance just in case the markets tank, as this ETF will be there to protect your current portfolio from overexposure on the long side and you should only think of this ETF similar to how your Life Insurance policy protects your loved ones or your home or auto insurance protects your property. Insurance is there to protect you in your everyday like and you hope you never have to use it, but sleep well at night knowing if a catastrophe were to happen, you would be protected. HDGE should be used is a similar manner just in case the markets do decide to take a massive dive like they did this past January. To show you how it works from December 29th to February 11th while the markets were imploding HDGE did its job and it went up +21.67% and really protected anyone who used it as a hedging vehicle as the chart below clearly shows.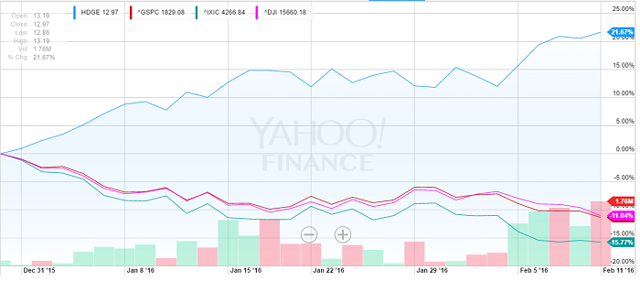 It was able to outperform as the stocks picked for the fund were done so using GAAP analysis and forensic accounting and thus the companies themselves were dogs with fleas and thus went down much more than the markets did and by being 100% short those names really proved to be a godsend for anyone who used the EFT as an insurance hedge for their portfolios. Of course when markets are roaring this fund will suffer as it goes 100% short, but again one should only invest in this if one feels like I do that a correction is coming. I do my own analysis through my Friedrich Algorithm but for those of you who do not have the time or the energy or feel unqualified to do so, investing in either of these ETFs should help you sleep at night knowing that you have a world renowned forensic analyst working on your behalf.
Disclosure: I/we have no positions in any stocks mentioned, and no plans to initiate any positions within the next 72 hours.
I wrote this article myself, and it expresses my own opinions. I am not receiving compensation for it (other than from Seeking Alpha). I have no business relationship with any company whose stock is mentioned in this article.
Editor's Note: This article covers one or more stocks trading at less than $1 per share and/or with less than a $100 million market cap. Please be aware of the risks associated with these stocks.