By Contributing Analyst Zachary Kuehn
Things are looking up for the American merchandising retailer chain: Bed, Bath and Beyond (NYSE: BBBY). Missed Q1 earnings further punished the firm adding to the year long decline from its 52 week high. However, should management be able to combat cash flow and debt concerns BBBY is be poised to possess strong value potential for investors.
Why should we be bullish on an equity that been in a year-long decline in an industry that currently has poor cash flows across its peers? Let us take a look at the fundamentals. Bed Bath and Beyond's current P/E ratio (11.2x) lies below that of its industry peers implying that the firm is undervalued. In addition, the firm's low P/S ratio (0.8x) suggests that there is more value to the upside considering the current slide in its price. Beyond that, the company is showing strong liquidity (quick ratio of 2.0x) which it will need to pay off the high short term interest on the debt that the firm has taken on.
From what we have extracted from Bed Bath & Beyond's financial statements, the company appears to be in a promising position for investors. The current Price-to-Earnings ratio of 11.2x lies below that of its industry peers implying that the firm is potentially undervalued. The firm's low Price-to-Sales ratio of 0.8x suggests that there is more value to the upside considering the slide in price. Beyond that, the company's current ratio of 2.0x tells us that the firm is very liquid with most of its assets are placed in investments, buildings, and equipment. This is important as we will see later in the article. The firm's gross profit margin arrives at just under 39%, and net profit margins are at 7.55%. These numbers are very strong when compared with industry peers.
Now there are a few concerns that management will need to combat in order for the share price to rise to its fair value. BBBY has taken on significant short debt which places them at having higher short interest than the industry average. This concern should be easily managed as BBBY is very liquid. They should be able to pay the debt of comfortably. Further, Bed Bath and Beyond's capital structure is mainly comprised on debt with the D/E ratio at 0.6. Taking on debt can be very beneficial to a firm that is trying to boost Earnings Per Share . Considering that borrowed funds can drive earnings, and the leverage is not present in the denominator when computing EPS. This could help combat BBBY's slow EPS growth, although it is a industry wide trend. This could cause BBBY to rebound stronger than its peers up to its fair value. Also could be a candidate for a short squeeze in the future.
The main concern facing management is shrinking cash flows. Average sales and declining revenue has made it more difficult to bring in cash flow. On the contrary, sales in this industry are seasonal. A trend appears in BBBY's income statement. Bed Bath & Beyond seems to have its best 13 weeks at this time of year, and should revenues spike it should help stabilize the higher debt as well as push the price per share up.
Currently, BBBY's EPS is 5.06, which is very strong vs. that of its peers. Its operating margin also stands out to us when compared to key players in the industry. We believe that this margin is sustainable over time as well. Its P/S is able to be maintained given its current financial strength, and we strongly believe that its P/E will increase to reflect the industry average of about 17x given BBBY is able to maintain its EPS. Given its market capitalization, BBBY is a very effective and efficient player in this wide industry.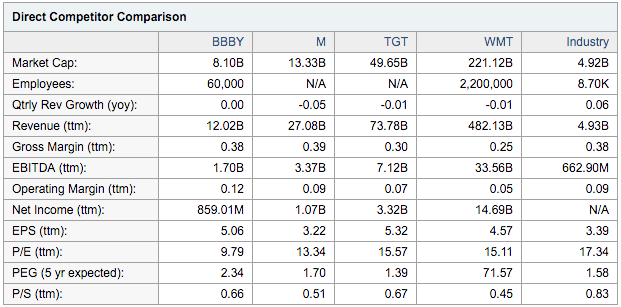 Technical Analysis
BBBY has been trading off of its lows of 41.26/share. It recently broke out of its long term downtrend by breaching the 45-47.5/share level. We saw this break and hold as a very significant technical event. That being said we will use this level in the future as a key level of support. To the downside we see little risk here, skewing the risk to reward in the investor's favor.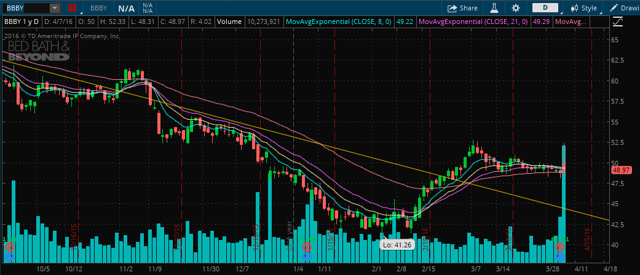 Macroeconomic trends are encouraging. The Federal Reserve heeds caution concerning interest rates, and the housing market continues to recover. These trends should help drive revenues for BBBY as home-goers are their consumer base. For these reasons we believe Bed Bath & Beyond is still available at a discount, and the long position could provide strong value to a portfolio.
Disclosure: I/we have no positions in any stocks mentioned, but may initiate a long position in BBBY, M over the next 72 hours.
I wrote this article myself, and it expresses my own opinions. I am not receiving compensation for it (other than from Seeking Alpha). I have no business relationship with any company whose stock is mentioned in this article.