JPMorgan (NYSE:JPM) delivered a 1Q 2016 EPS of $1.35 and a return on tangible equity (RoTCE) of 12%.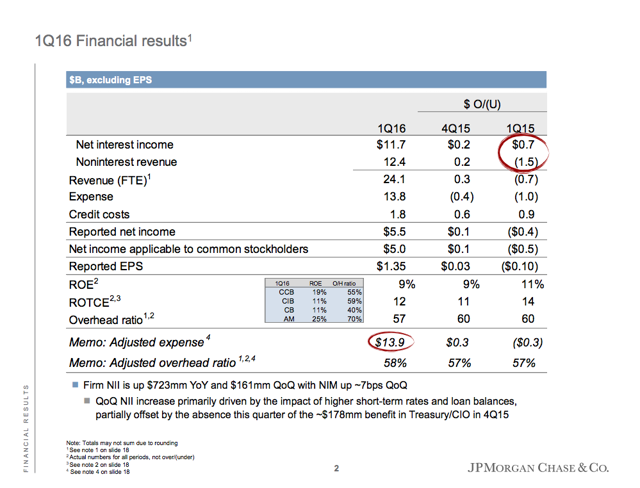 This is a rock-solid print for an extremely challenging quarter for the large U.S. banks and achieved against the most challenging macro environment for IBs since the 2008 financial crisis.
What are the headwinds?
Low interest rates in the U.S. and negative rates in Europe and Japan pressuring fixed-income trading and net interest margins
A collapse in the price of oil and commodities
China and EM slowdown
Frozen financial markets in January and February with extreme and "bad" kind of volatility
All but investment-grade issuances and IPOs were effectively on hold during this period
M&A and deal completion delays due to market uncertainties
Earnings are down year on year, so why am I so upbeat?
The good news is that JPM delivered a 12% RoTCE against the above-mentioned background. The better news is that I expect JPM to claw back a big chunk of the "lost" revenue from Q1 - specifically, debt issuances, IPOs and advisory mandates which are simply awaiting better market conditions.
Management is executing well on capital
JPM returned ~$3 billion of capital to shareholders in Q1. More significantly, it reduced its estimated regulatory capital requirements to 10.5% fully phased in (a reduction of 100 basis points from the previously expected ratio).
Final thoughts
JPM has the best management team on the Street. It is a rock-solid investment and is priced very attractively at the moment. I will cover the earnings call in the comments section - so stay tuned if of interest.
I cover U.S., European, Asian, Canadian and Australian large-cap banks, identifying long and short opportunities. If interested in the topic, I encourage you to sign up as a "real-time follower" or message me if interested in a specific banking name.
Disclosure: I am/we are long JPM.
I wrote this article myself, and it expresses my own opinions. I am not receiving compensation for it (other than from Seeking Alpha). I have no business relationship with any company whose stock is mentioned in this article.