On April 11, 2016, AngloGold Ashanti was upgraded to outperform from sector perform by RBC Capital Mkts.
After the release of this news, the stock gained 8.44% in the stock market, closing at $15.80 per share on April the 12th: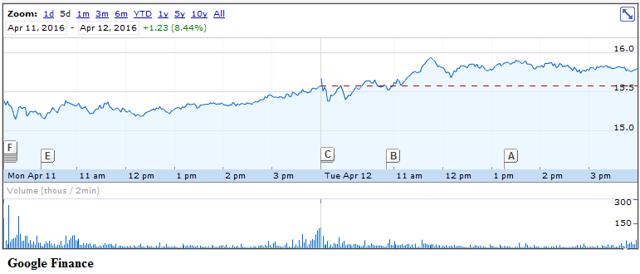 Amongst other reasons, the Canadian investment bank has justified the upgrade with an increase in the firm's 2016 gold price outlook to $1,250/oz. from $1,150.
AngloGold Ashanti Limited (ADR) (NYSE:AU) is one of the few gold mining stocks that I like and I would suggest buying.

In my opinion, AngloGold Ashanti Limited may be a good candidate for the long run if the firm's outlook on gold price is correct because the company proved to be a good player in the mining industry in 2015 when the average gold price was lower. The company received a gold price of $1,158 per troy ounce in 2015.
The gold mining stock operated very well during 2015 improving the financial situation by reducing the debts with 25%. This was a priority and the company has been successful in reaching this target.
The company ended 2015 with cash and equivalents of $484 million and total current assets of $1,350 million. The exposure in long-term debt was $2,637 million and $707 million in total current liabilities.
A Summary of the financial results (balance sheet) of the company:
| | | |
| --- | --- | --- |
| In Millions of USD | 2015 | 2014 |
| Cash and Short-Term Investments | $484 | $468 |
| Total Current Assets | $1,350 | $1,469 |
| Total Assets | $7,284 | $9,134 |
| Total Current Liabilities | $707 | $984 |
| Total Debt | $2,637 | $3,498 |
| Total Liabilities | $4,817 | $6,263 |
| Total Equity | $2,467 | $2,871 |
The company made the right move by increasing operations at higher-grade mines, during a period of falling gold prices. The company cut operating costs, benefiting also from a tailwind from weakening currencies, particularly in Brazil and generated the cash flow to reduce the debts. All-in sustaining costs decreased respectively with 14% and 11% on QoQ and on a YoY basis.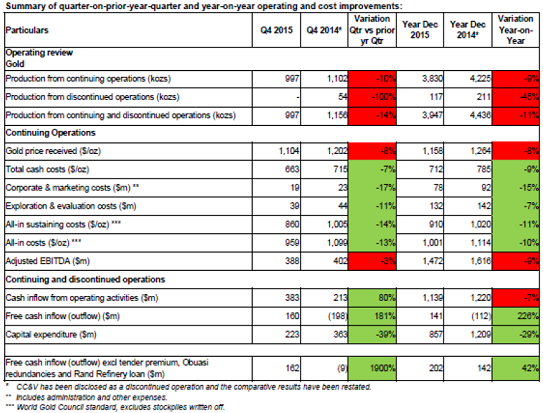 The cost-to-sales ratio increased from 2014 along with an increase in the average grade at mines (but lower than the level of 2013).

In my opinion, this gold company operated very well in 2015 and I think that it deserves to have a look. When I have assessed the value of this stock, it was undervalued by the stock market. If I consider a value of $15.25 per share, as per my valuation, today, the stock is a bit overvalued by the stock market and for the next 2 months, AngloGold Ashanti will be able to sustain the momentum it has gained in the last two months.
Following a drop in prices that often leads to the yearly low being made sometime late July, this particular period of the year may offer an interesting entry point into this long run candidate.
Disclosure: I/we have no positions in any stocks mentioned, and no plans to initiate any positions within the next 72 hours.
I wrote this article myself, and it expresses my own opinions. I am not receiving compensation for it (other than from Seeking Alpha). I have no business relationship with any company whose stock is mentioned in this article.