Laos Travel Report - March 2016
In line with our process of being on the ground in the countries we invest in, Scott Osheroff (Regional Research Analyst), traveled to Laos to meet with company executives and government officials.
Vientiane, Laos. Sitting on the veranda of the Khamvongsa Hotel sipping an espresso in the early morning dawn, I am shivering. Wearing a pair of pants and a heavy jacket, the morning chill is yet to give way to another scorching hot Lao day. From this seat I am able to indulge in the nostalgia that once was French colonial Laos as the hotel is a reconstruction of buildings from the era. However, as I look out onto the street there is nothing to be nostalgic about as a seemingly endless stream of Toyota (OTCPK:TOYOF) (NYSE:TM) Hilux pick-up trucks pour by and smartphones rule the hands of everyone walking past. It is safe to say Laos has firmly arrived in the 21st Century.
Traditional Laos meets modernity in the city center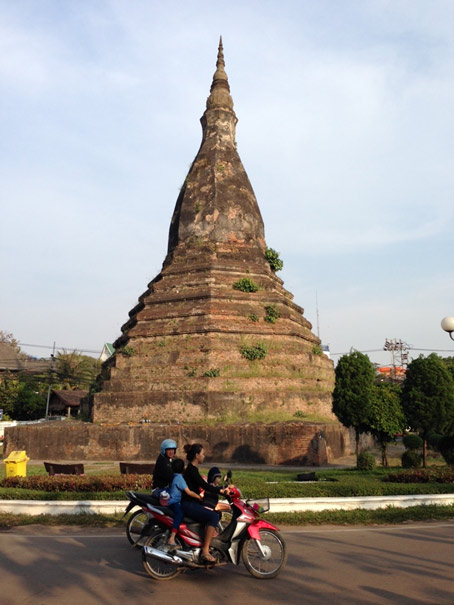 (Source: Asia Frontier Capital)
Swensen's Ice Cream and The Pizza Company in Vientiane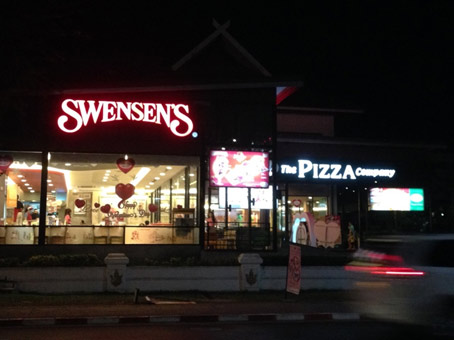 (Source: Asia Frontier Capital)
A crossroads, Laos in recent years has realized billions of dollars of FDI from the Chinese, Thais, and Vietnamese in a bid for influence. Laos is both strategically located between its respective neighbors, as well as boasting immense natural resources including gold, potash, copper, coal, and hydroelectric potential. This battle for influence is seemingly being won by the Vietnamese at present (with over USD 6 billion invested to date) as you could mistake various parts of Vientiane as a Vietnamese village with the country's flag flying high over government and private buildings alike.
Luckily, as I was sipping my Dao Coffee (the largest and most well-known coffee producer in Laos) on the veranda of my hotel I knew I was firmly in Laos. Dao Coffee I must say trumps any Vietnamese coffee I have previously consumed and led me to leave the country with 2kg of the black gold (I should have bought more)! Largely unknown outside of Laos and Thailand, Dao operates coffee plantations, coffee processing, dried fruit production, and duty free shops. The quality of Dao's products is unparalleled with their regional competition, something I didn't expect when I touched down. Luckily their growth plans are to share this secret with the rest of the world.
I met a Managing Director of the Dao Group of Companies at their headquarters, and we discussed their planned IPO on the Laos Stock Exchange "LSX" in 2017. The capital raise will help the company expand areas under coffee cultivation, acquire new European processing equipment, and expand sales and marketing both in Laos and internationally. The majority of coffee consumed in Laos is still either Nescafé instant coffee or Vietnamese coffee, and so the low hanging fruit will be to increase local market share, which at present is only ~25%. I'm confident they will be able to grow market share with relative ease.
Dao Group Duty Free Shop at Wattay International Airport in Vientiane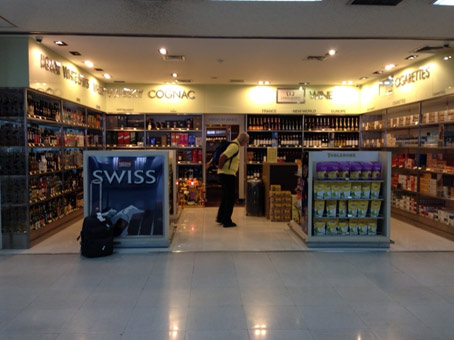 (Source: Asia Frontier Capital)
Another memorable visit was to the largest of the five listed companies on the Lao Stock Exchange "LSX", EDL Generation Company (EDL-Gen). A subsidiary of the national electric company EDL, EDL-Gen owns hydroelectric dams built by EDL, in addition to joint ventures with third party independent power producers (IPP's). Having a mandate to supply EDL with 90% of the electricity distributed in Laos, EDL-Gen has a quasi-monopoly on power generation and sales which are contracted through 30 year power purchase agreements (PPA's) with EDL. These PPA's are fixed in USD with the price of electricity sales increasing 1% per year ensuring EDL-Gen remains profitable and FX risk with the Lao Kip is minimized both for the company and investors.
Although these two companies are the stars of the Laos economy, capital markets still require forward thinking regulators to ensure growth and stability. One of my last meetings in Laos was with Saysamone Chanthachack, the Acting Secretary General of the Laos Securities Commission Office and a bright spot for the country and financial integration among CLMV countries. A highly educated and well-spoken woman, her plans are ambitious. Having categorized a list of over 500 SOE's and created a high quality team to assist these SOE and other private companies through to listing, her vision is to have 60 companies listed by 2020. Such an initiative would see this country of 6 million people have a more robust and hopefully liquid stock market than some of its regional counterparts.
After meeting the Secretary General, our broker took me for a local meal which was one of the best I had during my time in Laos. We indulged in the local delicacies of pork laab, traditional Lao sausage, and deep fried chicken ankle which squeaks when you eat it.
Laos is arguably the ASEAN country with the largest information gap and a textbook example for why we conduct on-the-ground due diligence. We see the country continuing to liberalize its economy and further engage/integrate with its neighbors, presenting a significant long term opportunity which we look forward to being a part of.
Foreign investors can choose from 5 listed LSX stocks (Asia Frontier Capital's favorite is EDL-Genco). These stocks are only traded in Laos at the Laos Stock Exchange. There are currently 3 brokers active at LSX. We recommend to use KT Zmico , Bangkok, which has a partnership with BCEL in Laos.
There are no ETF for Laos and most Asia Funds or Frontier Funds have no exposure in Laos due to the custody issues. Asia Frontier Capital's AFC Asia Frontier Fund has currently a Laos exposure of 3%.
Disclosure: I am/we are long EDL GENCO.
I wrote this article myself, and it expresses my own opinions. I am not receiving compensation for it. I have no business relationship with any company whose stock is mentioned in this article.