The biotech sector has held up well so far this week given its big rise the previous two weeks as it consolidates its gains. Yesterday the sector was down more than one percent before rallying with the overall market to end the day with better than a one percent gain when the trading day closed.
The sector was even able to overcome news that a Senate committee is looking to cite Valeant Pharmaceutical's (NYSE:VRX) ex-CEO for not complying with their subpoena. Politicians also are targeting the drug industry on the state level as there is a bill pending in the Massachusetts state legislature that would enable the state's health cost watchdog to demand and review data on the highest-cost drugs. California has a bill in discussion to limit any drug prices increases to 10% annually. One has to love the election year histrionics by state and federal politicians that always seem to come up at this point in the election cycle.
Still the sector has had a nice bounce recently after enduring its longest and deepest bear market since financial crisis and is now some 15% off those lows. The space may benefit today as Medivation (NASDAQ:MDVN), a stock we recently spoke of as a possible buyout candidate on the Digest, is rumored to be desired by Sanofi (NYSE:SNY). I also recently did an update on Relypsa (NASDAQ:RLYP) which also has been linked as a possible target of this large drug maker.
If either or both of these acquisitions actually occurred it will bolster Citi's recent view that the failure of inversion deals like Pfizer's (NYSE:PFE) and Allergan's (NYSE:AGN) proposed tie up could unleash a wave of M&A activity in the smaller and mid-cap names in the space. That could be the spark to move the sector to the next leg higher as well.

Juno Therapeutics (NASDAQ:JUNO) earned a $50 million fee this week as biotech juggernaut Celgene (NASDAQ:CELG) exercised its option to develop and commercialize Juno's CD19 program outside North America and China.
Last summer Celgene inked a 10-year, $1 billion collaboration deal with this emerging immuno-therapy concern that also involved an equity investment. As I noted recently, Celgene probably has as many significant collaboration deals in a variety of focus areas than any biotech or pharma concern that I am aware of. It is a key reason I believe Celgene's breakneck earnings and revenue growth will continue into the foreseeable future and why it is a core holding in the Biotech Forum portfolio.
Intellia Therapeutics, which is one of several companies working to develop CRISPR/Cas 9 technology commercially, on Monday filed to go public in an initially priced $120 million IPO. In addition, the company announced a collaboration and licensing deal with Regeneron (NASDAQ:REGN) focused at advancing up to 10 CRISPR-based programs, focusing primarily on liver diseases.
Regeneron will pay Intellia $75 million upfront, as well as investing $50 million in Intellia's forthcoming IPO. Additionally, the agreement includes as much as $320 million in milestone payments. CRISPR or gene editing is getting a lot of attention recently like stem cell research and immuno-therapy before it. These should be well-received IPOs even with the current cautious sentiment on the biotech sector since early summer. Definitely an area to watch. Editas Medicine (NASDAQ:EDIT) used the intense interest in this area to be one of the few IPOs in the biotech area to be able to get to market so far in 2016. As one can see below, that demand has held up well for the stock.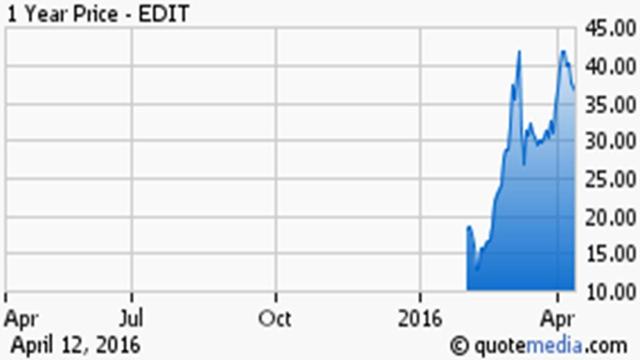 Clovis Oncology (CLVS) was halted in trading early yesterday as the market awaited a decision from its Ad Comm panel. The FDA's Oncologic Drugs Advisory Committee then announced that it had voted 12-1 against accelerated approval of Clovis Oncology's rociletinib for the treatment of EGFR-positive non-small lung cancer. The panel decided it will still require additional Phase 3 data to support its application. The stock initially plunged almost 15% but impressively had recovered more than half of those losses by the time the market closed. However, the stock was downgraded to Neutral at JP Morgan on the news.

Puma Biotechnology (PBYI) is turning into somewhat of a "battleground stock" between analysts of late. This week UBS reiterated its Buy rating and $60 price target (~double the stock's current price) on this development stage biopharmaceutical company, focused on the development and commercialization of products for the treatment of various forms of cancer. Two weeks ago, four analyst firms issued ratings on Puma. Credit Suisse and JP Morgan reiterated their Buy ratings while RBC Capital downgraded the shares to Hold and Cowen & Co. reiterated their Hold rating.
The stock has fallen as investors fear its main drug candidate Neratinib, may be too toxic for patients to use. The company did recently extend its deadline for filing a NDA on this compound. This is not a stock I follow or own, but the stock looks like it will continue to be volatile given the diverse opinions out there by investors and analysts.
Allergan continues to pick up fans among analysts after the mega merger with Pfizer was derailed by new rules by the Treasury Department. It was reiterated a Buy with a $310 price target over at S&P Capital on Tuesday.
This is a call I agree with and I have been accumulating shares incrementally since the deal with Pfizer got 8 balled. The company has a very well diversified stable of products and is seeing good growth from its Botox and its eye care franchises. The stock sells for under 13 times FY2017's consensus earnings.
The company will also have plenty of "ammo" to go shopping once the deal to sell its generic drug businesses to Teva Pharmaceuticals (NYSE:TEVA) for over $40 billion is completed. Given the recent deep bear market in the small and mid-cap names in the sector, the company should be able to make acquisitions at very reasonable levels to bolster growth further.
Note: New analyst ratings are a great place to start due diligence, but nothing substitutes for deeper individual research in this very volatile sector of the market. Many of the small cap names highlighted in the "Analyst Insight" will eventually appear in the "Spotlight" section, where we do deeper dives on this type of promising but speculative small cap concern.

Today's spotlight is on Revance Therapeutics (NASDAQ:RVNC) at the request for a deeper dive on this small cap concern by a member of the Biotech Forum. Revance is a developmental drug company in California with a market capitalization just north of $500 million. It has used its proprietary TransMTS® technology for the delivery of botulinum toxin through two novel drug product candidates. Basically it is trying to develop a better version of the blockbuster Botox. The stock currently sits at around $18.50 near 52-week lows.
Pipeline:
The first product candidate is DaxibotulinumtoxinA Topical Gel (RT001) which is in a Phase 3 pivotal study dubbed REALISE 1 that is currently underway in the United States for the treatment of moderate to severe lateral canthal lines. Data availability is expected in the first half of 2016.
The next product candidate DaxibotulinumtoxinA For Injection (RT002) has been already evaluated in a Phase 2 head-to-head, active comparator study called BELMONT that was recently completed in Canada for the treatment of Glabellar Lines. Positive interim six month results were announced in October 2015. The company plans to follow with an End-of-Phase 2 meeting with the FDA, then initiate a Phase 3 program in the second half of 2016.
Balance Sheet & Analyst Support:
In November of 2015 the company completed a secondary offering raising $126 million and ended 2015 with over $250 million in cash on hand. Revance should now be fully funded through year-end 2017 and beyond given it burned just $65 million in cash to fund the previous year. Cash burn should increase this year as more trials get underway. However, funding concerns are nice to have off the table given the weak current market environment for raising additional capital in this sector.
Analyst is sporadic but positive. Brean Capital reiterated a Buy rating and whopping $48 price target on the stock on March 17th. Guggenheim reiterated their Buy rating and $55 price target on March 3rd. Cowen & Co. also has a $55 price target on Revance which last issued in late December.
Outlook:
Botulinum toxin procedures continue to drive the nonsurgical aesthetic market and have remained the #1 nonsurgical procedure since 2000 and is a large market. In addition, the company has myriad trial milestones in 2016.
1) 2Q16 - RT001, first trial, Phase 3 data for Crow's Feet
2) 1H16 - Report top-line data for RT002 in Cervical Dystonia
3) 2H16 - Initiate larger Phase 2 trial for RT001 for hyperhidrosis
4) 2H16 - Initiate Phase 3 program for RT002 for glabellar lines
So on the surface this looks like a speculative and promising concern that has several traits I look for before I make a small investment in this space. However, part of research is looking at countervailing views. In late 2015 there were a couple (I, II) well-written pieces here on Seeking Alpha that effectively undermined the investment case on Revance. They raised some serious concerns that I cannot refute at the present time. Their bearish case seems to have been bolstered as the stock has been cut in half since those stories ran.
Therefore, even though I am taking a very minute stake in Revance simply because I like the market it is trying to get into and the company has some positive traits (cash on hand, multiple shots on goal, strong analyst support); I cannot recommended it for purchase to a larger audience due to the red flags articulated in previous articles.

Thank You & Happy Hunting
Bret Jensen
Founder, Biotech Forum
Disclosure: I am/we are long AGN, CELG, RLYP, RVNC, TEVA.
I wrote this article myself, and it expresses my own opinions. I am not receiving compensation for it (other than from Seeking Alpha). I have no business relationship with any company whose stock is mentioned in this article.