Since we last wrote about Lululemon (NASDAQ:LULU) all the way back at the start of December, the share price has put on a huge 26% gain. Disappointingly, though, this is some way off the almost 40% gain it had made as recently as the start of the month. But we are not overly concerned by this and still see the stock as a buy today.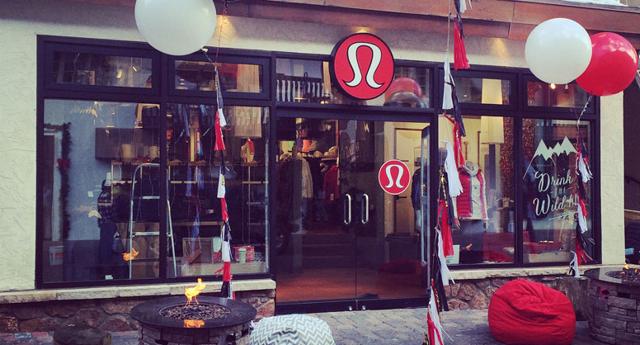 Lululemon continues to be one of those stocks that divides opinion. To some investors it is great value with a lot of upside ahead, to others it is vastly overvalued and prone to declines. We are part of the bullish camp and believe there is still a lot of upside ahead despite recent concerns of a slowdown in the apparel sector.
Lululemon exhibits a number of key traits, which make it a standout investment in our opinion. Its fierce brand loyalty, the season-neutral designs, high-quality product, and international growth should all drive the stock higher in the next few years and help it continue to hold or even grow its market share.
Recent data provided by SportScan has shown that Under Armour's (NYSE:UA) women's business could be declining by as much as 7% in the last quarter, following a suspected decline of 6% in the previous quarter. This could be a sign that Lululemon's comeback has been much stronger than anticipated and it has managed to steal market share back after relinquishing it during a couple of troublesome years.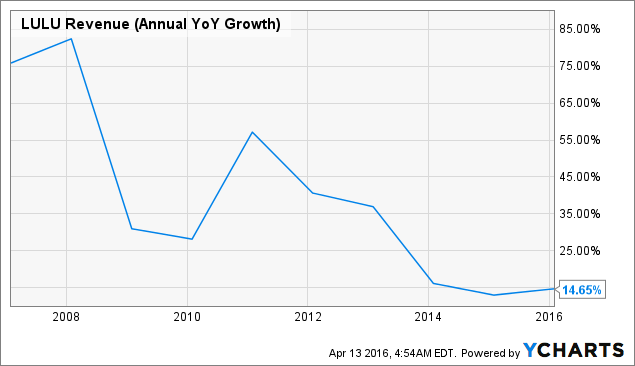 Despite this, management has still been able to grow the top line at a strong rate, and last year, we finally saw revenue growth pick up after four years of slowing growth levels. Of course, the law of large numbers makes the process all the more harder, so this is great to see.
Possibly the most important part of retail at the moment is e-commerce. Declining mall traffic means retailers have to be able to compete efficiently online or suffer the consequences. Lululemon has had enormous success with its e-commerce business, partly down to its business model, and reported a 30% growth in online sales in the last quarter. This meant the segment now provides 20% of total sales and we would imagine further growth coming in the current fiscal year.
E-commerce and Lululemon are a great mix. The company opens up showrooms in key cities around the world, driving demand. Generally, showrooms are smaller temporary venues, which carry just the key styles and are open shorter hours. The rest of the time, staffs are out in the community raising awareness. We believe this will help drive sales through its e-commerce platform, as well as allowing the company to gauge whether there is enough demand in the area to support the opening of a store. This strategy should limit any international expansion missteps, which can be very costly, as many retailers can attest to.
The work the company does with its brand ambassadors in the community is vitally important to building up strong levels of brand loyalty in our opinion. Without them, we don't believe Lululemon would be half the company it is today. By creating this level of brand loyalty, it keeps customers coming back in store instead of going to a competitor, which may undercut it on price. Making your guests feel welcome and valued is key, and Lululemon more than achieves that in our book.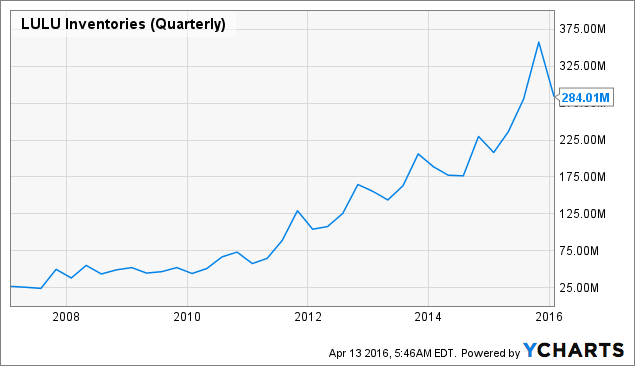 We are delighted to see the company's inventory coming under control. Apparel retailers have had a terrible time recently thanks to the West Coast Port debacle and mother nature's decision to throw some unseasonable weather into the mix. Getting the product assortment right has been a big challenge for many retailers. There was little Lululemon could do with the inventory held up in ports, and markdowns were certain to follow. But this seems to have been cleared out now, which should allow margins to expand.
We don't think the unseasonable weather would have hurt the company as much as other retailers, as a large percentage of Lululemon's product assortment is season-neutral in our view. This is good news as consumers have had a lot of money in their pockets that has seemingly been directed at food and experiences. We may be stretching the imagination here, but we do see yoga classes and general fitness classes as a bit of an experience. In our experience, we have seen a huge rise in group fitness activities and everybody wants to be wearing the best workout gear. We feel it is fair to presume that rises in disposable personal income could be a big benefit to Lululemon, especially being at the premium end of the market.
So with all this going for it at the moment, we don't believe the recent sell-off was entirely justified. The consensus target price is around $70.00, which we would agree with. We expect it will climb far higher in the next two years, though, making this a great buy and hold stock.
On the Q4 call, management stated that it expects fiscal year 2016 diluted earnings per share to come in the range of $2.05 to $2.15 per share. We expect the company to outdo its guidance and deliver earnings of $2.20 per share. This will be driven by strong demand, growth in e-commerce, and margin expansion. Priced at $70 would mean the shares are changing hands on a P/E ratio of 31x earnings, which is more than reasonable in our opinion and not overvalued as many have said.
We see the recent sell-off as a great buying opportunity for anybody that has been toying with the idea of investing in this growth machine as a long-term investment. The potential 13% return this year is only the start of many more gains to come as far as we are concerned.
Disclosure: I am/we are long LULU.
I wrote this article myself, and it expresses my own opinions. I am not receiving compensation for it (other than from Seeking Alpha). I have no business relationship with any company whose stock is mentioned in this article.