Ford (NYSE:F) and General Motors (NYSE:GM) have been under some serious pressure for what's turned out to be years at this point. And for a long time, I was long both names - I owned Ford the longest - until the continued underperformance took its toll.
I cashed out. I couldn't take it anymore. Was it a lack of patience? Maybe. Too short term? Not for me.
I had owned Ford since 2010, and over the last six years, shares are up 0.7%. When I sold it in the fall of 2015, my return was a little better than that, but it was far from impressive. Despite a resoundingly better situation than the automaker faced five years ago, the stock price refuses to gain any traction. It's a Seeking Alpha favorite that refuses to perform.
It feels like the market is actually punishing Ford for the inevitable: slowing auto sales.
At some point in the future, be it this year or 2020 or 2025, auto sales will decline from the prior year. If there's a recession, they'll probably plummet. But so far, the seasonally adjusted annual rate (SAAR) has continued to churn higher since the Great Recession.
Despite this steady improvement, the market continues to discount Ford and GM more and more.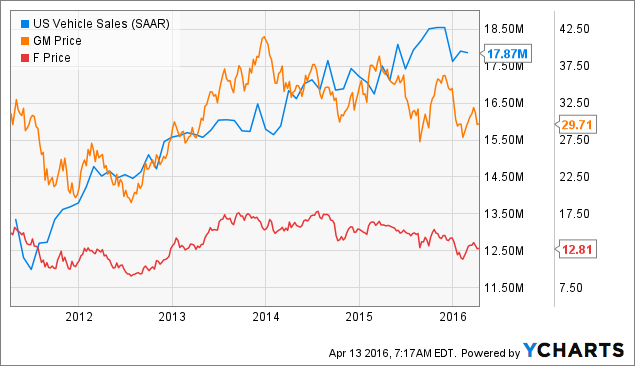 US Vehicle Sales data by YCharts
One Man's Trash Is Another Man's Treasure
There's lots of reason to own the automakers, one of which is the dividend. Ford and GM yield 4.8% and 5.2%, respectively. While the income is nice, the valuation is almost a joke. GM trades at 5x trailing earnings, 5.2x forward. Five! Ford trades at 6.8x trailing earnings, 6.2x forward. Granted, the companies' low profit margins (4.9% for Ford, 6.3% for GM) don't command a very high valuation, but 5 and 6 times? C'mon.
There are concerns, like subprime auto lending perhaps showing its hand at a future wave of defaults when times get tough, and South America certainly isn't anything to get excited over. China isn't the growth engine that it appeared it was going to be just a few years ago, but it kicks out a steady stream of profits.
There's also the good. Each quarter, I read roughly two dozen conference calls, take notes, and draft a "Big Picture Summary." In a recent summary, Ford's management noted how similar Europe's recovery looks compared to the one seen in the U.S. a few years ago. That's very encouraging.
Ford also boasts how well the F-150 is doing since its completed overhaul. The company's (and country's) most popular vehicle is a big hit, winning the "Best Value in America award among full-size half-ton pickups for the fifth time - reclaiming the title it held from 2011 through 2014."
It also won Consumer Reports' best pickup truck selection and is the only large pickup truck to receive an IIHS top safety pick.
I feel like if I told any investor I knew a stock that paid a 5% dividend yield, traded at 6 times earnings and reported record profit in 2015, most would be buyers.
But that's not the case for the automakers. Honestly, the only thing I can think of is that the market is discounting Ford and GM for when sales finally do decline (and even then, they'll probably take the stocks down).
What else could it be? Because it's not just now, it's been this way for years. Yields got higher, a cheap valuation got cheaper. U.S. sales got stronger, Europe has improved. But none of it has mattered.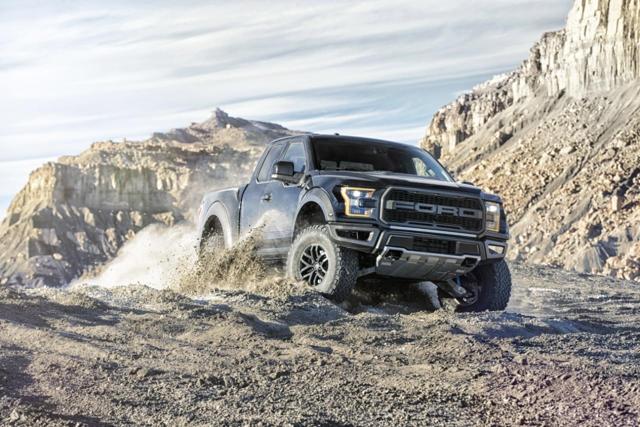 No stock is perfect, but in my mind, that's what a low valuation is for. Seemingly everything else is laid out in a bullish manner. At least bullish enough to own the stock.
And that's exactly why I won't own it. Because when everything makes sense for a long position - record profits, five times earnings, 5% yield - and the stock doesn't perform, I'm clearly missing something.
Perhaps investors looking for yield want it from a Dividend Aristocrat, while others are seeking out growth from a company like Starbucks (SBUX).
I waited for years and my investment did little more than pay me a dividend. Not the worst scenario, but it definitely was a frustrating ride. If it's going to trade like this when times are good, what will it be like when times are actually bad? I don't want to find out and the yield isn't enough to get me back in at current levels.
Disclosure: I am/we are long SBUX.
I wrote this article myself, and it expresses my own opinions. I am not receiving compensation for it (other than from Seeking Alpha). I have no business relationship with any company whose stock is mentioned in this article.