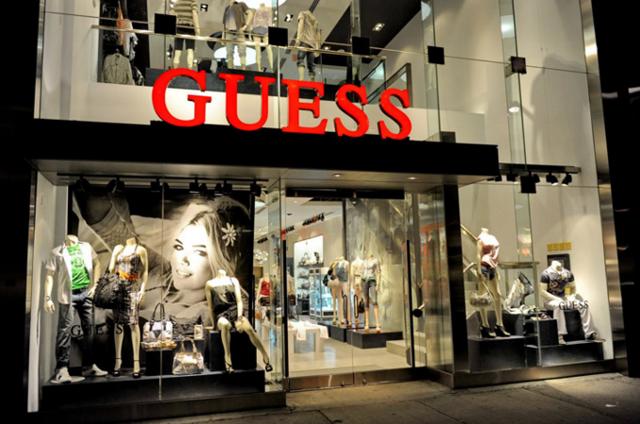 Apparel retailer Guess (NYSE:GES) is a stock I've been critical of in the past as I believe the market has overlooked weak fundamentals. The last time I visited the stock the company's shares were in a very nice uptrend and trading for $21 but since that time, we've seen shares crumble and decidedly breakdown out of that uptrend. General weakness in retail and in particular, apparel, has certainly taken its toll on GES and after Q4 earnings and a guidance update failed to spark buying, it seems the bear case has been bolstered.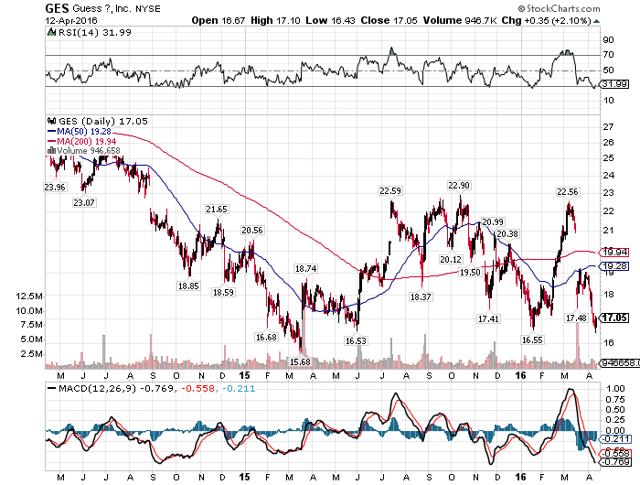 When I last took a look at GES my complaints were pretty basic; the company's sales were in freefall and its operating margins were very thin. These are the two basic drivers of profit for any retailer and GES was failing at both due to unequivocal weakness in its business and yet, the stock was being bid up. That is no longer the case as GES rallied hard into Q4 earnings but has since been crushed once more, knocking on the door to its lows again.
Guess is truly a global retailer and one thing that means is that it is beholden to the whims of the currency markets in an order of magnitude that is somewhat unusual in the apparel space. Guess saw its Americas revenue saddled with a 4% haircut in Q4 from the dollar's strength as the constant currency number of +1% was undermined by the reported 3% loss in total revenue. The constant currency showing was stronger than I had anticipated but to be fair, that number doesn't really matter. GES reports in dollars and that is what counts and the fact is it saw yet another quarter of declining revenue in its biggest market.
The second biggest market - Europe - saw its revenue whacked by 11% as a +6% in constant currency was turned into a 5% loss simply by converting results into dollars. That's a disastrous impact from currency fluctuations considering Europe is nearly the same size as the Americas market for Guess, that kind of loss cannot be overcome and was a big driver of the negative reported revenue number. The dollar's strength has been disastrous for GES for a few quarters now and Q4 was certainly no exception.
Operating margins were basically flat in the critical Q4 despite the fact that the segments themselves experienced wild fluctuations. The Americas market saw a 350bps increase to 6.6% but the increase was due to lower store impairment charges and a mix of lower SG&A spending but lower gross margins as well. While higher operating margins are great, the fact that they were higher due to non-recurring expenses falling off is not. The reduction in SG&A is sustainable but lower product margins means that GES has a demand problem and in retail, everything begins and ends with the assortment. If GES is discounting to move product, it could be in a lot of trouble.
GES's operating margins for the entirety of the fiscal year were still very low at 5.5% but that was an improvement over the prior year's 5.2%. Still, with the dollar troubles and the fact that GES is discounting to move product, GES could be in a tough spot with its operating margins again this year.
In fact, that is exactly what we saw with the company's guidance for this fiscal year although revenue came in higher than I expected. The company said it expects net revenue growth - after accounting for the dollar - of 6% to 8%. That's a strong showing and a vast improvement over the dreadful results of fiscal 2016. Should GES hit that guidance it will go a long way towards building a base for the bulls to have a fighting chance.
Unfortunately for longs, GES said its operating margins would be just 4% to 5% and that simply won't do. That number is a marked departure from the relative strength I just talked about in last year's operating margins and leads me to believe that GES is going to be chasing revenue via lower prices and consequently, lower margins. The strong revenue outlook is diametrically opposed to the very weak operating margin forecast and in particular, in concert with the expense reductions the company is undertaking. While some costs are involved in executing such a program, that kind of operating margin reduction is unforgivable and this is why the stock has been hammered. GES cannot afford to cede almost 20% of its operating profits via lower margins but that is what it has told us it will do this year.
From a technical perspective, GES is actually near a very important point in its chart. The share price has bounced around for months between $17 and $23 and GES is right there after the recent selloff. What the stock does at this juncture will determine if we get another rally attempt or if shares finally breakdown below the range and head a lot lower. The 14-day RSI looks constructive here as it has failed to make lower lows as the stock price has come down but that by itself is not a reason to buy. However, should GES make a base here and stay within the channel, GES could be good for a trade higher. GES will eventually break the channel one way or the other and when it does, the move will be powerful.
One thing the bulls have on their side is GES's prodigious dividend that should help keep shares afloat with the income crowd. GES continues to pay its 90 cent annual payout, good for a 5.2% yield at this point. GES may have fundamental troubles but its yield is safe for the time being and that means I'm thinking the bias is for the stock to stay in the channel instead of breaking down or out of it. The reason is that GES's weak guidance has decidedly taken the wind out of the sails of bulls for now but that the yield is high enough that buyers will step in on weakness. That creates a channel like we've seen so my bet is that GES will move sideways for the time being. If you are a dividend investor, you can do much worse.
Upside is very likely to be limited, however, as weak guidance has crushed earnings estimates. That's the only way GES would have material upside potential but that ship has sailed and that means that at 22 times this year's earnings - even at the bottom of the channel - GES is still very expensive. The only reason it continues to trade at that multiple is because of the yield and while that's a good reason, you have to know upside is very limited from here.
Overall, GES offers dividend investors the chance to own a 5%+ yield in a market where those are very difficult to come by. GES's fundamental issues are deep but it is still profitable and will be able to pay the dividend indefinitely. And with shares bouncing along the bottom of the channel, it seems now is a low-risk time to pick up that dividend barring some kind of meltdown in the market as a whole. To be clear, I'm not bullish on GES's fundamentals but for dividend buyers, the stock is ripe for picking right now for that 5%+ yield.
Disclosure: I/we have no positions in any stocks mentioned, and no plans to initiate any positions within the next 72 hours.
I wrote this article myself, and it expresses my own opinions. I am not receiving compensation for it (other than from Seeking Alpha). I have no business relationship with any company whose stock is mentioned in this article.