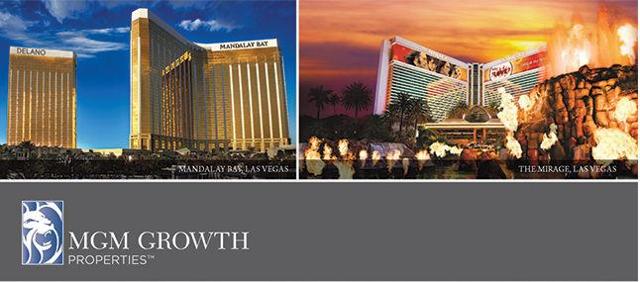 There are some asset classes that just shouldn't be turned into real estate investment trusts, or REITs. I'd lump casinos into that category, which is why I'm not a huge fan of Gaming and Leisure Properties (NASDAQ:GLPI). The funny thing is, now that MGM Resorts International (NYSE:MGM) has released more details of its planned REIT, to be dubbed MGM Growth Properties, GLPI is actually starting to look better, comparatively speaking anyway.
The problem with casinos
To get this out of the way, casinos are, in my opinion, a questionable asset class for a REIT. The properties are so tightly tied to the casino operations that it's hard to separate the two businesses out. Think about it, is a casino operator going to just walk away from a property? A CVS can move across the street, but there are only so many places a casino operator can go. That's for regulatory, location, and facility suitability reasons.
Sure, more areas are opening up to casinos, but the list of possible locations is still pretty small and filled to the brim with competitors, many of which own their facilities. So it isn't as easy as walking away from a property and into a new one. That turns breaking the property from the casino business into a big control risk.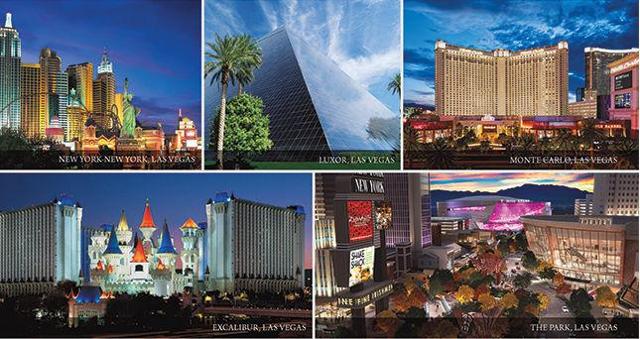 Then there's the not so subtle issue of keeping casinos relevant. There will be issues with general maintenance and such that have to be hammered out in a lease. But what happens when a property needs to be demolished and rebuilt... Is a REIT going to be as willing to foot that bill as a casino that owns its own real estate? This isn't a small issue, since this happens pretty frequently in Las Vegas.
And what happens when a casino operator goes belly up? That's another frequent occurrence in the debt heavy industry. A REIT will have two choices, find another casino operator to handle the operation if it can or suffer through the bankruptcy, hoping that rent gets paid and doesn't get trimmed in the workout.
Essentially, I think the casino and casino operating businesses are too tightly tied for them to broken apart. I believe it diminishes the business in the long term. But that hasn't stopped the industry from trying to jump aboard the REIT spin off bandwagon.
The first, two years ago
Gaming and Leisure Properties was the first casino REIT, spun off from Penn National Gaming (NASDAQ:PENN). It basically took the REIT two years to find another casino operator willing to part ways with a significant portfolio of assets to diversify away from its former parent. But that deal calls for the purchase of Pinnacle Entertainment (NYSE:PNK). The agreement calls for Pinnacle to be acquired, GLPI to keep the properties, and a casino operating company to be spun off. That's a pretty complex deal and it involved the acquisition of a company that saw profits fall into negative territory for years after the start of the 2007 to 2009. (It didn't make money again until 2014.) Worse, Gaming and Leisure had to materially up its offer to close the deal.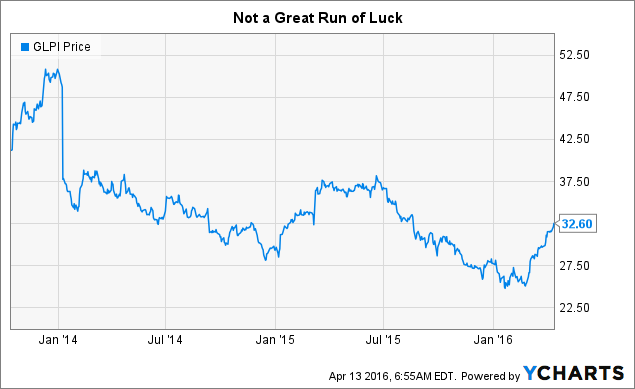 GLPI data by YCharts
I don't think portfolio growth is turning out to be as easy to achieve as investors may have hoped. Which helps explain why the REIT's shares have fallen some 20% since coming public. Although the 7% yield may be enticing, the risks are too great for conservative investors. For example, now that it did the Pinnacle deal, what's next?
Better than MGM's REIT
That said, I think Gaming and Leisure is a much better REIT for investors than MGM Growth Properties will be. As soon as the Pinnacle deal closes, Gaming and Leisure will finally be able to say that it isn't totally beholden to its former parent. It has the option to find more casino properties or to branch out into other "leisure" categories, which would make it a far more appealing REIT in my opinion.

MGM Growth Properties is specifically being structures so that it will be entirely beholden to MGM. There are going to be two share classes and MGM is basically going to remain the controlling shareholder. In fact, the new REIT spells it out explicitly in its regulatory filings, "We are a 'controlled company' under the corporate governance rules for NYSE listed companies..." It's also worth noting that MGM Growth Properties' chairman of the board is the CEO and Chairman of MGM. If the question comes down to what's best for MGM or the REIT's common shareholders, who do you think has a better chance of winning out?
And while MGM is putting a collection of prominent Las Vegas casinos into the REIT, it's keeping its best properties for itself, the Bellagio and MGM Grand. If real estate is location, location, location, then MGM is going to own the crown jewels. There's got to be a reason for that... perhaps these are the most profitable locations it owns and it doesn't want to give up that cash flow to REIT investors?
So what's MGM really getting out of this move? It appears that it will be able to reduce its debt by nearly a third, shoving billions of dollars worth of IOUs into the REIT. And at the same time it isn't going to lose control of the assets. That's a win/win-for MGM. But here's the big question, what happens next?
With Gaming and Leisure you know growth is the goal, especially after the acquisition. But MGM is kind of like a co-joined twin. It can't be taken over unless MGM says so. And how likely is it that the REIT is going to go off and acquire other assets? MGM is saying that's the goal, but as it's structured I'm not sure that's a realistic expectation. To be fair, the MGM REIT has options to buy some MGM properties that are under development. But if it really wants to grow it's going to need MGM approval. And I'm not sure enough benefit would accrue to MGM to bother with growing MGM Growth Properties through external acquisitions.
If you own MGM Growth Properties, you are basically tied to MGM in what appears to be a financially driven corporate transaction. And one that may very well benefit MGM more than MGM Growth Properties shareholders in the long run. I try to avoid corporations with business relationships that feel incestuous and MGM Growth Properties fails that test in my eyes.
Not what you want to own
If you want a way to invest in casinos and receive regular dividends, the REIT structure sounds like a great option. Collecting rent should help to smooth out the peaks and valleys of an inherently volatile business. And maybe you are willing to accept the negatives of the MGM Growth Properties deal because you think MGM is a great casino operator. But I think the issues of control and growth are too great a risk for most investors to bother with this new REIT. If you just have to own a casino REIT, Gaming and Leisure is probably a better choice.
Disclosure: I/we have no positions in any stocks mentioned, and no plans to initiate any positions within the next 72 hours.
I wrote this article myself, and it expresses my own opinions. I am not receiving compensation for it (other than from Seeking Alpha). I have no business relationship with any company whose stock is mentioned in this article.