"Hi Jeff. It's me again."
So I just called my broker to ask how much it would cost me to short Tesla (NASDAQ:TSLA). He seemed characteristically bored by the question, and gruffly affirmed that he would check.
Let me be clear: I didn't want to know how much it costs because I actually want to short it - I really don't. I was simply curious, given the clustering dark pool short sale transactions I've been seeing in TSLA, especially over the past six days.

(sqzme.co - Red bars are dark pool short sale volume. Read more about dark pools.)
What price, I wondered, are those short sellers paying for the privilege to short Tesla? After all, over 30% of TSLA's float is held short, and that number has been steadily increasing. Like any market with high demand and limited supply, I figured that the market for lendable shares of TSLA must be getting pricey.
A full two minutes passed on the phone (was that really necessary?) before Jeff mumbled the annual borrow rate into the receiver and asked if I needed anything else.
Apparently, fellow-contributor Hedge Fund Insights did the same thing today - and we both heard the same number:
"Eight percent."
That's right, 8%. So here's the first question: Would you pay 8% a year to short TSLA?
Maybe, maybe not. But that's really not the question that matters, because obviously, a lot of people apparently do think it's worth it.
The more important question: Would you buy TSLA if someone paid you 8% per annum to borrow it from you?
Whoa. Well, maybe you wouldn't personally, but think about this question from the perspective of large pension and mutual funds. You want to beat a benchmark, but you're limited to buying really big, liquid U.S. equities, some of which need to have a "growth" profile.
TSLA is big ($32B cap).
TSLA is liquid (>5M shares daily).
TSLA is "growth" (they might make money some day).
So what if you could do the job you're supposed to do, and pick up an 8% pseudo-dividend for your trouble? There's a saying for that.
Have your cake and eat it too.
The four largest institutional holders of TSLA (>$1B each as of 31 Dec.) are Fidelity, Baillie Gifford, T. Rowe Price, and Vanguard.
For big institutions like these, lending securities can be a very rewarding pastime. Vanguard is quite open about their practices and method ("Vanguard's approach to securities lending"), and apparently thinks that lending hard-to-borrow securities can be a clever and conservative strategy.
(Can't get enough of securities lending? There's a fortnightly industry publication!)
Now consider this: Even if all of these four big funds were lending all of their TSLA shares, the market for short selling is almost big enough for all of them to lend! Currently, over 32 million shares are reportedly held short (NASDAQ):
| | |
| --- | --- |
| 10/30/15 | 26,920,929 |
| 11/13/15 | 27,367,931 |
| 11/30/15 | 27,858,429 |
| 12/15/15 | 27,917,714 |
| 12/31/15 | 27,676,403 |
| 1/15/16 | 29,108,846 |
| 1/29/16 | 30,287,107 |
| 2/12/16 | 31,515,192 |
| 2/29/16 | 34,019,648 |
| 3/15/16 | 32,226,674 |
Which brings us back to an interesting metric that we've written about before ("Seeking Alpha In The Dark"): The institutional-ownership-to-shares-short ratio.
i.e., if big institutions are stock lenders, their total holdings are a good proxy for "lending market supply." Short interest, then, would be a proxy for "lending market demand."
In that case, supply is 87,450,738 shares and demand is 32,226,674. That would mean that more like 37% of shares available to short are currently held short. And that assumes that every institution is lending. That's very high demand. But what does it mean for the rest of us?
Incentives!
Where it is normal and logical for large institutions to wish their holdings to continually appreciate in price, this logic is unceremoniously broken when there's a big, lucrative market for lending and shorting shares.
In the aforementioned article (this one), we wrote about this phenomenon with regard to the warped market for shares in Ubiquiti Networks (NASDAQ:UBNT), which had a 5.5% borrow rate and an even higher relative short interest.
It seems that, despite the protestations of livid longs, UBNT is doomed to trade up and down in a volatile range (but slowly downward) as both lenders and short sellers make money together. They're collaborating with the same goal in mind - and you're not allowed to play.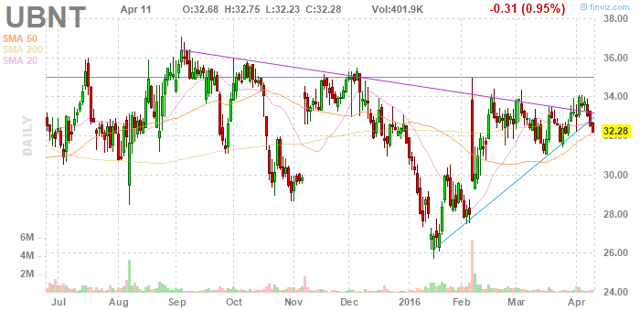 ("I can do this all day..." (finviz))
i.e., if the price gets too low, lenders (large institutions) are happy to buy it up for the 5.5%+ guaranteed annual return. If the price gets too high, the dominant short-sellers push it back down (and the lending institutions are perfectly happy with that!). Are you surprised to hear that longs and shorts can live in harmony?
This is the same trap that TSLA investors find themselves in (remember how it got bought straight up from $140 to $260?), and it will go on and on until the game is over - but the game won't be over until the shorts start actually buying back shares in earnest.
When will that be?
Quite simply, there needs to be a catalyst. Something on the near horizon, that makes short-selling an unsustainable venture. As long as there is reasonable doubt about Tesla's future profitability, the game can go on. Only when Tesla is on the cusp of real, undeniable profitability will the shorts fold and the stock change its sickening, whipsaw behavior.
When will that gleaming moment be for Tesla?
I'll let you mull that one over, but it doesn't look like it will be any time this year. If the wild divergence of opinion among Wall Street analysts (and Seeking Alpha contributors) is any indication, we can disagree about Tesla all day. Like, really disagree. All day.

(Courtesy of Yahoo!)
In fact, in just the last few days on Seeking Alpha, I've read about burgeoning Model 3 demand in the form of a $14B preorder queue, and how that queue is useless showmanship garbage. A rosy picture of how the Model 3 is the future of all cardom, and a complete takedown of how the car is itself a physical impossibility.
Combining all of this confusion into one concise article, contributor Bill Maurer suggests that Model 3 demand will itself turn the Model 3 into garbage because of necessary corner-cutting.
To further the point, our analysts have taken the liberty of illustrating this transformation:

But seriously - as long as this polar disagreement goes on, the game is still on for TSLA's shorts and lenders. And you and I? We are peons, and are powerless to end it.
So stop fighting and play along (or don't play at all).
---
And as always, pay attention to the smart money and the short side of the market. That's what we do at SqueezeMetrics, and we advise you to follow us for more tough love about your favorite stocks.
Comments heartily welcomed - unless they're stupid.
Disclosure: I/we have no positions in any stocks mentioned, and no plans to initiate any positions within the next 72 hours.
I wrote this article myself, and it expresses my own opinions. I am not receiving compensation for it (other than from Seeking Alpha). I have no business relationship with any company whose stock is mentioned in this article.