Activision Blizzard (NASDAQ:ATVI) has completed its $5.9 billion takeover of King Digital last February. This acquisition propelled Activision in becoming the world's 3rd top-grossing mobile publisher.
King Digital's 318 million unique Monthly Active Users is helping Activision profit from the $41.5 billion/year gold mine of mobile games. Getting a bigger slice of that pie requires publishers to have the most number of active loyal players.
However, user acquisition cost is a big burden to any games publisher. As per Fiksu's estimates, the Cost Per Loyal User acquisition on the iOS platform is $3.50. The CPI (Cost Per Install) of new Android/iOS games also runs between $1.8 and $2.5.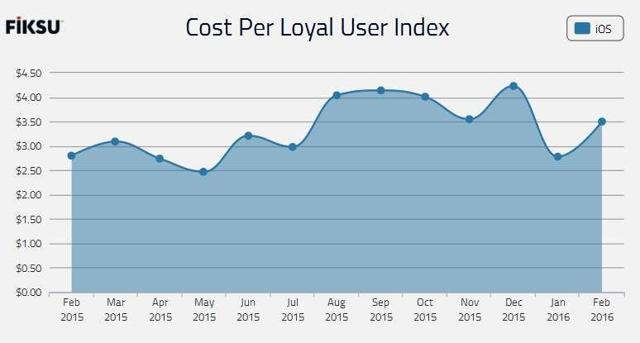 Without the games portfolio and user base of King Digital, Activision would still be a bench player in mobile. It would have taken years (and billions of dollars in development/marketing) before Activision could build a platform as large as King Digital has.
Taking over King Digital gave Activision instant access to a massive pool of loyal players.
Candy Crush Games Are Strong
King Digital's Candy Crush franchise continues to deliver strong monthly sales. King's expert re-spinning of its old Candy Crush match-3 puzzle game keep its loyal players happy. While Candy Crush Saga's sales is slowly declining, revised versions of it are doing well. The latest derivative Candy Crush Jelly Saga title is the 12th top-grossing iPhone game in America.
As per ThinkGaming, this 4-month old game had estimated average daily sales of $125k from iPhone-using American players. SensorTower also reveals that Candy Crush Jelly Saga's global March net sales was $9.6 million from Android devices, and $5.8 million from iOS devices.
The other derivative title, Candy Crush Soda Saga (launched in November 2014), had net sales of $13 million from iOS and $15 million from Android last month. The original Candy Crush Saga is still the best moneymaker - with net sales of $25 million from iOS and $23 million from Android.
Candy Crush titles will continue to contribute 9-figure annual sales to Activision for many years to come. The customers who spent hundreds of dollars on the original game are the same people who are also spending big money on Jelly Saga and Soda Saga.
Hearthstone's Future In Mobile Is Threatened
Activision's best grossing mobile game Hearthstone: Heroes of Warcraft had monthly net sales of $3.1 million from iOS and $5 million from Android. This game is unlikely to improve future sales due to the crazy popularity of Supercell's latest game, Clash Royale.
Supercell did the global launch of Clash Royale only last month. It is already estimated to have earned $144 million in March. Like the turn-based Hearthstone, Clash Royale is a head-to-head, card deck-based battle game. However, Supercell's game features real-time combat involving fully-animated spells, troops, and heroes.
I hope Activision or King Digital comes up with a World of Warcraft-themed equalizer to Clash Royale. Real-time (not turn-based) action is far more popular among big-spending mobile-using players.
Conclusion
The business of selling virtual goods to mobile gamers is a growth industry. The 318 million loyal players of King Digital is a long-term tailwind for ATVI.
Revenue from mobile games is predicted to grow to $74.6 billion by 2020. The introduction of more powerful (but cheaper) smartphones and tablets adds more fuel to this big shift toward mobile gaming.
PC sales continue to decline but Deloitte predicts that 1.75 billion tablets and smartphones will be used for gaming this year. Deloitte also calculated that a paying mobile gamer will spend an average of $20 per year on in-app purchases. Likewise, NPD Group's chart below illustrates that older mobile gamers are also spending more than their younger peers.

While Activision's PC and console games are popular among younger people, mobile games is uniquely appealing to more affluent older players.
I expect King to keep on making successful derivative games out of its Candy Crush engine. These re-blended future titles will keep the interest of Candy Crush loyalists.
King Digital could also help Activision port its other PC/console assets like Diablo and StarCraft to mobile devices. A clone of Clash Royale using World of Warcraft or Diablo heroes/troops is highly desirable. Copying Clash Royale was easily accomplished by Chinese developers.
Disclosure: I am/we are long ATVI.
I wrote this article myself, and it expresses my own opinions. I am not receiving compensation for it (other than from Seeking Alpha). I have no business relationship with any company whose stock is mentioned in this article.