Overview:
Intel's (NASDAQ:INTC) stock hit a 12-month high of $35.44 on Dec. 29, 2015. Since then, it has been range bound between about $28 and $32. The reason for this is the sluggish sales of desktops, integrating the Altera acquisition, the miniscule or non-existent sales of 3D NAND and the lack of growth in the highly touted IoT Products Group.
IoT has continued to flounder for two reasons, First, on the hardware side, Intel is competing with companies that have been in the IoT business since before there was any "IoT" such as Texas Instruments (NASDAQ:TXN), GE (NYSE:GE) and Cisco (NASDAQ:CSCO). Secondly, and more importantly, the largest profits in the IoT business going forward is in software, services and data analytics none of which are Intel strong points. I have described my reasoning here: "Intel: Internet Of Things Will Not Provide Significant Sales For The Foreseeable Future" and here: "5 Reasons Why General Electric Has Much Bigger IoT Potential Than Intel Does".
In this article, I will examine whether Intel can respond to the challenges it faces in the IoT markets.
"Great things are done by a series of small things brought together."
Vincent Van Gogh


Source: linkedin.com
Intel IoT manager leaving or was he pushed?
On April 4th, Intel's CEO Brian Krzanich announced Doug Davis, Senior Vice President of IoT, has decided to retire from Intel to "devote more of his time to family, friends, and other interests." Sounds suspiciously like he was pushed since the dreaded and well-worn "devote more time to…" usually indicates an involuntary exit. I mean the guy is 56 and looks even younger than that. Now if "devote more time to…" was followed by "his dogs, his golf game and his local bartender" I might believe it.
And it certainly wasn't Davis' fault that the IoT Group has stumbled along with low growth rates. I think that is directly attributable to Intel's lack of meaningful IoT products and the fact that they are far down the IoT food chain. I predict before long, he'll have another important job maybe with a company that actually has a viable product catalog to sell into the IoT market.
Intel's IoT effort has been mediocre at best growing revenue in 2015 by a measly 7% in an IoT devices market growing at a 43% CAGR 2015-2019. I use the devices segment because as of now that is the market Intel competes in. The following chart is worth a thousand words and describes why I think Intel's IoT future is limited. What Intel sells is towards the left of this chart while the big IoT money is on the right of the chart. Unless Intel buys a relatively big company that services the right side of the chart, IoT will be a relatively minor source of sales and profits for the foreseeable future.
Or to put it more bluntly, Intel's IoT Group cannot come anywhere close to replacing losses, which may occur in desktops or servers. IoT Group's profits are a measly 3% of desktop and server profits. For better or for worse, Intel's intermediate future depends upon the success they have with their old warhorses: desktop and server chips. Between now and 2018, nothing else matters much, certainly not IoT.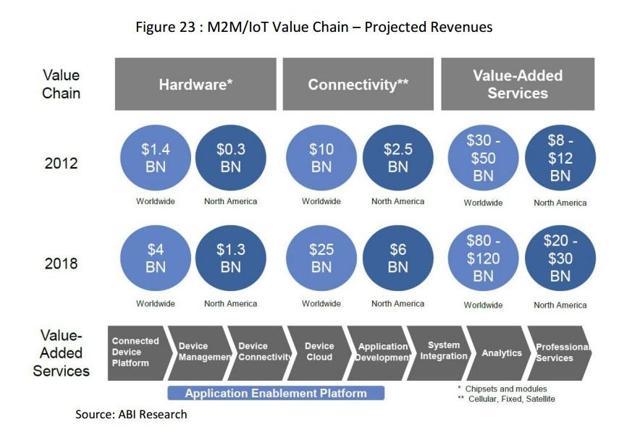 Another problem Intel has is a small customer list.
Unlike other IoT companies like GE (NYSE:GE), Siemens (OTCPK:SIEGY), Cisco (NASDAQ:CSCO), and Samsung (OTC:SSNLF) which have huge customer lists to sell to, Intel has a few, very large customers most of whom will be developing their own IoT approach. For example in Intel's latest 10-K, they list their 3 largest customers representing 46% of revenue: HP (NYSE:HPQ) at 18%, Dell at 15% and Lenovo (OTCPK:LNVGY) at 13%. Add large direct customers like Google (NASDAQ:GOOG) (NASDAQ:GOOGL), Facebook (NASDAQ:FB), Amazon (NASDAQ:AMZN) and Microsoft (NASDAQ:MSFT) and you can see that Intel is not in a position to sell IoT directly to end users. And unlike desktop and servers requiring x86, the big customers are free to choose competitive alternatives.
And those large IoT companies also have a huge market inside their own products. This gives them a huge volume and cost advantage over Intel.
And commodity IoT chip margins will be lower than the legacy x86 products.
Many argue that Intel has the far superior silicon production capability and thus will always have 60% plus gross margins. I would argue that the huge, impressive margins are due to the monopoly nature of the x86 products that represent 89% of their revenue. In the IoT chip market, competition is fierce and the pricing power of Intel will be limited by the margins competitors are willing to take to move products through their fabs. One only has to think of Intel's mobile chip contra revenue fiasco to know that pricing (and ultimately margins) are not determined by Intel but by the level and intensity of the competition it faces in a given market. Another example was Intel's abandonment of the memory market because of low margins.
Conclusion:
Intel has bid adieu to their IoT Group's manager and maybe it was voluntary and maybe it was not. But regardless of that issue the fact is the IoT Group's results are disappointing with sales up only 7% in 2015 and profits actually falling by 12%. IoT is a miniscule part of Intel's revenue (less than 5%) and is in a competitive market segment with low margins, large, well-funded competitors and few prospects going forward. Getting rid of the manager is not going to solve Intel's IoT problem.
Intel is at this point a hold. I would remain on the sidelines until I can see a more certain source of sales and especially profits falling to the bottom line. But don't expect it to come from IoT.
There is no there there.
Disclosure: I/we have no positions in any stocks mentioned, and no plans to initiate any positions within the next 72 hours.
I wrote this article myself, and it expresses my own opinions. I am not receiving compensation for it (other than from Seeking Alpha). I have no business relationship with any company whose stock is mentioned in this article.