Deep in the state of Maryland, home of the coveted blue crab and picturesque Chesapeake Bay, stands CEL-SCI's (NYSEMKT:CVM) 75,000-square-foot manufacturing facility for Multikine, its exceptional immune-boosting drug geared toward head and neck cancer, an aggressive disease comprising a $386 million market expected to top $1.5 billion by 2024 where CVM stands an excellent chance of grabbing market share from harmful chemotherapy.
CEL-SCI's facility, producing drugs for the largest clinical trial of its primary indication, has been endorsed by the FDA and other regulatory bodies. Its "build it ourselves" attitude reminds me of early immunotherapy hopefuls like Cambridge Antibody Technology whose drug was eventually bought by Abbott Laboratories (NYSE:ABT) for $1.3 billion. CEL-SCI, like Cambridge, has a vertical manufacturing structure, bringing it from the lab bench to quality control, to packaging, to the clinic, and finally, to the patient. Such potential rapid roll-out of Multikine, when commercialized, will be highly beneficial to owners of the stock.
Commercializing cell therapies is challenging because biological products need to be reliable. CEL-SCI's manufacturing uniformity will be critical to the success of Multikine, up to standards similar to those of Merck & Co. (NYSE:MRK) and Bristol-Myers Squibb (NYSE:BMY), two leaders of approved immunotherapies. One big difference between CEL-SCI and these global giants is producing Multikine is much simpler and cost effective, and manufacturing economies of scale are easier to attain.
Curious to investigate the Multikine plant to see firsthand its proficiency as a world-class laboratory, I arranged a visit, unfinanced by the company. My tour was led by CEL-SCI's Chief Scientific Officer Eyal Talor, Ph.D., also an adjunct professor at the nearby Johns Hopkins University and a long-time champion of Multikine. Bonding from our mutual association with Hopkins (I received a graduate degree there), Dr. Talor was candid about the pitfalls of making biologic-based drugs: high cost, uncertain replication of results, and the huge lab space required, because almost all immunotherapies are an autologous mixture of individual patient cells. Multikine, as an allogenic (off-the-shelf) drug, is special, and CEL-SCI will not encounter such problems.
Dr. Talor explained that being allogenic, Multikine's batch-to-batch replication overseen scrupulously with quality control scientists is tight. Manufacturing costs are conservative enough to produce a fat gross profit margin and large-scale production is highly feasible, a feat economically unavailable to makers of autologous drugs and a huge advantage to CEL-SCI over immunotherapy drug makers. Plant capacity is plentiful to not only support the product to numerous clinical trials now done in 24 countries, but also to provide the world with Multikine after its approval, an important value proposition for investors who often suffer through product backlogs not able to be turned into cash when manufacturing capacity is compromised by bad forward planning.
The facility was remarkable to my eye, conditioned to viewing countless labs on their way to product approval that often falter due to sub-optimal environments that can be detrimental to quality control; not good for gaining investor confidence. Most striking was the enormous effort to comply with the strict manufacturing guidelines imposed by the regulatory bodies, FDA included. Cleanliness is paramount (floors, walls and even ceilings are scrubbed), and temperatures must be cold enough to prevent bacterial formation that would risk Multikine's integrity. CEL-SCI's manufacturing acumen looks to avoid glitches so often seen with biopharma firms upon FDA approval of their drugs, and once Multikine gets the nod, this company can hit the ground running on its way to providing fast positive returns to shareholders.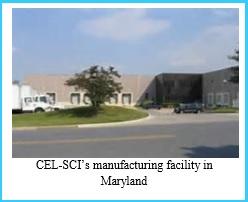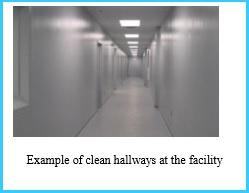 Photo source: Cel-sci.com
Dr. Talor pointed out that Merck and Bristol-Myers need large amounts of laboratory space to process individual cells often varying with age and medical condition. Cost of goods sold can be astronomical for immunotherapy drugs made on commercial scale. Evidence - Dendreon Corp. (OTCPK:DNDNQ), the first to attempt making an immunotherapy in big quantities, eventually went bankrupt when production expenses outweighed revenue. CEL-SCI does not run this risk.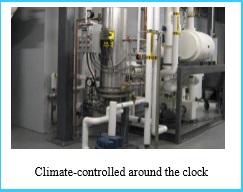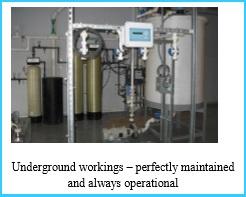 Photo source: Cel-sci.com
In what amounted to a private tutorial on Multikine, Dr. Talor clarified it's the only drug to attempt treating the head and neck cancer patients before standard procedures - surgery, radiation and chemotherapy; astonishingly, nothing new has been developed in 50 years. Therapy must be given within one month of diagnosis, and Multikine, a three-week regimen, fits into this time frame perfectly, so patients can be captured before "poisoning" with routine care, avoiding the compromise of the immune system that would thwart Multikine's ability to "see" tumors and induce a massive infiltration of helpful T-cells to create a healing benefit. We both marveled at the bright future of this impressive drug, targeting a multi-billion-dollar market that CEL-SCI will have almost all to itself.
Dr. Talor authored the first peer-reviewed scientific paper on Multikine's Phase II, revealing positive data for the long-term survival of head and neck cancer patients. Up to 40% of subjects showed improvement in median survival at 3½ years, post-Multikine. More stunning, overall survival with Multikine was 67% after 42 months. No bad side effects were observed. If Multikine, under the Orphan Drug status, works in Phase III as well as it did in Phase II, CEL-SCI will submit a Biologics License Application to the FDA late next year with the approval projected sometime in 2018.
CEL-SCI's Phase III enrollment success, posting an average of 26 patients per month, is due to a smartly executed switch in contract research organizations. As of March 31st, patient census was up to 756, a strong showing over February; that should continue. At this rate, the goal of 880 subjects, I believe, could be realized in four to five months. Most important, CEL-SCI and its CRO act as partners, with a financial support of $12 million already granted to the company. I think the market should be paying better attention to CEL-SCI's progress.
Investors should be aware that CEL-SCI does not yet produce revenues. For fiscal 1Q16 (ended December 31), cash stood at $10.4 million although the funding of $624,000 occurred in mid-February 2016. Geert Kersten, the company's CEO, made a purchase of the stock worth roughly $1.1 million in January 2016. This is a strong testament to his belief in his drug. Research and development costs rose 5.9% year over year, a small amount considering the scope of Phase III trial. General and administrative costs declined significantly, reflecting effective expense control.
It's important to note that CEL-SCI may enjoy a financial windfall soon. In October 2013, the company filed charges of breach of contract and fraud against a former CRO, seeking an award of $50 million in damages. If CEL-SCI wins, it gains a substantial amount of non-dilutive funding on its balance sheet. With a current market cap of $76.6 million, a judgment of this size is meaningful and would provide a large boost to the company's valuation. Further, CEL-SCI has an arrangement with a well-known provider of litigation funding, receiving $5 million to help its case, an obligation that would be paid out of proceeds only if CEL-SCI is successful in the court. A hearing is upcoming.
Standard risks for a company with upcoming binary events apply. Although actively traded with good news flow, bad clinical trial results can damage the shares, and regulatory paths, especially in the US, can be tricky. Softening this latter risk, CEL-SCI's clinical presence is so geographically diverse that quicker-than-expected approval times may result since the rate of drug approval varies widely across the globe (Europe, Israel and Canada can often be much faster than the US), hastening Multikine's entrance in the marketplace on its way to significant sales. Burning funds at an annualized rate of more than $22 million, cash will become tight, requiring CEL-SCI to possibly conduct dilutive financing if it does not prevail in its lawsuit with the CRO.
CEL-SCI's manufacturing power is ready as its Phase III trial nears completion for enrollment and dosing. With Multikine, CEL-SCI is perfectly positioned to gain a strong foothold in cancer immunotherapy. Better drugs are needed for its primary indications, which, in addition to disfiguring head and neck malignancies, include using Multikine in highly prevalent human papillomavirus. With the potential ability to kill certain cancers to keep humans healthy, CEL-SCI embodies the definition of an undervalued biotechnology play and a tremendous opportunity for investors.
Disclosure: I am/we are long CVM.
I wrote this article myself, and it expresses my own opinions. I am not receiving compensation for it. I have no business relationship with any company whose stock is mentioned in this article.
Editor's Note: This article covers one or more stocks trading at less than $1 per share and/or with less than a $100 million market cap. Please be aware of the risks associated with these stocks.