Company Overview:
Integrated Device Technology (NASDAQ:IDTI) produces a broad range of semiconductor solutions that optimize future developing areas such as 4G infrastructure, network communications, cloud datacenters and power management for computing. IDT was founded in 1980 and based out of San Joes, California, where it designs, develops, manufactures and markets its mixed semiconductor solutions worldwide. As many investors know Integrated Device Technology has a promising future in the technology sector. Company outlook:
ROIC/WACC

Capital Usage

History

LFY

History

LFY

IDTI

0.45

1.54

IDTI

1.83

3.1

Competitors

0.76

0.94

Competitors

1.42

1.4

ROIC/WACC w/o GW

Competitors:

History

LFY

Cavium, Inc. (NASDAQ:CAVM)

IDTI

13.9%

55.1%

Cirrus Logic, Inc. (NASDAQ:CRUS)

Competitors

24.5%

21.0%

Silicon Laboratories Inc. (NASDAQ:SLAB)

Intersil Corporation (NASDAQ:ISIL)

ROIC

Skyworks Solutions Inc. (NASDAQ:SWKS)

History

LFY

Microsemi Corporation (NASDAQ:MSCC)

IDTI

9.6%

33.8%

Lattice Semiconductor Corporation (NASDAQ:LSCC)

Competitors

12.1%

13.7%

Fairchild Semiconductor International Inc. (NASDAQ:FCS)

WACC

EBITA Margin

History

LFY

History

LFY

IDTI

19.3%

22.8%

IDTI

12.2%

23.6%

Competitors

18.3%

15.8%

Competitors

16.4%

19.9%
Currently IDT when compared to its similar sized competitors are gaining value at a faster rate supported by their high ROIC/WACC. The company has consistently released top tier new products supporting that their growth is sustainable. Further, IDT's recently acquired privately held primary German company, Zentrum Mikroelekronik Dresden AG. On December 7, 2015, they acquired the company for $307 million. The acquisition with ZMDI will expand the product portfolio allowing IDT to have positions in the growing markets of automotive, industrial business, signal conditioning solutions and high-performance programmable power devices. According to management, as a result of acquiring ZMDI there are expectations for revenue and earnings per share increases in the operating model for Q4 of the company. In addition, earnings per share have already increased $0.10 to reach $0.35 in the past year. Meanwhile, IDT is ahead of their business model, having a accomplished their target of 30% operating income and 30% free cash flow. They will continue to recognize further gains as synergies with ZMDI are realized. Ultimately, IDT appears to be harvesting in a relatively low growth market.
At the start of 2016, IDT declined along with the market. At that time, the stock traded for $26 and dropped to nearly $16 in mid-February. The drop started directly after IDT's acquisition with ZDMI. On February 2, IDT's stock price plummeted about 29%. This occurred due to less impressive guidance provided during their Q3 earnings call. They reported seasonal drops in communications and computing segments. However, a 38% increase was shown in the consumer market was driven by wireless power customer product ramps. Due to acquiring ZMDI, there was also an increase of about $14 million in revenue from their new automotive and industrial segments.
Further, a lower fiscal Q4 revenue of $187 million was predicted, falling $10 million short of analysts' estimates. This resulted in a drastic drop in stock price. However, IDT has consistently grown in revenue year to year. Analysts project revenue and earnings will continue to take an upward trend. Slightly softened market growth in core segments is another cause of their recent weakness as seen throughout the technology industry in the New Year. Also it was the first time in two years that their LRDIMM product revenue declined. However, this product is expected to bounce back according to their most recent earnings call and provide additional revenue. For these reasons the drop in IDT was unwarranted.
Are Analysts too Optimistic when Evaluating IDT?
According to median analyst estimates, IDT's one-year target price is $28.30. However, when taking a less optimistic approach to evaluate IDT, a target price of $23.91 was found. This makes IDT a buy, yet it yields less projected return then analyst median estimates. Now, it should be noted what was taken into consideration when coming to this low estimate and IDT's intrinsic value of $18.39. The main driver of IDT's price was revenue and operating cost estimates. Operating cost/revenue were originally projected to converge as low as 55.0% from their current 73.8%. With IDT's fairly high EBITDA margin, it suggests control over operating costs. IDT's return on assets is currently at 9.9% for the last 12 months, which suggests these high operating returns are sustainable. Although, analysts have projected EBITDA over the past five quarters to be overestimated on average by 13.46%. This is a significant factor that must be accounted for when evaluating. Assuming that future EBITDA estimates also are overestimated, future EBITDA estimates were adjusted. This was done using the low analysts' estimates of EBITDA rather than the median estimates. Operating as such, cost/revenue was projected to decrease to 60%, from IDT's current 73.8% operating cost/revenue. This operating cost/revenue was used in place of analysts' 55.0%. This is a more realistic approach considering the over estimates in EBITDA. Even after these adjustments are made, there is a 99.5% chance that IDT will increase in price a year from now, which warrants a long buy position.
Future of IDT:
IDT has produced a number of innovative and award-winning products. It has especially been focusing on the hardware and software needed to enable mobile devices to be charged without a wired connection. IDT has recently announced that it has teamed up with Samsung (OTC:SSNLF) to deliver wireless charging for the Galaxy S7, among other Samsung products. This wireless technology puts both companies at a competitive advantage because of the ability to charge up to 1.4 times faster than normal. They have strengthened their power management product segment allowing customers to optimize, monitor, and control high-power supply systems. This us done through a high-performance dual-phase digital power controller.
IDT has consistently supplied the markets of telecommunications, server, storage, and infrastructure that grow in demand for new innovative products. IDT released the second-generation ZSPM1363 digital pulse-width modulation controller. This allows design time to be reduced, while lowering system costs. The most recent product release for IDT is their three-part chipset. IDT works with industry leaders such as Dell, Intel (NASDAQ:INTC) and Micron (NASDAQ:MU), which has allowed vast performance gains in IDT's product mix. Their new chipset has a wide range of benefits. This system delivers industry-leading performance per watt, memory capacity and signal integrity. This allows operations to take place at the highest possible speeds. IDT consistently provides competitive chip chipsets and best in class products in order to meet performance, power and memory requirements in a competitive ever changing, industry. The company's future outlook supports IDT's ability to continue to gain value and minimize operating costs over time.
Conclusion:
Integrated Device Technology's management is supportive of the company expanding toward the latter half of 2016 into 2017. Management sees opportunity in their new products that remain best in class. They believe no matter what direction the technology sector goes they have the resources to remain innovative and adapt. Therefore, IDT is recommend as a long position buy despite their intrinsic value of $18.39. The facts show more upside potential than downside potential in the future.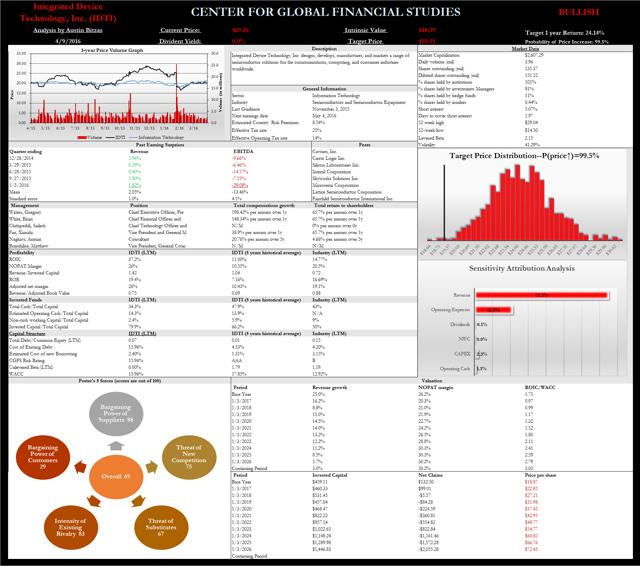 Disclosure: I/we have no positions in any stocks mentioned, and no plans to initiate any positions within the next 72 hours.
I wrote this article myself, and it expresses my own opinions. I am not receiving compensation for it (other than from Seeking Alpha). I have no business relationship with any company whose stock is mentioned in this article.