Maritime trade liquid natural gas — "LNG" — is a crucial link in the natural gas supply chain for many nations where domestic demand outstrips available supply. These vessels transport natural gas, which has been reduced to a liquid state by cooling it to minus 162°C, achieving a volume reduction of approximately 600 to one. Upon delivery, this LNG can be stored in a liquid state until the market demands, whereupon it enters a re-gasification process.
Companies that engage in LNG transport include, but are not limited to, Dynagas LNG Partners LP (NYSE:DLNG), Golar LNG Limited USA (NASDAQ:GLNG), Golar LNG Partners LP (NASDAQ:GMLP), GasLog Ltd (NYSE:GLOG), GasLog Partners LP (NYSE:GLOP), Tsakos Energy Navigation Ltd. (NYSE:TNP), and Teekay LNG Partners L.P. (NYSE:TGP).
Here we will examine several key demand trends for importing nations to determine the outlook for this maritime segment. In a future article I will also address the supply side. This combination should provide a fundamental understanding of factors that will determine the charter rate structure for these vessels going forward.
Just a quick note: Many larger importers of natural gas do so through pipelines. Take Germany for example, where according to the EIA, "imports account for about 90% of total supply, and most imports come from three countries: Russia (39% of total imports in 2014), Norway (33%) and the Netherlands (24%)." However, "Germany has no liquefied natural gas (NYSEMKT:LNG) terminals, but is well connected to much of the rest of Europe via natural gas pipelines. Germany imports natural gas from Russia via the Nord Stream pipeline (completed in 2011) under the Baltic Sea and via the Yamal-Europe pipeline running through Belarus and Poland; and it imports from Norway via Europipe I and II, and via Norpipe. Germany also has pipeline connections with all of its neighbors (Denmark, Netherlands, Belgium, Luxembourg, France, Switzerland, Austria, Czech Republic and Poland) and either imports or exports natural gas to all of them."
So while total natural gas imports for certain countries may be large, (Germany being the largest in Europe and among the top five globally) if they are done so without the assistance of maritime transport it has no benefit to the LNG shipping sector. In fact, increasing pipeline capacity could actually prove to be a headwind for LNG maritime trade if it connects regions once dependent on these vessels. Take Mexico for example, which saw a 25% reduction in LNG imports in 2015 thanks largely to increasing connectivity with a growing natural gas supply in the USA. Nevertheless, my point is that the distinction in the way natural gas is imported has been factored in for this analysis.
Two major themes emerged over the course of my research so I decided to focus mostly on those. They are the future of East Asian demand and ton mile demand as a result of changing trade flows.
East Asian Demand
According to the International Association of LNG Importers, in 2015 Asia accounted for 72% of global LNG demand, falling from 75% in 2014. They report that "by the end of the year (2015), overall LNG demand in Asia was down by 1.7% (- 3 MT), mainly due to lower imports in Japan (-4.2 MT) and in South Korea (-4.2 MT). These decreases can be attributed to a combination of factors including slow economic growth, energy conservation, mild weather conditions and growing fuel substitution. In China, LNG imports continued to grow by more than 5% (+1 MT) and reached 20 MT, while Indian imports remained in line with their 2014 level, around 14.6 MT."
Japan is the largest importer of LNG representing 34.7% of the market at the end of 2015. Japan began importing LNG from Alaska in 1969, making it among the first to enter in the global LNG trade. The EIA reports that "because of environmental concerns, the Japanese government has encouraged natural gas consumption in the country. The government has chosen LNG as its first fuel-of-choice for power generation to substitute for the lost nuclear generation following Fukushima."
However, it looks like much of the transition has already happened. Japan's overall LNG imports rose by more than 25% between 2010 and 2013, from 3.3 trillion feet of natural gas per year (Tcf/y) to 4.2 Tcf/y. The EIA notes that "in 2013, LNG import growth slowed for the first time since the Fukushima accident as most of the fuel substitution for the lost nuclear power occurred in 2012."
2015 saw the first decline in many years for LNG imports into Japan with a contraction of about 4.7% from 2014. The Sydney Morning Herald reported on March 18th of 2016 that "Japan's imports of LNG jumped after the Fukushima nuclear disaster in March 2011 which triggered the closure of the country's 54 reactors. The slower than anticipated restart of the industry has helped sustain import levels, but Mr Hirano (Shigeki Hirano, chairman of the Osaka Gas Co Australian operation) noted that under the government's 2030 "Energy Mix" long-term vision, LNG's share of energy supply would return to pre-Fukushima levels, while absolute energy use is also set to decline."
Energy Aspects reports that "Japanese LNG imports declined for the sixth consecutive month in February, down by 0.3 Mt (-3.8%) y/y to 7.43 Mt. Over the first two months of the year, Japanese demand continues to show weakness, and has contracted by 1.5 Mt (-9%) y/y."
This trend is hard to ignore and could represent another significant decline in overall volume for 2016.
The prize for the largest volume drop in year over year LNG imports for 2015 goes to South Korea with a contraction of 11.2%, just shy of 4.5MT. This follows a 6.8% year over year contraction in 2014. These two years are a stark reversal from 2009-2013 when LNG import growth was on an upward climb.
This recent downward trend is concerning since even after these declines, South Korea is still the second largest LNG importer representing about 15.7% of global LNG import demand.
Platts reported on January 19th of 2016 that "last month, the Ministry of Trade, Industry and Energy said that South Korea's LNG demand is forecast to fall 5.3% over the next 15 years due to a steep decline in consumption for power production which could not be offset by tepid growth in household and industry usage."
In another article by Platts released on February 15th of 2016, they note that "of the 2015 total, sales to power generation companies dropped 14.5% to 14.53 million mt, from 16.99 million mt 2014, while sales to retail gas companies for households and businesses fell 7% to 16.93 million mt in 2015, from 18.18 million mt in 2014."
Platts quotes a Kogas official noting that "the decline in sales was attributable to an economic downturn as well as greater use of cheaper sources of coal and nuclear for power generation."
Energy Aspects reports that "the most recent customs data show that South Korea's LNG imports declined y/y in February by 0.1 Mt (-2.8%), to 3 Mt. This marks the fourth month in a row of y/y declines."
It cannot bode well for those bullish on the segment that the two largest importers of LNG, composing 48.3% of the global LNG trade, are experiencing weakness on the demand front.
For a little visual confirmation of how important Asian demand is take a look at the trade flows for 2014.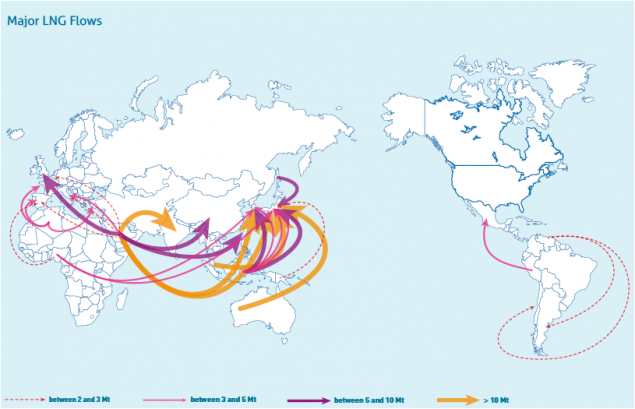 Source: GIIGNL
But something this visual doesn't show is the changing shift in ton mile demand accompanied by the growth of several exporters.
Ton Mile Demand
Ton mile demand is a fancy way of saying how far a cargo travels to be delivered. Longer hauls mean more available tonnage is absorbed which buoys rates, and vice versa. Of course, port delays and canal congestion could also play a role in the time a cargo takes to reach its destination.
IIGNL notes that "additional volumes from Australia (+5.8 MT), Indonesia and Papua New Guinea which operated for the first year at full capacity (+3.8 MT), LNG supply from the Pacific Basin increased by more than 10 MT, attaining for the first time the 100 MT mark in 2015."
This new supply is directed at Japanese and East Asian markets. The EIA noted in a March 31st report that Australia's Gorgon project, one of the largest liquefied natural gas projects in the world, shipped its first cargo last week to Japan. Many more projects are in the works.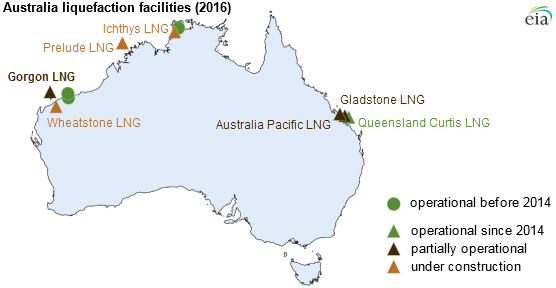 In fact, the EIA reports that "including the first train from Gorgon, Australia's LNG export capacity currently stands at 6.2 Bcf/d. If the additional LNG capacity currently under development is fully operational as planned by 2019, the country's LNG export capacity would likely increase to the largest in the world, at 11.5 Bcf/d, equivalent of one-third of global LNG trade in 2014."
Notice that many of these stated destinations rather new markets for Australian LNG.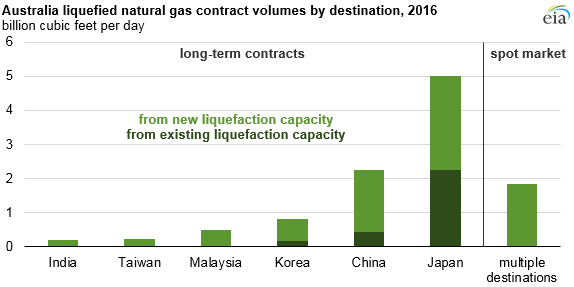 Now, take a look at the current trade flows with an eye on East Asian markets.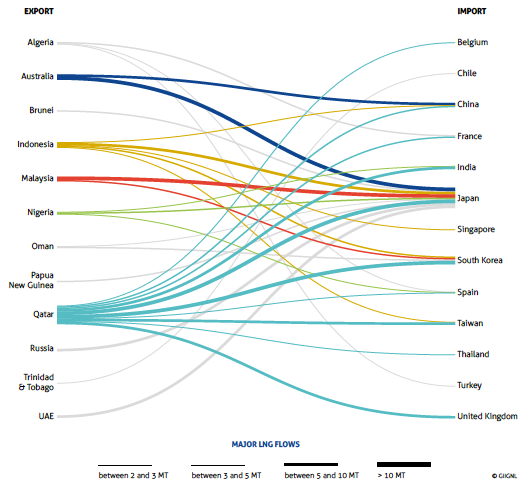 Source: GIIGNL
Notice that India, Taiwan, South Korea, Japan, and China are all receiving LNG from regions much further away from Australia, like Qatar for example. The shorter haul for LNG out of Australia will provide a significant competitive advantage and will most likely promote a shift in flows, hurting ton mile demand.
Let's take a quick look at distances for confirmation. Qatar's port of Ras Laffan is approximately 6,640 nautical miles from the Japanese port of Niigata (situated roughly in the center of the nation on the Sea of Japan side). Whereas Australia's NWS port is only 4,048. The distance from Qatar to Japan represents a more than 50% increase in distance over that of Australia.
Good News
So far all this sounds pretty depressing. But there is some good news to report. 2015 saw global year over year imports of LNG increase by 6MT to a total of 254.2MT, representing a 2.5% increase. A trend that is widely forecast to continue. So while the major importers have been contracting, burgeoning markets as well as developed economies are actually contributing to the rise in trade.
Let's take a closer look at where those increases came from for 2015 and what impact they will have on charter rates. The largest growth in LNG imports came from Egypt and Jordan which actually are two of four nations that began experiencing net imports in 2015 (the others being Sweden and Pakistan).
However, it is difficult to tell at this point if these imports will be a sustainable pattern. For Egypt I suspect it might be with news of a second FSRU offshore coming into service in late 2015 to aid in the import process. For Jordan I suspect this may not be the beginning of a trend since the Jordan Times reported on March 29th of 2016 that "the National Petroleum Company and IPG, a UK-based company, signed a production sharing agreement on Tuesday to explore for oil and gas in the eastern parts of the Kingdom." Additionally, "under the deal, IPG will work on increasing output from Al Risheh gas field to reach around 50 million cubic feet per day during the first year of the contract. Currently, gas output from Al Risheh gas field is around 12-13 million cubic feet per day."
Furthermore, with most of the LNG being sourced from nearby nations, this increase in LNG import demand from Egypt and Jordan does relatively little for ton mile demand and certainly can't offset the ton mile demand loss from destinations like Japan and S. Korea.
The number three and four spots for increasing LNG imports belong to the U.K. and Thailand, respectively. These destinations require much longer transit time from current supply hubs and are therefore beneficial for the segment.
A March 16th, 2016, analysis by the EIA reported that, "in 2014, the UK imported 399 billion cubic feet (Bcf) of LNG, up 20% from 2013, a trend that is expected to continue. LNG imports into the UK from January through October in 2015 were 23% higher than during the same period in 2014. Qatar is by far the largest source of LNG imported into the UK, accounting for more than 90% of LNG imports each year since 2012."
The increase in LNG imports, and utilization of natural gas in general, has been driven by policy and market based shifts. The EIA reports that "environmental regulations, competing fuels, and competing supply sources have been the main drivers of coal's long decline in the UK. Natural gas began replacing coal in the 1970s when natural gas production started in the North Sea. In the 1990s coal's displacement by natural gas accelerated as regulatory changes opened the electric sector to more investment in natural gas-fired generation capacity."
World Coal reported on March 28th of 2016 that "estimated imports of LNG into Europe this summer are significantly higher this year." This can be attributed to an increase in available supply and lower cost making LNG more competitive with coal. Additionally, "according to Anne Kat Brevik, Director of LNG at Thomson Reuters, this could see some further potential coal-to-gas switching in the UK and the Netherlands where coal-fired generation is more expensive as result of the UK's high carbon tax and a coal tax in the Netherlands."
Thailand experienced negative growth from 2013-2014 but the latest turn in 2015 could represent a new trend in LNG import growth. Interfax Energy reported on March 11th of 2016 that "Thailand has announced plans to cut domestic gas production and import more low-cost spot LNG in an effort to conserve its waning reserves." With this policy shift, it looks as though more LNG import growth into this region may be in store.
But the regions I am watching carefully include India and China with their large populations, projected GDP growth, and increasing importation of LNG in 2015. Both of these nations are off to a good start in 2016.
Energy Aspects reports that "Indian LNG imports in January were at 1.35 Mt (1.83 bcm), higher y/y by 0.51 Mt (61%). This follows the good y/y growth of 0.28 Mt (24%) in January. With relatively mild weather over February, cooling demand alone was not the main driving factor behind the y/y growth in LNG imports."
An interesting development in the transportation landscape is underway in India according to an April 7th, 2016, Reuters article:
"India is expanding its network of fuel stations selling compressed natural gas (CNG) to encourage motorists in the national capital to switch to the cleaner, cheaper fuel and curb emissions.

Delhi is banning use of private cars from its roads on alternate days on the basis of registration number from mid-April to combat rising pollution. The vehicles that run on CNG are exempt from the Delhi government's rationing drive.

"We are taking efforts ... to expand fuel stations selling natural gas for motorists," Oil Minister Dharmendra Pradhan said, inaugurating 36 CNG stations, taking the overall number to over 1,050 in the national capital region."
World Coal reports that "The Australian bank, Macquarie, expects Indian thermal coal imports to be down y/y in 2016, following the trend in China and Europe, where a wave of LNG imports could see Continental Europe follow the UK in switching from coal to gas."
Australian Mining reports that in the latest release of the Resources and Energy Quarterly by the Chief Economist of the Department of Industry, Indian "LNG imports (are expected to) increase by around 19 per cent, each year, over the medium term.
But the real story over the long run could be the per capita growth in Indian consumption. In 2014 India per capita consumption came in at just 52 cubic meters which ranks extremely low. As per capita consumption grows coupled with a population of 1.3 billion, this market could see significant import growth going forward.
Since we are on per capita consumption, it is also noteworthy that China, with roughly the same population, also ranks extremely low on that front at 111 cubic meters per capita. Compare that with developed and import reliant economies which average about 1,000-3,000 cubic meters per capita and the potential is obvious.
Regarding China, Energy Aspects reports that "in February, Chinese LNG imports increased y/y by 0.19 Mt (11.5%) to 1.85 Mt, a smaller y/y gain compared to January's growth of 0.34 Mt (16%) but in line with our forecasts. That takes y/y growth over the first two months of 2016 to 0.53 Mt (14.3%)."
Platts reports that "to increase natural gas consumption, the government will push ahead with construction of gas filling stations for vehicles this year and encourage development of gas-fired power plants and heating. Industries in the northern Beijing-Tianjin-Hebei area and eastern Changjiang River Delta and Pearl River Delta areas are being encouraged to replace coal-fired industrial boilers with gas-fired units."
In China, natural gas accounted for 5.9% of total energy consumption of 4.24 billion TCE in 2015. This is expected to grow over the coming years given these structural political and economic shifts.
Conclusion
The recent demand declines out of Japan and S. Korea are troubling considering the volume and especially since they appear to be the making of a long term trend. Though it is worth noting that out of 34 LNG importing nations, only 9 actually posted declines and only Japan, S. Korea, Mexico, and Argentina look to be on a long term trend.
Even with the 2.5% increase in LNG import demand for 2015 headwinds remain in the form of ton mile demand. This is due to decreasing demand from far off destinations and new supply coming online which should sort of cannibalize longer haul routes.
Even excluding the possibility of cannibalization, my basic math (assuming a lot for simplicity) shows a trending net reduction in current ton miles traveled among major trading partners given just the rebalancing of flows from 2013-2015. This of course would free up more tonnage, increasing available supply, thus impacting rates.
Overall, there will be a slight rebalancing based on these trends. In the short-run I anticipate headwinds from the demand side and route cannibalization to spill over as the market adjusts to new trade flows. This should put pressure on rates (or at least keep them subdued) going forward until S. Korea and Japan hit what could turn out to be the "new normal" in terms of imports. Additionally, the ton mile shift appears to be a long-run story as Australia looks to play an increasing role in Asian demand.
But there is one bright spot in the ton mile story that we didn't discuss, and that comes in the form of the USA which is poised to supply the Latin American and European markets. This relatively new development could have an impact going forward if cheap U.S. LNG is adopted at large by importing nations. Of course, cheaper LNG could offset the longer haul which would bode well for charter rates.
Going forward, the areas that should be watched would be the continuing declines out of S. Korea and Japan, Australian LNG taking market share from far off destinations, the growth and policy shifts out of China and India, and the adoption of US LNG imports.
Finally, as noted earlier, four nations became new net importers of LNG in 2015. I believe as prices for natural gas remain attractive more nations will begin developing the required facilities for imports. For a long time LNG faced the chicken/egg problem. But the low cost of the fuel coupled with a global desire to decrease coal consumption could mean this problem is coming to an end and governments as well as private parties are making meaningful investment.
I would speculate that many nations will follow the same path as the USA for electricity generation needs, which is a large part of natural gas demand. It goes something like this: Coal plants will be retired at an increasing pace.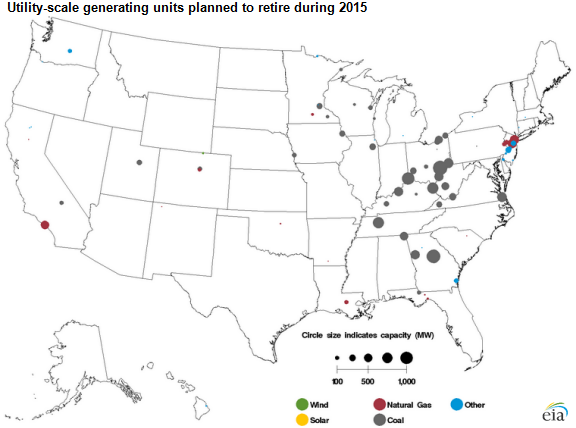 Source: EIA
They will be replaced by a mix of new generating capacity with natural gas playing an important role.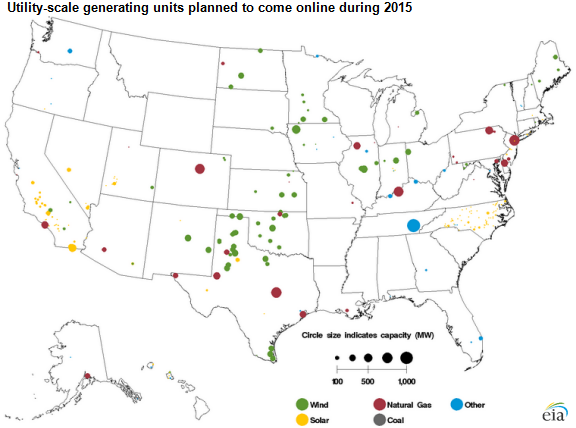 Source: EIA
The end result is increasing consumption of natural gas as it composes a greater part of the energy landscape.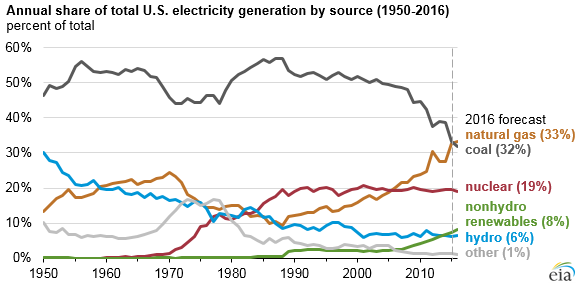 Source: EIA
This would bode well for the long-run outlook. Which leads me to believe, from a demand side perspective, that while the short-run faces some headwinds, the long-run looks to be positive for LNG demand.
As I noted in the beginning, this is just the demand side outlook. Stay tuned for the supply side outlook for a comprehensive understanding of the overall LNG shipping market.
I welcome all questions/comments and invite you to follow me on Seeking Alpha as I continue to cover all aspects of maritime trade. Thank you for reading.
Note: Value Investor's Edge subscribers receive a 48-72 hour advantage on all macro reports and trade ideas from James Catlin as well as exclusive research by J. Mintzmyer.
Disclosure: I/we have no positions in any stocks mentioned, and no plans to initiate any positions within the next 72 hours.
I wrote this article myself, and it expresses my own opinions. I am not receiving compensation for it (other than from Seeking Alpha). I have no business relationship with any company whose stock is mentioned in this article.