During the last recession in 2008-09 JMBA experienced poor results. Management responded by issuing preferred shares in order to maintain capital and stay alive. Over the following 3-4 years they retired the preferred shares by allowing them to be converted to common shares which was dilutive to common stock owners. This trend has reversed and the company is now buying back shares which is sign of confidence and strength.
Last quarter
The last quarter that was reported by the company showed negative earnings and declining revenues YOY. The company recently changed CEOs and selected a long time board member, David Pace. The short search and quick action at the top suggests to me that Jamba may shop the company around to sell to a larger conglomerate. With long standing brand equity as a healthy uncompromising business and no debt a buyout is one way current shareholders can realize a positive return. As the company sells mostly cool beverages the summer months have historically been much better than winter months. The most recent quarter has been its weakest as far as traffic goes. Moving into the summer it is reasonable to expect increased traffic, sales and earnings. As the company transitions to a franchisee model it incurs one time costs such as severance pay. These costs weighed on the last quarter's earnings.
Freshly squeezed Juice (shorts)
JMBA is heavily shorted, as of the last report from NASDAQ the days to cover is about 34. Some shorts may view the revenue declines negatively or they are convinced that the company does not have a strong position in the marketplace.

(Source)
Revenue
JMBA's revenue has in fact declined in recent reporting periods but it is not the result of a poor business or changing consumer trends. It is the result of transitioning their business to a royalty brand business. They have sold their company owned stores to franchisees who assume all of the operational risks but do not have to concern themselves with branding or menu options. The earnings they can extract from this revenue is considerably higher and of a more reliable consistency. The continual increase in same store sales proves the business is on solid ground.
Royalty cash flow

Jamba shows an improving and high gross profit margin

Starbucks

Mcdonalds

Dunkin Brands

Wendy's

Jamba Q4

Jamba F15

Revenue

19,163

25,413

811

1870

19.55

162

Cost of Revenue

13,199

15,624

131

1329

3.23

34

Gross Margin

31%

39%

84%

29%

83%

79%
(Google Finance)
Gross Margin
With this type of gross margin the company should have no problem delivering solid earnings to investors as their costs continue to fall. The presence of activists on the board should ensure that the legacy costs are cut and there is not 6 layers of middle managers collecting high salaries at head quarters.
The chart
From a technical perspective the chart shows a double bottom with a higher intra day price achieved on the recent bottom. With asymmetric issues the base case is skewed in one direction. I believe JMBA is asymmetric to the upside as analysts consider new revenue streams and larger competitors consider them as an acquisition target.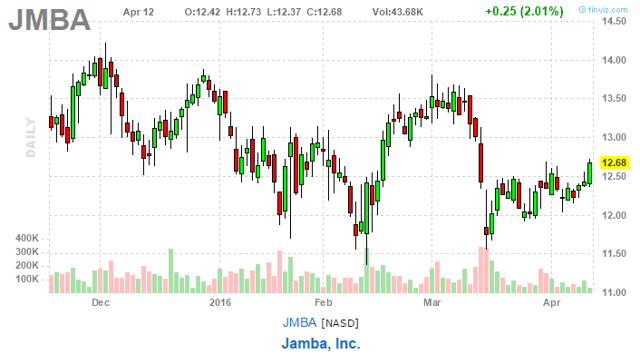 Activists
In January of 2015 two activist investors gained board seats at JMBA. Glenn W. Welling of Engaged Capital is himself sitting on the board. Additionally James C. Pappas of JCP Investment Management is on the board.
From Engaged Capital's website...
We view ourselves as stewards of shareholder's capital and believe by working constructively with company management and the Board we become a catalyst for positive change.
In public companies, the shareholder's voice gets diluted due to distributed ownership and frequent shareholder turnover

As a result it is common for management and Boards to begin placing the "interests of the company" (growth imperative) before the interests of the owners (return on investment)

Owners often want to participate in the decision making process but don't have a vehicle to do so. Engaged Capital becomes the voice for the shareholders.

We bring an owner's point of view to the governance and decision making process in a helpful, constructive way through a combination of:

Concentrated ownership (positions ranging from 1%-9.9% of portfolio companies)

A long-term perspective (2-5 year holding periods)

Deep research and value-added insights for increasing the company's worth
(Source)
These activists have already made positive changes for shareholders in simplifying the business and aligning the interests of the decision makers with common shareholders. With a 2-5 year holding period the longs, mainly Engage Capital, can be very patient with their capital. The shorts can also be patient but as the price and fundamentals move against them the potential for a short squeeze with this thinly traded issue are high.
Should these activists get impatient or look to free up capital for other investments they can easily shop the company to private investors or a large conglomerate as they have identified value and now have seats on the board of control.
Industry trends
There have been trends towards healthy eating and responsible business operation and I believe the long term value of JMBA is much higher than it's current price. When value deviates from price it is the active investor's responsibility to correct this market inefficiency.
Disclosure: I am/we are long JMBA.
I wrote this article myself, and it expresses my own opinions. I am not receiving compensation for it (other than from Seeking Alpha). I have no business relationship with any company whose stock is mentioned in this article.