By Rupert Hargreaves
Is there a US corporate credit bubble? That's the question explored in a Global Macro strategy research note from UBS.
Sent to clients at the beginning of this week, the note put together by UBS's macro strategists Matthew Mish, CFA and Stephen Caprio, CFA explores the thesis that there is a bubble in speculative grade credit.
The bubble hypothesis originates from the fact that easy money policies from central banks have kept 'zombie' firms afloat and QE programs have triggered substantial inflows into credit funds, igniting a material reach for yield since 2012. This has translated into elevated competition, easing credit standards, and massive issuance.
UBS's analysts go on to speculate that as much as $1 trillion of corporate credit could end up as 'distressed debt' in the next credit cycle - which is already starting to take shape.
Credit bubble: The bulls and the bears
Credit bulls will tell you that the US corporate credit remains an attractive place to invest. Corporate debts to profits, assets, and market values do not appear extreme and corporate profit margins remain wide with no scope of contracting materially in the near term.
However, if you dig into US corporate credit figures, a different, more concerning picture appears.
Credit fundamentals, particularly in US speculative-grade are in a more dire state. High-yield issuance is down 53% in 2016, indicative of a substantial tightening in credit conditions. While higher-grade firms still have relatively clean balance sheets, speculative-grade companies have been more reliant upon debt issuance to supplement earnings streams in this cycle. Simply put, lower quality firms have been structurally increasing debt faster than earnings as interest rates have declined.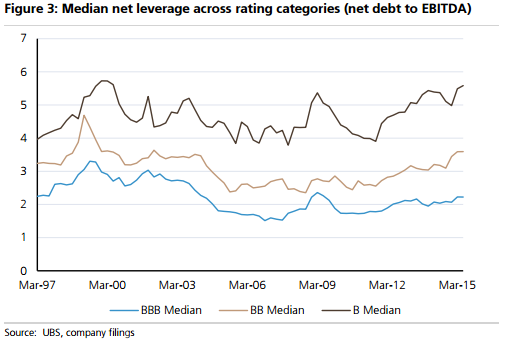 Is There A US Corporate Credit Bubble?
At present, these high levels of leverage can be sustained, but credit investors should keep in mind that rating agencies typically incorporate other operating financial metrics when rating speculative-grade bonds and loans. This means that in the current environment, with the economy growing at a steady rate, interest rates depressed to artificially low levels and investors seemingly willing to ignore deteriorating fundamentals in favor of yield (liquidity) a speculative-grade company is likely to earn a higher credit rating. If any one of these factors were to change, speculative-grade companies could suddenly find their credit ratings being re-evaluated, which would likely be followed by higher interest costs and less liquidity. This trend is already starting to play out, as UBS explains:
"If you don't believe us on the quality of the underlying speculative grade universe consider Moody's data (the most conservative of the three agencies overall): their latest annual default study depicts a rated universe which, incorporating fundamental (e.g., commodity related downgrades) and technical changes, shows that the proportion of triple C rated issuers in its speculative grade universe (bonds and loans) reached a new record to start 2016; 1,356 out of 3,181 issuers or about 42% of the total. To reiterate, the US speculative-grade market is roughly $1.5tn in bonds and $1tn in loans, not including private, non-index eligible or revolving credit exposures. And we estimate through this cycle approximately $1tn will become distressed debt in this cycle."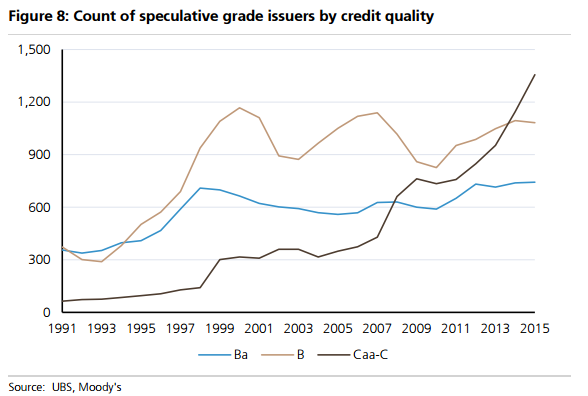 Is There A US Corporate Credit Bubble?
"Herded into lower quality credit"
From late 2012 to early 2015, spreads across the credit market were relatively compressed and investors were essentially herded into lower quality credit risk for a yield pickup of a couple of hundred basis points.
As UBS's credit research team points out, the problem with this is that the default risk is exponential, not linear in these securities and clients were not being compensated appropriately for the risk being taken on. Further, evidence suggested credit loss or delinquency curves across credit tiers are exponential not only the corporate credits, but also for other forms of consumer credit. The reach for yield and deterioration in lending conditions has been well documented in other credit segments, e.g., commercial real estate, consumer auto, student loans and unsecured loans.

Is There A US Corporate Credit Bubble?
In short, UBS believes that there is a "corporate credit bubble in speculative grade credit:"
"The structural downside risks for high yield bonds and loans are material, with non-negligible downside risks to growth. But as we have researched other non-corporate credit segments it is becoming increasingly obvious that the mosaic we painted above for US speculative-grade credit has manifested itself in various degrees across other asset segments (if one is inclined to look past the forest and spend time in the weeds). While this bubble and possible mini-bubbles may not pop this month, we believe their existence justifies our structurally bearish view on corporate credit and preference for higher-quality securities."
Disclosure: Rupert may hold positions in one or more of the companies mentioned in this article. You can find a full list of Rupert's positions on his blog. This should not be interpreted as investment advice, or a recommendation to buy or sell securities. You should make your own decisions and seek independent professional advice before doing so. Past performance is not a guide to future performance.