Nokia (NYSE:NOK) has been attempting to build some positive momentum for itself, dubbing 2015 "A year of transformation" in its annual report.

The market has not yet responded with any major reaction. In fact, the stock has stayed in a range between $6 and $7 for most of the last year, dropping from the $8 range after the Alcatel-Lucent (ALU) deal was announced and not trending back much as that news has sunk in further.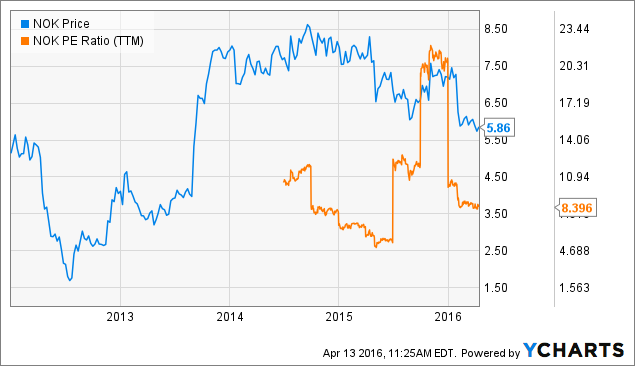 While specific guidance for 2016 should be forthcoming with the first quarter results reported the first week of May, there are already hints of what will be in store, and it is not likely to be pretty.
By CEO Rajeev Suri's own admission:
As I look out at the market for this year, I expect conditions to be spotty at best.
From a slowdown in China (and other markets) to the costs of transitioning from 4G to 5G, there will be pressure on revenues and expenses. The relatively good news here is that Nokia has a strong enough cash position to both take care of the capex needed and return capital to shareholders. With around €8B (net) in cash and liquid assets, as of 2015 year-end, the board proposed two dividends, a €0.16 regular dividend, plus a €0.10 special dividend, and is also planning to buy back shares and retire debt.
So apart from market conditions, which will ebb and flow for any industry over time, what exactly is there not to like about Nokia's position?
I mean, for a long-term investor, picking up an out-of-favor stock that is paying out a nice yield while you wait for it to recover is far from the worst strategy. It can be argued that the whole industry is in for a rough year, as poorer than expected Q1 results from Juniper (NYSE:JNPR) have already been indicated. However, I am most concerned at Nokia by what I perceive to be a lack of vision.
I am not convinced management has a clear picture of what they want Nokia to look like and where to focus. If management has this vision, I am not seeing a plain strategy being executed to get them there, but rather a mix of things that do not spell out a coherent narrative for me. Nokia acquires Alcatel-Lucent, introduces a new piece of tablet hardware in China/Taiwan, sells off the HERE mapping technology for €2.5B, introduces a $60k virtual reality camera, continues to attempt to monetize its patent portfolio and plans to reduce headcount by several thousand people as part of achieving "synergies" with Alcatel-Lucent. Managing these objectives successfully, all while attempting to integrate a foreign company into its culture, will not be easy. Perhaps I am simply blind to something obvious, but I do not see a simple, explainable strategy at work (of course the scale of acquiring Alcatel-Lucent is so much greater than the others that making comparisons is not meant to be apples-to-apples, but only to suggest that fitting the hardware into the picture is not straightforward).
Even without a strategy evident to an outsider (after all, Nokia would have perfectly good reasons not to telegraph it), the question lingers as to whether or not there is a value here beyond the dividends. In the short-term, I do not think so. While Pure Performance published a bull case for Nokia here at Seeking Alpha just recently (as have others here and here), I am not convinced poor Q1 results are currently priced in completely. For the current P/E of about 8 to hold steady would require generating EPS for the year of $0.69. By all accounts, 2016 is going to be a challenging year, more so than 2015 has been. So imagine treating 2015 results for a moment as if the deal had been done already, for setting a sort of hypothetical benchmark: Nokia with net income of €2.47B, Alcatel-Lucent with €0.36B, for a combined total of €2.827B. Using the current share count of 5.72B delivers a sort of contrived EPS of about €0.49 (~$0.54). If the first quarter comes in with rocky results, which seems likely, getting to match last year's figures will be a challenge, much less going higher. If looking ahead more than a year, the outlook could be better, and guidance coming will hopefully clarify the strategy going forward.
Conclusion
Nokia might appear attractive, with its dividend yield, share buybacks, relatively low P/E ratio and the bullish sentiment for the company (here at SA at least). However, I do not believe the company is positioned to deliver higher EPS in 2016 under current market conditions, and I suspect in the near term the shares will drift lower. At a certain point, the downside risk is mitigated, however, and I would consider picking up shares should they go under $5.20, depending on what guidance management has to offer in the coming weeks.
Disclosure: I/we have no positions in any stocks mentioned, and no plans to initiate any positions within the next 72 hours.
I wrote this article myself, and it expresses my own opinions. I am not receiving compensation for it (other than from Seeking Alpha). I have no business relationship with any company whose stock is mentioned in this article.