The most important number in this week's inventory report was the fall in U.S. oil (NYSEARCA:USO) production.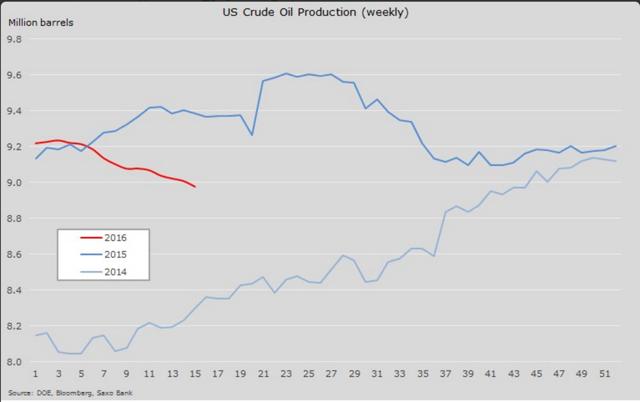 This was the first time U.S. production fell below 9 million barrels per day (b/d) since October 2014. The significance of this continues to highlight that U.S. oil production is starting to really roll off and at an alarming decline rate. Week over week, U.S. crude output fell 0.344% up from last week's 0.16% decrease. We believe the trend will continue and by the end of 2016, U.S. production could range between 8 - 8.2 million b/d.
Highlights
Crude build of +6.6 million barrels
U.S. crude imports 7.9 million b/d up from 7.3 million b/d from last week
U.S. refinery throughput slipped -490,000 b/d due to a series of refinery problems
Gasoline stock fell -4.2 million barrels
U.S. gasoline demand rose 409,000 b/d last week
U.S. crude output fell 0.344% to 8.977 million b/d
Inventory Build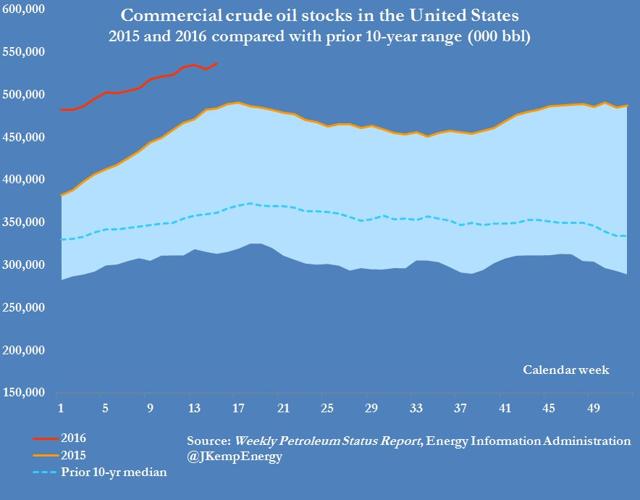 Last week saw inventory build of 6.6 million barrels, but Cushing saw inventory draw of 1.767 million barrels due to Keystone incident. As of this week Monday, Keystone is operating once again.
Imports Up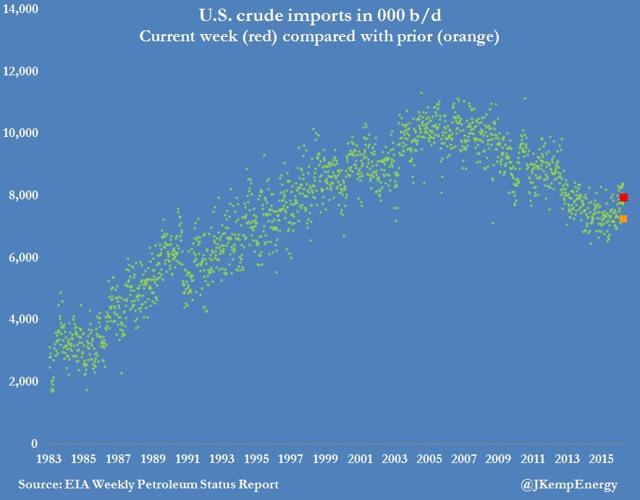 Imports were up by nearly 600k b/d over the week before as weather related issues delayed shipments and caused numbers week over week to spike. Nonetheless, the general trend this year has been remarkably higher imports and this will likely continue as long as importing crude is cheaper than what's being provided in the U.S. OPEC basket price remains below WTI, and import numbers will likely keep pace with current 2016 averages.
This week, however, reports from Clippers Data indicates that imports will be much lower this week. This is likely due to the congestion we saw at Iraq's port along with Venezuela's exports decreasing at an alarming rate due to field depletion. Schlumberger came out yesterday and said that it will be cutting Venezuela work as the country does not have the cash to pay. This phenomenon has actually caused India and China to import much more Middle East crude and narrowing the discount.
Gasoline Demand Remains Strong
Gasoline demand remains very strong with gasoline stock adjusted for implied consumption the same as 2015 despite higher inventory levels.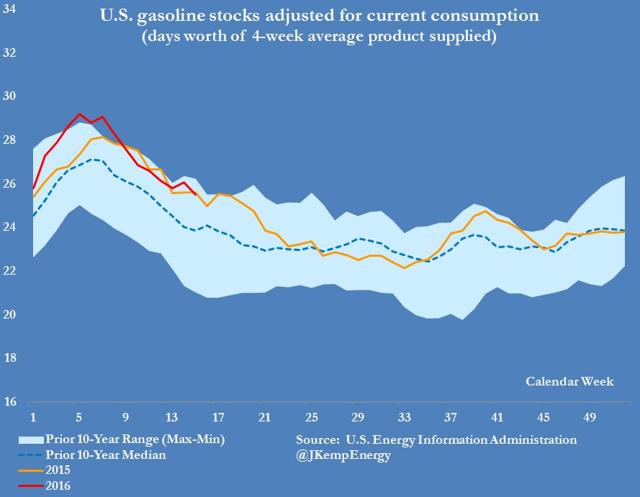 Over the last 4 weeks, U.S. gasoline consumption was higher by 500,000 b/d over 2015 numbers averaging 9.4 million b/d.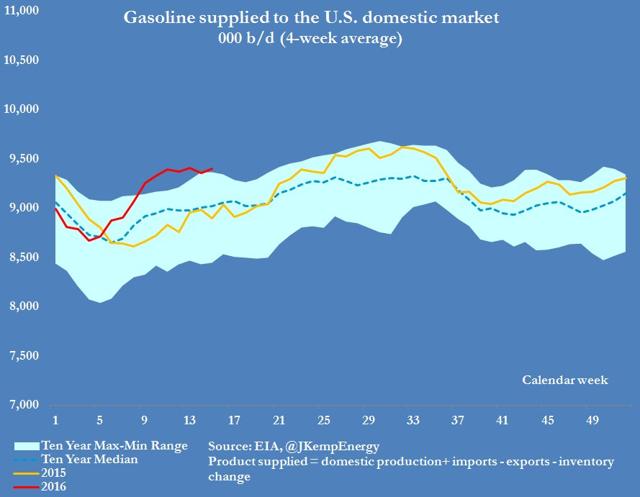 Refinery Slowdown Due to Issues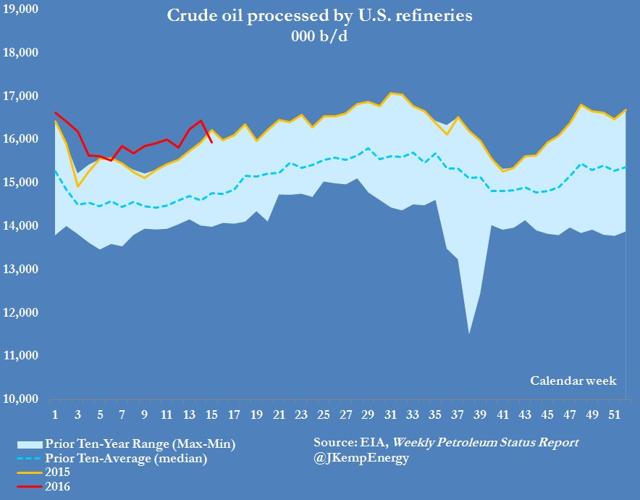 Refinery throughput saw a dip last week of ~2% impacting 490,000 b/d of refining throughput. This combined with higher imports explains the reason why we saw inventory build of 6.6 million.
Refinery issues have been temporary and will return to normal with this summer possibly seeing the highest throughput on record. This bodes well for oil fundamentals as gasoline demand remains strong and will likely lead to sustainable draws in inventory.
Concluding Thoughts
This week once again reinforced the positive fundamental shifts in the oil market. As U.S. production continues to decrease and demand strong, the resulting factor is a tighter market which is pushing prices higher. We have been bullish on oil and energy equities and remain confident that oil will be $60 by year end.
For investors who want deeper insights into our research, please consider subscribing to HFI's premium service. We look forward to you joining a group of like-minded investors.
Disclosure: I am/we are long GENGF.
I wrote this article myself, and it expresses my own opinions. I am not receiving compensation for it (other than from Seeking Alpha). I have no business relationship with any company whose stock is mentioned in this article.