February 4th, 2016 is a day for LinkedIn (LNKD) investors to forget. On that date, the company delivered a pitiful 2016 outlook that sent the stock tumbling 44% by the end of the February 5th trading day. After a timid dead-cat bounce in the second half of February and March, the stock was again trading at $109.69 by Tuesday's close, near a 52-week low.
Here's the harsh reality: if you bought LNKD in July 2011 and held it until today, you are now breaking even on your investment, while the S&P 500 has been up 56% since then.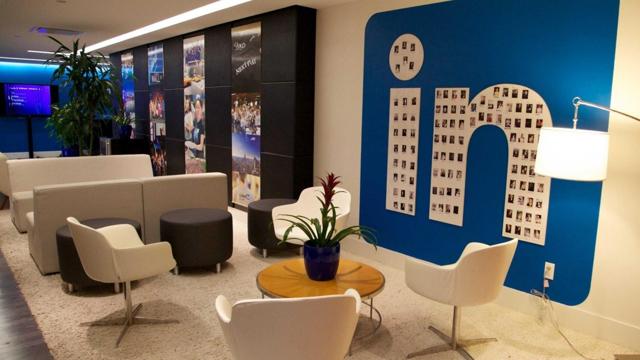 Source: Business Insider
I'm usually drawn to large drops in stock prices because, when driven by irrational fear, they often uncover value not easy to come by in an efficient market. But even after the sharp pullback, LNKD today still trades at a 2016 forward non-GAAP P/E of 34.3x, close to Facebook's (NASDAQ:FB) 35.2x, and ahead of Twitter's (NYSE:TWTR) 30.1x.
So the question remains: could LNKD be looked at as a value play after losing more than half its market value since the beginning of the year? Or is the stock, trading on par with the likes of FB from a P/E perspective, still too expensive?

Source: DM Martins Research, using data from Company Reports and Yahoo Finance
Breaking the bond with MAU
First, let's look at what I believe makes LinkedIn an interesting player in the internet space. Revenue diversification is one of the company's key strengths. In the social media world, the great majority of revenue dollars come from advertisers, which makes web traffic such a crucial driver of sales. Like it or not, Facebook is still a one-trick pony - even if it has recently been moving to diversify its business model with product launches such as Oculus Rift. Advertising represents 97% of Facebook's revenues and 90% of Twitter's. When ad revenues play such an important role, social media companies live and die by the clicks of their MAU (monthly average user) base.
LinkedIn, on the other hand, collects payments from a wider variety of stakeholders. The company produces only 21% of its revenues from advertising. The other 79% comes from employers and recruiters (Talent Solutions, 62%) and platform users (Premium Subscriptions, 17%). For this reason alone, I am much less concerned about LinkedIn's stalling MAU base growth than I am Twitter's, for example (see graph below).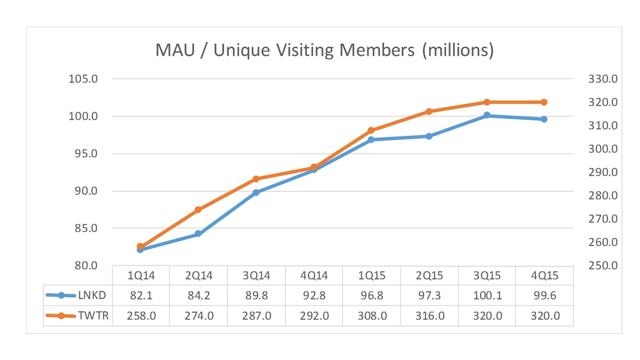 Source: DM Martins Research, using data from SEC filings
So even with the inevitable and natural trend of user growth deceleration that every social media company has started to or will eventually face, I believe LinkedIn has better monetization alternatives than its peers. To be clear, this is not a vote of confidence in what LinkedIn will actually be able to deliver. Instead, I am merely pointing out that the opportunity exists and, if management is able to execute, revenue diversification could play in LinkedIn's favor in the future. The graph below illustrates the evolution of the company's year-over-year MAU and revenue growth.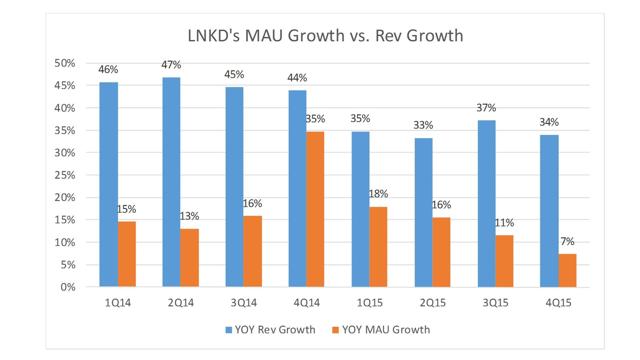 Source: DM Martins Research, using data from SEC filings and Yahoo Finance
But the real problem is not the top line
My concerns do not revolve so much around LinkedIn's revenue expansion, even though management has guided FY16 growth to a modest 21%, at the mid-point of their guidance. I worry much more about costs and margins.
Last February, CFO Steven Sordello made the argument that LinkedIn is "still very clearly in investment mode, investing in a focused way around what is working." This is understandable, as the company integrates Lynda into its portfolio and experiments with different monetization strategies. However, LinkedIn's operating expenses as a percentage of revenues have been increasing consistently since at least 2011.

Source: DM Martins Research, using data from SEC filings
Notice, on the left table, how GAAP opex represented a whopping 77% of revenues in 2015, compared to 71.2% in 2011. In every opex category (sales and marketing, product development, and even general and administrative), costs as a percentage of revenues in 2015 exceeded the same metric in 2011, sometimes by a wide margin. In other words, LinkedIn has managed to grow opex at a faster pace than the already-impressive 55% average annual growth rate of revenues over the past five years. Is it fair to give the company the benefit of being in "investment mode" for this long?
Not many analysts and investors seem to be paying close enough attention to this trend. One of the reasons may be the SBC (share-based compensation) effect. Most conversations regarding LinkedIn's results are based on non-GAAP data, which excludes the impact of SBC. Notice, on the right table above, how SBC opex costs as a percentage of revenues have skyrocketed from 5.4% in 2011 to 15.4% in 2015.
Unless I consider SBC a real expense of the business, I risk not seeing that LinkedIn has done a poor job at managing its costs over what I consider to be a very long stretch of time. And yes, SBC is a real expense for two main reasons: (1) it dilutes the company's equity, as can be seen on the table below; and (2) if or when not paid, SBC needs to be replaced with other forms of compensation that would appear in non-GAAP metrics, such as salaries or cash bonuses.

Source: DM Martins Research, using data compiled from SEC filings
LNKD's adjusted EBITDA margin in 2015, including SBC, was only 9%. For 2016, the mid-point of the guidance suggests that margins including SBC should improve by only 16 bps. On an ex-SBC basis, the 26% margin achieved in 2015 should improve only modestly to 26.5% next year, still far from the company's long-term pre-IPO EBITDA margin goal of 30%-plus.
But I can't even start talking about non-GAAP EBITDA margins without taking into account the dilution effect of SBC. For as long as LinkedIn keeps issuing stock at the current pace to cover payroll, any profit gain achieved will need to be split among an increasing number of shareholders.
In summary
I am a big fan of LinkedIn as a professional network platform. I respect LinkedIn's management team for its relentless efforts to make its strategy work. Despite weak 2016 guidance, I do not believe LinkedIn will lose too much top-line torque in the long run, because I see revenue diversification as a powerful tool that many other internet and social media players do not have at their disposal.
However, LinkedIn has shown little diligence in keeping operating expenses under check. Playing the "investment for growth" card for this long may no longer work to attract investors in the future. While management may have provided conservative 2016 guidance, which could set the stock up for small rallies around earnings seasons this year, I remain bearish on the stock in the longer term. I believe LNKD will only be able to truly rebound in a more meaningful way once it scales back its costs and starts delivering results.
Disclosure: I/we have no positions in any stocks mentioned, and no plans to initiate any positions within the next 72 hours.
I wrote this article myself, and it expresses my own opinions. I am not receiving compensation for it (other than from Seeking Alpha). I have no business relationship with any company whose stock is mentioned in this article.