In 2014, hedge fund manager David Einhorn was one of the speakers at the Sohn Investment Conference. There he reveled that he has a short position in athenahealth (NASDAQ:ATHN), a provider of cloud-based services and mobile applications for the medicine industry.
Since that time, the stock of athenahealth didn't perform much and was bouncing between $115 and $150 per share. In the third quarter of 2015, it used earnings results as a momentum and broke the $150 resistance, but later fell below that level. In his letter to shareholders, David Einhorn said that the stock unjustifiably took off after the results, and he still believes in his short thesis.

Source: Greenlight Capital Q3 2015 letter to shareholders
However, after the letter, athenahealth reported positive results for Q4 and FY15, in which, as the management said, the company accomplished several key goals and sees continuous growth in 2016. So, who's right in this story? It's hard to say.
Is it worth investing in athenahealth?
"I invented swag" - Jay Z
To understand athenahealth, you need to understand its leadership. Since 1997, when the company was founded, Co-Founder Jonathan Bush remains the Chairman and CEO. He managed to stay this long in power thanks to his charisma and marketing skills. Last year, Bush and his team created Let Doctors be Doctors campaign and made a video cover on Jay Z and Alicia Keys' song, Empire State of Mind, to encourage doctors and care teams to speak about the problems of electronic health record (EHR) systems. Greenlight Capital also made a compilation of Bush's most memorable moments, where he compares his company to giants like Amazon (NASDAQ:AMZN), Facebook (NASDAQ:FB), salesforce.com (NYSE:CRM) and others. And while athenahealth's advertisements are popular in the healthcare community, its business might raise some questions for others.
Essentially, what athenahealth does is it outsources for the doctors and healthcare teams different medical tasks like billing, care coordination, patient engagement, etc. It takes advantage of the system that is constantly changing rules, adds regulations and makes it harder for doctors to perform their main duties and rather spend more time on the bureaucratic things. So that's why they outsource this stuff to companies like athenahealth. As David Einhorn said in his presentation:
Essentially, we see it as a business process outsourcer, with a very promotional CEO.
One of the red flags for investing in athenahealth for Einhorn was that the company failed to achieve its bookings growth of 30% in 2014. In the Q4 2014 earnings call, Jonathan Bush said:
During 2014, we did not get there. We did great, we did huge but we didn't get all the way to that 30% growth rate that we wanted… enterprise fell short.
But Einhorn's presentation was released last year, and since that time a lot of things have changed. In 2015, athenahealth had more than 30% bookings growth. As Bush said:
Our bookings goal for 2015 was slightly over 40%, and we did not meet that number, but we did meet the target that we set sort of aspirationally year-over-year of 30%. So, our total bookings grew over 30%. We had tried to stretch a little bit further last year just to see how far down the road we could run, but 30% still feels like the right achievable number for us.
So, does that mean that athenahealth is a healthy growing company? No, not exactly.
While athenahealth makes a substantial amount of revenue each year, its net income is very small. And to sustain the current level of growth, the company raises more debt, which is currently bigger than its cash:

Source: gurufocus
The company's major ratios suggest that it's not in a good shape. With a P/E of 385.46 and P/B of 9.67, athenahealth sits in an overpriced category and will need more resources to improve its financials. But with operating margin of -0.44% and net margin of 1.52%, it would be very hard for the management to improve its current condition.
Its stock also stays at the same levels as it was in 2015: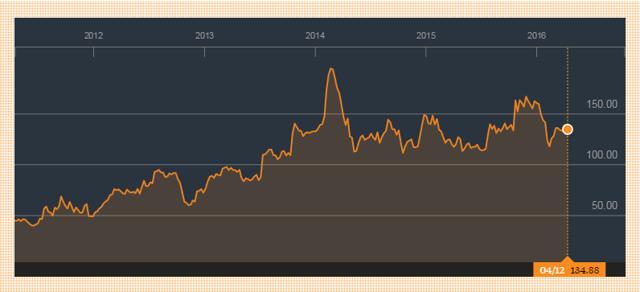 Also, at the Q&A sessions, Bush and other executives never provided detailed answers about incentives, guidance on D&A, etc., and rather used a lot of jargon and clichés to make the point. And in the video, dated back in 2014, when Bush was talking about 30% organic growth, he said next:
What I said last year was ... 'Well how did you get to your 30% organic growth?' I said I dunno. I got it out of my ass.
And this raises the question of whether athenahealth is a perspective business enterprise or just a company that is run by talented salespeople with a lot of marketing skills. Perhaps David Einhorn is right about his short thesis and that the stock is unfairly trading this high, considering the high ratios. But at the same time, athenahealth delivered a strong bookings growth last year and its stock wasn't affected by the volatility that occurred in 2015 that sent a lot of companies' stocks lower.
I don't have position at the moment and would rather wait for the next earnings call that is scheduled later this month to find out whether the company has potential to grow higher or fall apart.
Disclosure: I/we have no positions in any stocks mentioned, and no plans to initiate any positions within the next 72 hours.
I wrote this article myself, and it expresses my own opinions. I am not receiving compensation for it (other than from Seeking Alpha). I have no business relationship with any company whose stock is mentioned in this article.