Overview
In this series of articles, I will be taking a look at various industry sectors and selecting what I believe will be outperforming stocks for 2016. For the first article, I reviewed the Airline industry and made my top picks for this year. In this article, I will review the following Media and Publishing stocks:
Step 1
The first step I took to narrow down the list of possible options was to look at the earnings over the past five years of these stocks within the industry sector. I removed any stock that had negative or flat (less than 2%) earnings growth over the past five years. The stocks included:
AMC Entertainment - 77.6% decline
Cablevision Systems - 55% decline
Carmike Cinemas - 103% decline
Charter Communications - current negative earnings
Clear Channel Outdoor - 527% decline
DISH Network - 48.2% decline
Dreamworks Animation - 132% decline
Global Eagle - current negative earnings
Imax - 18.9% decline
John Wiley & Sons - 4.94% decline
Liberty Global PLC Global Group - 191% decline
Liberty Media - 98.3% decline
Live Nation Entertainment - 862% decline
Loral Space - 112% decline
Manchester United - 46.4% decline
MDC Partners - current negative earnings
Media General - 128% decline
Meredith - 10.8% decline
National CineMedia - 67.6% decline
Newscorp - 123% decline
Scripps - 385% decline
Starz - 62.7% decline
Tegna - 5.67% decline
Time - 532% decline
Tribune Media - 173% decline
World Wrestling Entertainment - 45.6% decline
Step 2
I then took the list of remaining stocks and checked the revenue growth of each over the past two years. I am removing any stocks that had flat revenue growth (less than 2%) or a decline in revenue over the past two years. These stocks include:
CBS - 0.54% increase
Lions Gate Entertainment - 16.3% decline
MSG Networks - 25.7% decline
New York Times - 0.49% decline
Regal Entertainment - 0.16% increase
Shaw Communications - 12% decline
Thomson Reuters - 3.54% decline
Twenty-First Century Fox - 13.6% decline
Viacom - 4.65% decline
Step 3
My next move was to examine the trailing PEG ratio of each of the remaining stocks. I removed any stock that had a PEG ratio over 1.5 to focus more specifically on fairly valued/undervalued stocks. These stocks included:
Comcast - 14.57x
Discovery Communications - 1.62x
Hemisphere Media Group - 1.74x
Omnicom Group - 5.02x
Sirius XM Holdings - 3.51x
Time Warner Cable - 663x
Time Warner - 2.24x
Step 4
The next set of data I reviewed was the Fundamental Score for each of the ten remaining stocks. This score is calculated by YCharts and I have found it to be very useful when researching investment options. More details on this score can be found here.
| | Fundamental Score |
| --- | --- |
| AMC Networks | 7 |
| Cinemark Holdings | 9 |
| Crown Media Holdings | 5 |
| Entravision Communications | 4 |
| Gray Television | 6 |
| Interpublic Group | 9 |
| New Media Investment | 6 |
| Nexstar Broadcasting | 5 |
| Scholastic | 8 |
| Sinclair Broadcast Group | 6 |
| Walt Disney | 9 |
To determine the best stocks for 2016, I'm only taking into consideration stocks that have values of 7 or higher for its fundamental score. Doing this left me with the following remaining stocks:
AMC Networks
Cinemark Holdings
Interpublic Group
Scholastic
Walt Disney
Step 5
My next step was to look at the book value of each company and to remove any stock that has seen a decrease in its book value over the past five years. Only one of the remaining stocks saw a decline in book value during this time period.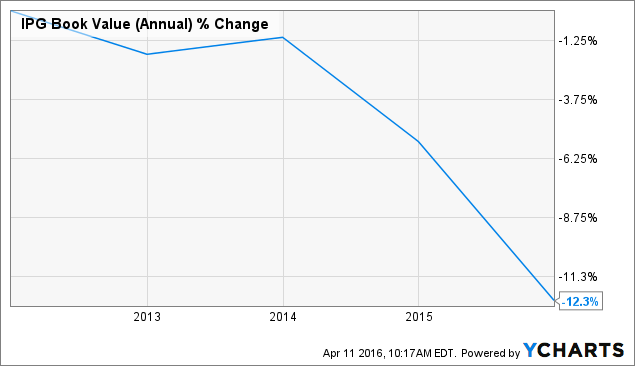 IPG Book Value (Annual) data by YCharts
Step 6
I then looked at the remaining stocks and only included stocks with earnings yields of 5% or higher in my final analysis. Each of the four remaining stocks all had earnings yields higher than 5%.
Step 7
My next step was to look closer at each stock remaining that passed all previous criteria and determine whether or not there were any reasons to eliminate them as great stock candidates for 2016. In doing so, I reviewed the financials of each company, the most recent quarterly report transcripts, and searched for any news items that warranted concern.
AMC Networks
For its last quarter, the company posted an increase in earnings per share from $1.06 to $1.23 and a 11.4% rise in revenue compared to the same period last year. Full year results were impressive as well with an 18.6% increase in revenue and earnings per share growing from $3.63 to $5.01.
Even though the company has seen solid recent quarterly performance, the stock has not performed well so far this year, dropping over 12% YTD. I believe this has created a good entry point for investors, as I feel that the company will continue seeing strong results moving forward. The company generates revenue growth largely through ad revenue and I don't see any reason why this will stop in the near future. Although, the company's flagship program The Walking Dead has not seen terrific numbers this past season, the viewership was still good and the company's new shows Better Call Saul, Fear the Walking Dead, and Into the Badlands all performed well too. With new programs set to launch this year and next (Feed The Beast, Preacher, and The Terror), I believe AMC will continue to maintain significant revenue and bottom line growth.
Cinemark Holdings
For its last quarter, the company posted a 7.2% increase in revenue and an increase in earnings per share from $0.41 to $0.50 compared to the same period last year. Full year results for the theater company saw an 8.6% increase in revenue and a 12.6% increase in net income.
The company plans to open 13 new theatres (115 screens throughout 2016), but I don't believe this will be enough to turn around the ongoing trend of poor performance for this stock. Looking at the charts below, you can see that Cinemark has widely underperformed other theatre stocks such as AMC, Carmike, and Regal Entertainment YTD and over the past one and five year periods.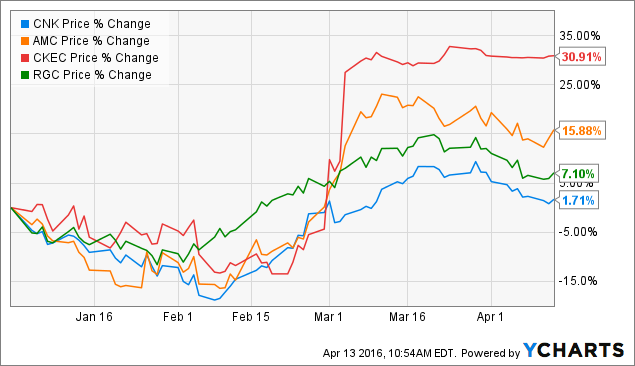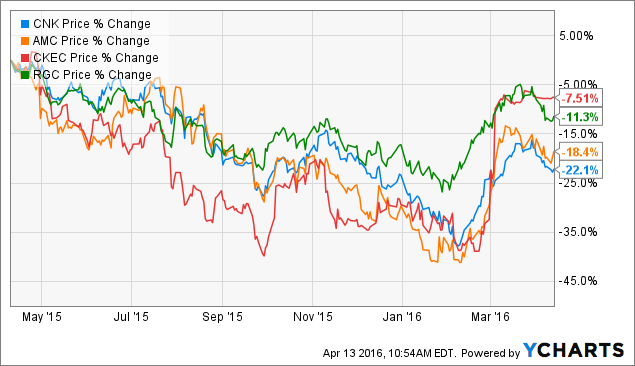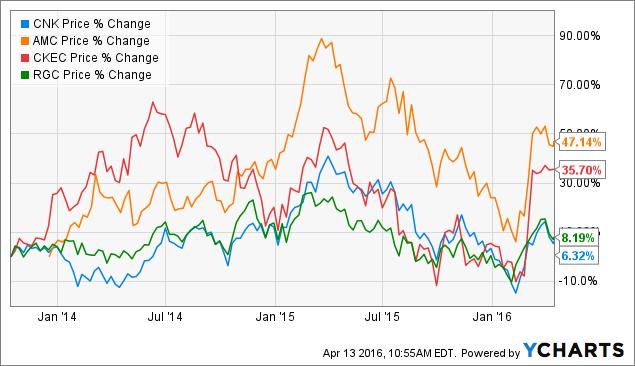 Scholastic
For its last quarter, the company posted a $0.06 loss in earnings per share compared to a $0.59 loss in earnings per share for the same period last year. The company's revenue increased by 5.6%.
The company has improved its balance sheet and is making investments that will help sustain future growth and improve margins; however, the short term impact of these investments are going to lower free cash flow, which has been announced through the company's revised guidance.
Because of this, I don't see the stock seeing significant gains this year. The stock is currently down 3.40% YTD and 5.96% over the past year. While I do believe Scholastic at its current price is a decent long term buy, I don't believe the stock will see much appreciation throughout the remainder of 2016.
Walt Disney
For its last quarter, the company posted an increase in earnings per share from $1.27 to $1.63 and a 13.8% increase in revenue compared to the same period last year. Performance was improved across the board with increases in revenue for each operating segment: Media Networks, Parks & Resorts, Studio Entertainment, and Consumer Products & Interactive Media.
ESPN remains a concern, but I don't believe it is the huge worry that has been priced into the stock. Studio Entertainment has been huge for the company (operating income up 86% for that division) and that should continue with several big movies opening this year and next (Jungle Book, Captain America: Civil War, Alice Through The Looking Glass, BFG, Pete's Dragon, Doctor Strange, Rogue One, Beauty and the Beast, Guardians of the Galaxy sequel, Pirates of the Caribbean sequel, Thor sequel, and the next Star Wars episode).
Conclusion
Out of this group of stocks, my top picks are AMC Networks and Disney. Both companies have strong brands that have created significant revenue and earnings growth. I believe the power of these brands will continue to provide growth potential well into 2017 for both companies as both new and existing properties bring revenue potential moving forward.
While both companies are heavily reliant on key segments of their business (ad revenue for AMC and studio entertainment for Disney), both companies are diversified both in terms of product and geographically. I believe both stocks are strong investment opportunities for both short term and long term investors.
As always, I suggest individual investors perform their own research before making any investment decisions.
Disclosure: I/we have no positions in any stocks mentioned, and no plans to initiate any positions within the next 72 hours.
I wrote this article myself, and it expresses my own opinions. I am not receiving compensation for it (other than from Seeking Alpha). I have no business relationship with any company whose stock is mentioned in this article.