Have you gotten bored waiting for the traditional dividend stocks to come down to more reasonable levels? Have the low interest rate blues?
Well, today we are going to look at a few "under the radar" dividend stocks that pay solid dividends and have interesting stories.
Adding a few of these to your portfolio can give you a higher yield, exposure to different sectors where traditional dividend stocks aren't found, and so much more.
1. "Farmer Mac"(NYSE:AGM)
By now many of you know the story of the fall of Fannie Mae and Freddie Mac and their subsequent takeover by the Federal Government, the bailout, and on and on.
But little did you know that there is another one of these odd Government Sponsored Enterprises (GSEs) out there that is not mired in lawsuits from shareholders and other such nonsense.
The Federal Agricultural Mortgage Corporation, or Farmer Mac, is a organization charted in 1988 by the US government. Its goal is to provide a secondary market, and therefore more liquidity, for a variety of agricultural based loans such as mortgages for farmland and housing.
To be fair, the stock of Farmer Mac got absolutely hammered along with everything else during the Financial Crisis, but a bit of research shows that this was mostly due to their investments in the failing Fannie and Freddie as well as due to investments in Lehman Brothers.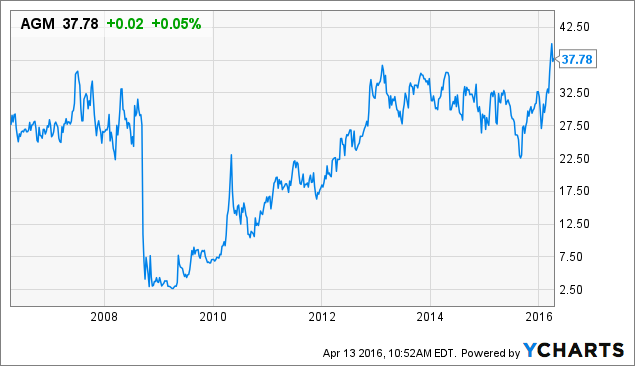 AGM data by YCharts
In an intriguing and somewhat ironic turn of events, Farmer Mac's 2008 bailout was accomplished with the help of the Farm Credit System. Farmer Mac was originally formed as part of a larger plan to bail out the Farm Credit System in the late 80s. Oh, how things have come full circle.
Size, dividend raises, and other concerns
Farmer Mac is a very small company with a market cap of only $331 million. That being said, their latest dividend raise announced in early March 2016 shot the dividend up over 63%.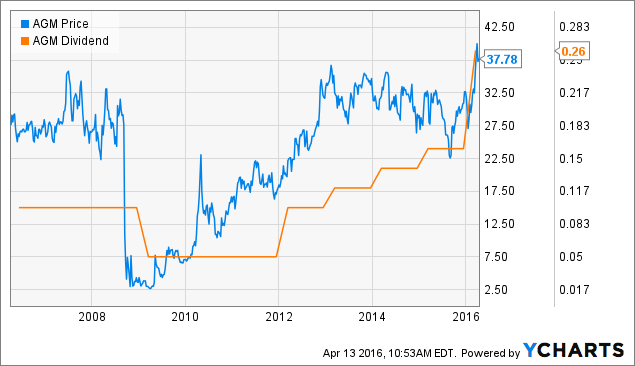 AGM data by YCharts
As you might expect, Farmer Mac trades like the rest of the financial sector at just under 9 times earnings.
Farmer Mac's business model is certainly not the most crystal clear or easy to understand in the world, but savvy investors might find real value here. One thing I like is that the majority of the loans the company is involved with are first lien; that is, they are secured by an actual physical property, structure, or land.
Some of their loan programs have never had any credit losses, and from my research I think they would have done fine in 2008 if they weren't so intertwined with the financial system, something that no firm escaped no matter how conservatively run.
Aircastle (NYSE:AYR)

This is another interesting company with a unique business model. Aircastle is primarily a buyer of commercial aircraft that they then rent out. They also have a small part of their business that is involved in buying the debt or other securities secured by or somehow related to the aviation industry.
An easy comparison might be to a Real Estate Investment Trust. Many REITS have a simple business model that involves owning real estate and renting it out, hopefully above the cost of running the property as well as the cost to finance it. Aircastle does essentially the same thing, but with aircraft.
A company like this is highly cyclical. When times are good, as they appear to be now, 99% of their fleet is leased and they are able to make profits on the plans they unload due to high demand.
When times are bad they have to lease their plans out for much lower rates or pay to have them stored somewhere if they can't get them rented. Also, similar to many oil companies recently, they might have to unload assets at fire sale prices just to stay afloat.
Conservative finances and contingency planning is key for a company like this because they know that the bad times will come and there is no excuse not to be ready.
How did the company hold up in the crisis?
Looking at their results during the dark times, it appears Aircastle held up well. Fleet utilization for 2008 stayed up at 99% and only fell a tad to 98% during 2009. They managed to stay profitable every quarter despite their insanely high depreciation costs.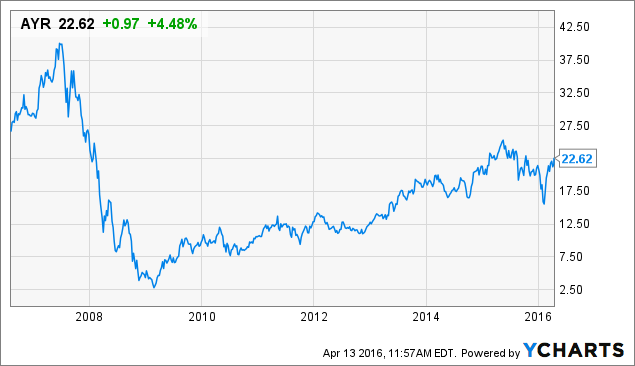 AYR data by YCharts
The company essentially has two main costs: depreciation and interest. The business model requires very little human capital to run it but does require a tremendous amount of debt to finance the plane purchases, and since their only asset is airplanes, they have to depreciate these according to GAAP. Take a look at their 2008-09 financials below to see for yourself.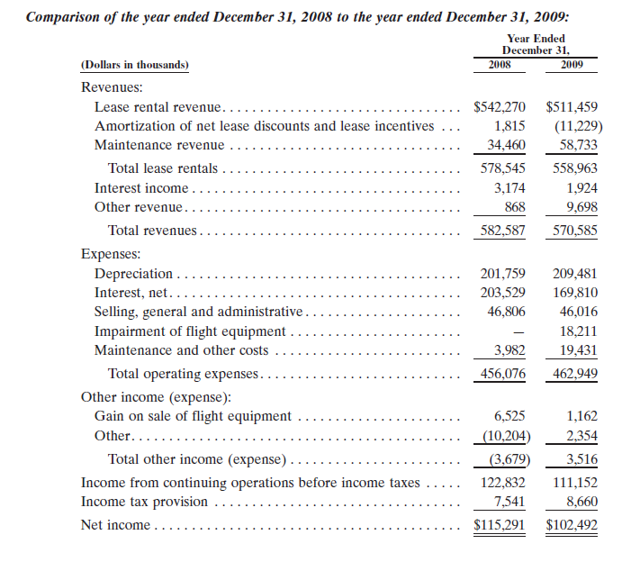 The company had free cash flow of ~$800 million last year and trades at a market cap of $1.68 billion. The P/E is at 14.22 TTM or 9.3 next year's estimates, although I suggest disregarding this because cash flow is a much better indicator of this type of company, again similar to REITs.
5-year dividend growth rate is 19.04% and the yield is 4.50%. In a low interest rate world, I believe Aircastle is one of the best ideas I can find to get an above-average yield that is safe and not from a pass through entity type company.
The biggest threat to Aircastle is interest rates, but more specifically credit market availability and action in general. If the company cannot borrow on reasonable terms to purchase aircraft, then they cannot grow their asset base.
Tailored Brands, Inc.(NYSE:TLRD)

Now you might not recognize this name, but you will once I tell you that this is the former Men's Warehouse. After buying Jos. A. Bank, they adopted the Tailored Brands name.
The action in this stock as of late has been downright, well, hideous. If small children are reading this article with you (I doubt that), be sure to cover their eyes before you look at the following chart.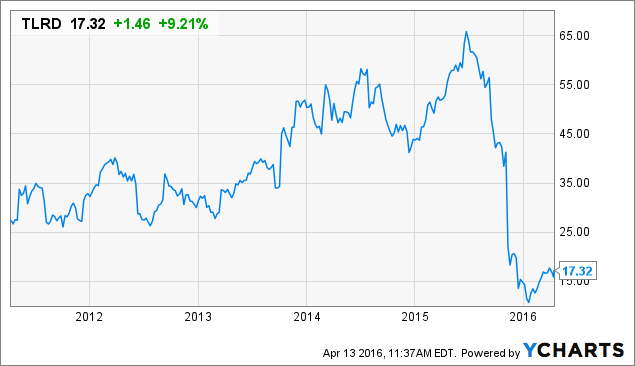 TLRD data by YCharts
Now sure, the Jos. A. Bank merger was by all accounts an abject failure. The combined company quickly abolished some of the key drivers that made the original Jos. A. Bank so successful, like their famous yearly promotions.
Sure, the company is closing 250 stores, including some of their failed outlet concepts, some Jos. A. Bank stores, and many MW Tux locations.
My thesis here, despite all the doom and gloom, is this is one of those classic get paid and wait scenarios. Even if the company's EPS falls so far that it only earns a $1 in 2016, against prior estimates of around $1.92, its dividend of $.72 is still well covered.
An additional catalyst is that the company will be running up against laughably easy comparisons soon. Jos. A. Bank's same store sales declined a whopping 35% in December 2015, so it will not be very hard to beat the numbers the next quarter or even on a year over year basis once the bar is set so low.
What makes me believe in the turnaround is that the core Men's Warehouse brand is doing excellent as it always has.
I think this turnaround is a matter of fixing what went wrong with the merger and refocusing on the joint entities' core strengths. The store closings will help focus management on just a few brands and store concepts.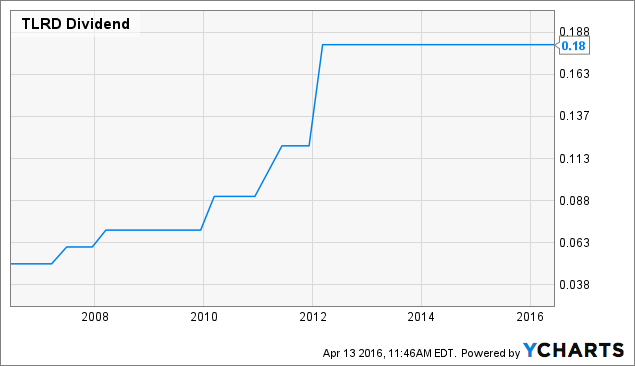 TLRD Dividend data by YCharts
A solid core business, rock bottom expectations going forward, and a safely covered 4.5% yield make for a healthy dividend stock that could see some big price action to the upside in 2016 along with a solid dividend increase if earnings start moving in the right direction.
Conclusion
I believe the three stocks mentioned above present an opportunity for dividend investors in places that might be under-followed when compared to the popular mega caps like Coca Cola (NYSE:KO) and Procter & Gamble (NYSE:PG).
Going away from the safe zone of stocks with 30+ analysts covering them can be scary at first, but a bit of fundamental research and healthy skepticism can reveal some great opportunities to add to your portfolio.
If you liked this article and want to read more from my, please take a second to scroll back to the top and hit the "follow" button. This helps me distribute my work more efficiently to intelligent investors like yourself.
Disclosure: I/we have no positions in any stocks mentioned, and no plans to initiate any positions within the next 72 hours.
I wrote this article myself, and it expresses my own opinions. I am not receiving compensation for it (other than from Seeking Alpha). I have no business relationship with any company whose stock is mentioned in this article.