As soon as I heard the news Peabody Energy (NYSE: BTU) filed for bankruptcy I knew why Kinder Morgan's (NYSE: KMI) stock traded lower Wednesday. My first thought was 'when it rains it pours.' Which implies when something good or bad occurs, it usually occurs more than once and often within a short period of time. Even so, after digging into the mess the maxim 'things are never as bad as they seem' came to mind. Let me explain.
What happened?
Wednesday's bankruptcy filing of Peabody Energy was news, yet comes as no surprise to anyone familiar with the situation. The bankruptcy comes after a failed effort earlier this year to use its Australian unit to avoid chapter 11 and restructure out of court, the WSJ reports. BTU had hoped to avoid a sale of most of its U.S. mining assets by raising new debt that was secured by the Australian subsidiary and another unit unencumbered by company guarantees, but the deal fell apart when BTU failed to complete the sale of its New Mexico and Colorado coal mines.
My take
Nonetheless, the headline weighed on Kinder Morgan. The company stated in January its remaining exposure to coal was solely with BTU and amounts to approximately $30 million in total EBITDA. Even though this may sound like really bad news to some, I see the total exposure as immaterial. BTU is filing for chapter 11 reorganization so the company may be able to pay some of the $30 million after going through the process. Nevertheless, I expect more of these announcements from upstream customers to come. The extreme drop in oil prices has created dozens of oil & gas "zombies." These are companies that have just enough money to pay interest on high debt levels, but not enough to drill new wells to replace current production. US production is down 500K barrels a day currently, and is expected to continue decelerating. Currently, Moody's rates approximately two dozen oil & gas companies at BBB-. As these companies go bust, Kinder Morgan's revenues could be negatively affected.
The good news
The one saving grace for Kinder Morgan is the fact a lot of the bad news must already be priced in. Even though a spate of negative events has transpired recently, the stock has held up amazingly well at current levels. There is something to be said for that.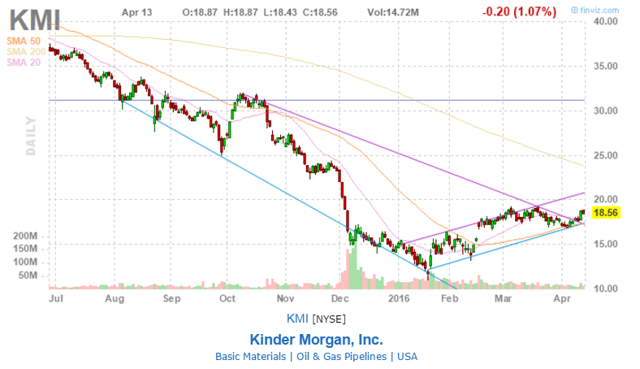 Source: Finviz.com
Conclusion
Taking the recent developments into consideration, a lot of the bad news may already be priced in. Even so, I feel there are dividend growth and income investment alternatives out there right now yielding 3 percent with much less risk. On top of this, I do not see much of a chance for capital appreciation near term with the heavy debt load weighing the stock down. I maintain my avoid recommendation on the stock. Nevertheless, with the steady flow of negative headlines in recent days, the point of maximum pessimism may soon be at hand. This will be the time to buy.
Final Thought
Those are my thoughts on the subject, I look forward to reading yours. If you thought this article was informative, please click on the follow button at the top of the article. I would greatly appreciate it. Please use this information as a starting point for your own due diligence.
Disclosure: I/we have no positions in any stocks mentioned, and no plans to initiate any positions within the next 72 hours.
I wrote this article myself, and it expresses my own opinions. I am not receiving compensation for it (other than from Seeking Alpha). I have no business relationship with any company whose stock is mentioned in this article.
Editor's Note: This article covers one or more stocks trading at less than $1 per share and/or with less than a $100 million market cap. Please be aware of the risks associated with these stocks.