Intel (NASDAQ:INTC) has long had a thing for robots. Its 2010 Super Bowl ad famously starred a sensitive robot named Jeffrey, and in 2014, the company and startup Tressen Robotics showed off Jimmy, a 3D-printed robot that's powered by Intel's Edison IoT development board. More recently, CEO Brian Krzanich rolled onto the stage at CES on a Segway hoverboard that transforms into a butler robot.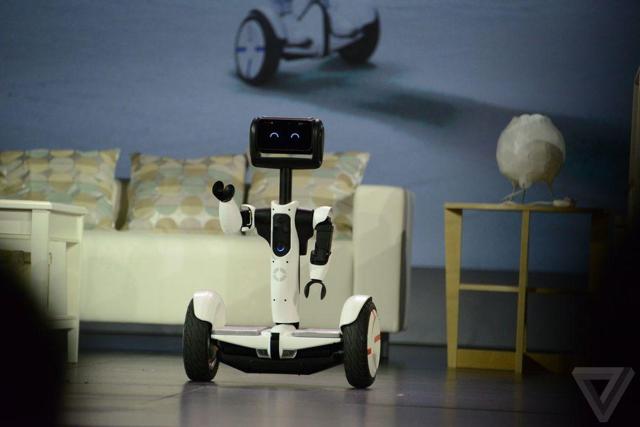 An Intel-powered hoverboard/butler robot. Source: The Verge.
Now, Intel is furthering its efforts to create a robot hardware ecosystem by launching a $249 Robotic Development Kit at its Shenzhen Intel Developer Forum. Each kit contains a board sporting an Atom x5 CPU, 4Gb of DRAM, 32GB of storage, and USB and Ethernet ports. It also features an Intel RealSense camera that helps robots navigate and detect objects - the camera can detect motion up to 13 feet away, and capture 1080p infrared/depth imagery at up to 30fps (VGA can be done at 60 fps). Ubuntu Linux and Windows 10 are supported.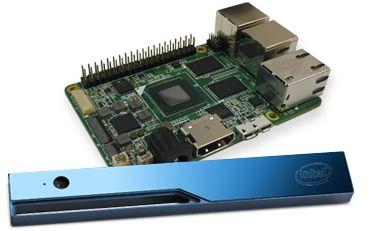 Intel's Robotic Development Kit
Also launching: The Aero Kit, declared to be a "ready-to-fly developer platform" for creating drones. It contains an Atom x7 CPU, DDR3L DRAM, and flash memory, and runs on Linux. No word yet on pricing.
Intel had already made several moves in recent quarters indicating it wants to be a big player in the drone SoC market. Among them: Investing over $60M in Chinese drone maker Yuneec and buying German drone maker Ascending Technologies, with plans to pair its autopilot software and algorithms with RealSense's depth-sensing technology. The company has also partnered with AT&T to test how 4G connections work for drones beyond the line of sight or at high altitudes.
Long-term forecasts for both the robotics and drone markets need to be taken with a spoonful of salt - if you don't believe me, just see old smartphone OS forecasts. But it's clear both markets are growing quickly - and will likely continue doing so over the next few years - as consumer/business awareness grows and advances in processing power, sensors, and navigation software (often driven by A.I./machine learning algorithms that get smarter as more data is taken in) yield big improvements in what inexpensive robots and drones can deliver.
Kleiner Perkins estimated last May consumer drone shipments would total 4.3M in 2015 (up 167% Y/Y). Tractica estimates consumer robot shipments will rise from 6.6M in 2015 to 31.2M in 2020, and "commercial-grade" drone shipments from 80K in 2015 to over 2.6M in 2025. ABI Research sees consumer drone shipments hitting 90M in 2025.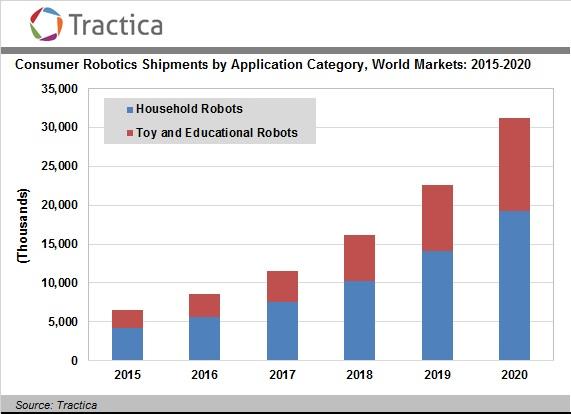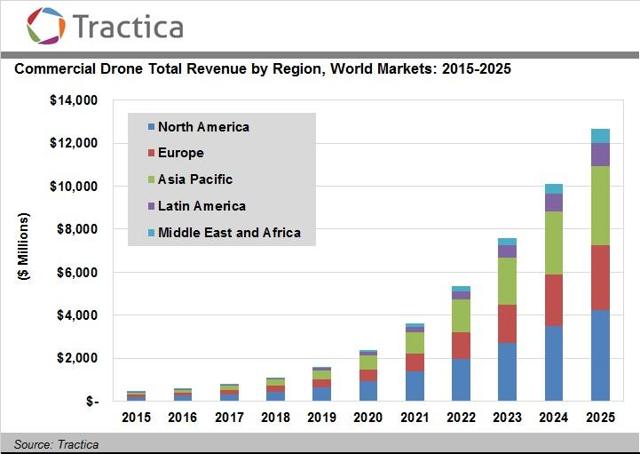 Intel, of course, isn't alone in going after these markets. Video processor developer Ambarella (NASDAQ:AMBA) is the early leader in the consumer drone SoC space - the company argues its video algorithms give it a power consumption and resource efficiency edge over rival SoCs - and Qualcomm (NASDAQ:QCOM) and Nvidia (NASDAQ:NVDA) are respectively targeting the market via their Snapdragon Flight and Jetson TX1 platforms. And (as Liliputing observes) the Robotic Development Kit has some things in common with Raspberry Pi, an inexpensive set of computing boards that are powered by ARM-based (NASDAQ:ARMH) CPUs and aimed in part at IoT products.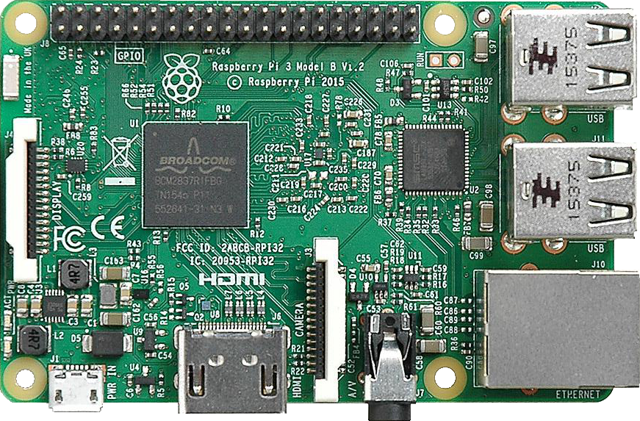 The $35 Raspberry Pi 3 computing board. Powered by an ARM-based Broadcom SoC.
That said, Intel is putting in the effort needed to grab a healthy chunk of the robot and drone SoC markets. Moreover, the company's reference platforms stand to increase its chip content within hardware it lands design wins for, and RealSense gives it a way to differentiate from ARM-based rivals.
Disclosure: I/we have no positions in any stocks mentioned, and no plans to initiate any positions within the next 72 hours. I wrote this article myself, and it expresses my own opinions. I am not receiving compensation for it. I have no business relationship with any company whose stock is mentioned in this article.