Many investors get sold on the compounding power of dividend growth investing. Being able to reinvest your dividends back into the dividend Aristocrats has being an excellent and proven way for building wealth in the financial markets. However with the S&P 500 (NYSEARCA:SPY) approaching its all-time highs which it will probably blast through in the not too distant future, we have to ask the question whether this strategy is the best strategy going forward for our investment goals. Personally I believe it depends on the risk profile, age and financial goals of the investor. Nevertheless here are some ideas and insights I think you should watch out for if you are running a dividend growth portfolio as I think they will serve you well in your investment exploits in the next few years
First let's look at the chart of Coke over the last 10-15 years. On the chart we can see that since the year 2000 returns have been very poor especially from the years 2000 to 2010. In fact if one had invested $20,000 in the year 2000 and reinvested all dividends, it only would have amounted to just over $24,000 by 2010 which would have given an annualized return of just over 2%. Not a great result from one of the most popular dividend aristocrats which has raised its dividend for more than 50 years now. Furthermore the payout ratio is currently 83.1% which may mean higher debt levels going forward because I don't see Coke slowing down its dividend growth rates any time soon.
So the payout ratio (spiked to 83% in 2015) is dividends divided by net income and in the last 5 Years dividends have gone from $0.94 in 2011 to $1.32 last year. However net income has gone from $8.5 billion in 2011 to $7.3 billion last year so basically this is not sustainable in the long run. Either net income will have to thrive in the near future or dividend increases will not be able to keep going as fast as they have been going up to now. The stock currently has an earnings multiple of 28 is which is a full eight points above its five-year average. Therefore I would be taking some capital off the table in Coke and redeploying it elsewhere in my opinion.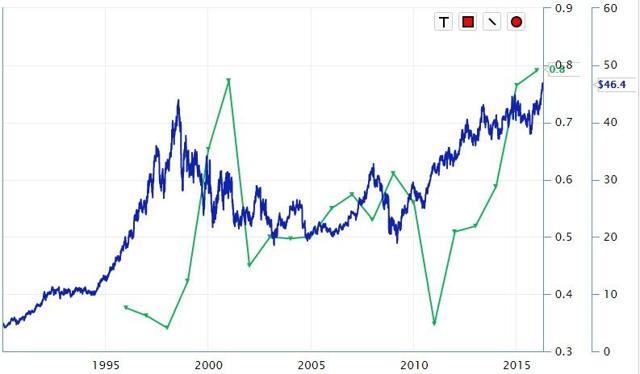 Source : Guru Focus
This is exactly what we do in our elevation portfolio. We buy undervalued stocks or sectors and then sell them when we believe they are getting over valued. When we look at our own portfolio (see bottom of article), Hess (NYSE:HES) is really the only position at present that is on my radar for taking profits. Why? Well crude oil broke through its 200 day moving average yesterday which consequently has resulted in an oversold signal on the 5 day RSI indicator. HESS is an upstream play that has outperformed our other energy position as of late (Chevron (NYSE:CVX) but I believe Chevron's fundamentals are much stronger especially if oil begins to consolidate from here.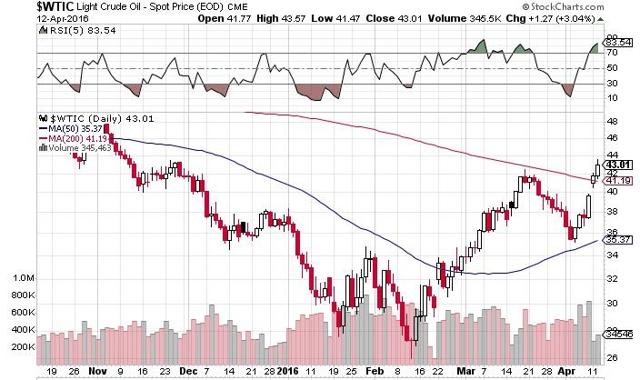 Let's look at 2 dividend aristocrats presently in our portfolio, IBM (NYSE:IBM) and Wal-Mart (NYSE:WMT) and do a study on their returns over the last 10 years assuming all dividends were re-invested. Both charts below show the earnings multiples of both underlyings over the last 10 years. All data is taken from Morning Star


Now let's just say that we stared out with $50k ($25k in both underlyings) and held both IBM and WMT for the last 10 years and re-invested all dividends. The $50k would have ballooned to just over $101k over the 10 year period. However after reviewing the price to earnings charts above, Its apparent that the time to buy IBM was 2008, WMT was 2011 and IBM again in 2014. Therefore just for comparison sake, let's assume we held both underlyings until 2009, then went all in on IBM until 2011, then invested the full balance into Wal-Mart until 2014 before finally having the full portfolio invested in IBM over the last 2 years. Now our final figure comes out at $158,555 which is a huge difference from the diversified long term strategy.
What's the takeaway? Don't get attached to your positions because of "past" performance. Be prepared to lose every single position you have. When the market presents you with fire sales on proven stocks, have the courage to become less diversified in your portfolio by doubling down on the most attractive stocks. This should enable you reach your income goals much faster.
To sum up, I believe crude oil has started a brand new daily cycle, which should move the needle for commodities. However there may be consolidation in the near term so we may sell Hess shortly. I'm going to be adding a few good dividend and growth stocks to the elevation portfolio over the next several weeks, when I see value. It's imperative that they are not correlated and all don't have similar valuations, to ensure that income is brought in every month, which, over time, will increase our share count. Follow along by pressing the "Follow" button above.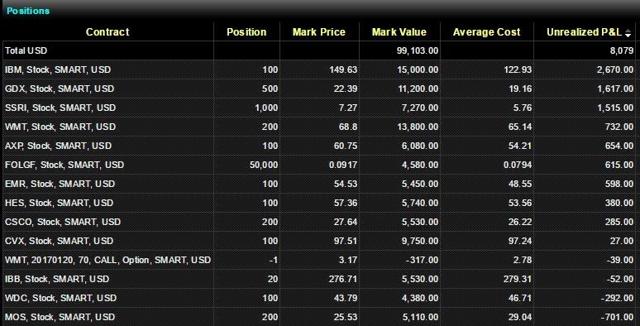 Disclosure: I am/we are long CSCO, IBM, AXP, SSRI, GDX, MOS, WDC, FOLGF, HES, WMT, CVX, IBB, EMR.
I wrote this article myself, and it expresses my own opinions. I am not receiving compensation for it (other than from Seeking Alpha). I have no business relationship with any company whose stock is mentioned in this article.