The negatives facing American Express (NYSE:AXP) are very well known and in a previous article I went over three of them. The company has had plenty of trouble navigating its way through the changing payment landscape but still has strong financials. Its loss of key corporate partnerships, high fees and upcoming debt obligations are having a very negative impact on the business, especially when looking at the share price. Lost in all the negativity are three positives that I feel make the company a compelling contrarian investment.
Right off the bat many investors will cite the great Warren Buffett's 15% stake in AXP via Berkshire Hathaway (NYSE:BRK.B). Having Uncle Warren on board is a nice comfort, especially with such a large stake. He is not one to sell a company and has recently voiced his support for the business and its leadership. I have to ask myself if Mr. Buffett would choose to allocate 40% of his company's capital into AmEx at this point. His initial purchase in 1963 was made amidst a huge scandal that American Express was involved in and presented a classic value opportunity. The company had a huge moat and at the time they owned 60% of the market share for Traveler's Cheques even while charging a higher fee than their competitors. While Warren Buffett offers an enticing reason to invest, there are three other positives that don't involve Berkshire Hathaway, let's take a look at those.
1. Business Model
American Express is often compared to Visa (NYSE:V) and MasterCard (NYSE:MA). These comparisons are inaccurate, AmEx operates a "closed loop" model whereas V and MA operate via "open loop." An easy way to differentiate the two systems is by viewing AmEx as a bank whereas MasterCard and Visa require a partnership with a bank to issue their cards. This means that Visa and MasterCard are not responsible for the balance on the cards and are not exposed to the loan risk. Visa and MasterCard generate their revenue from transaction volume; American Express generates their revenue primarily from the amount of the transaction and fees charged to the merchant.
So why is this a strength for American Express? The true benefit of this system is that it allows AmEx to analyze the data from their customers' transactions and target them with specific rewards and drive them to certain merchants. American Express relies heavily on an affluent cardholder base (more later on that) and part of what attracts these clients is the very customized rewards and incentives directed towards them. By targeting clients with specific rewards and directing them to certain merchants, the relationship becomes mutually beneficial for all parties.
This closed-loop system allows AmEx to generate incredible amounts of revenue with fewer issued cards. In 2015, AXP generated $32.8 billion compared to Visa's $14.1 billion. They generated more than double the revenue while having only 9.1% of the market share compared to Visa's 51.8%.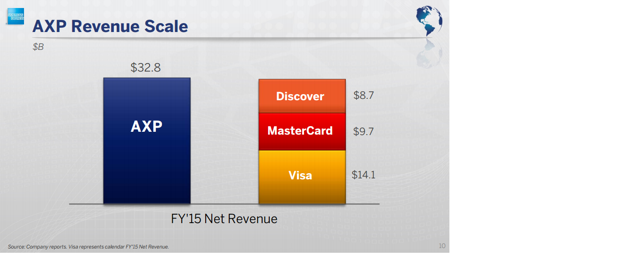 American Express still commands incredible pricing power and is a cash-generating machine. They're able to generate such outstanding revenue due to their affluent client base.
2. Affluent Clientele
The most impressive metric when looking at the average AmEx cardholder is the average FICO score of 764. A year ago the average FICO score in America was 695, this above average clientele also spends more with their cards.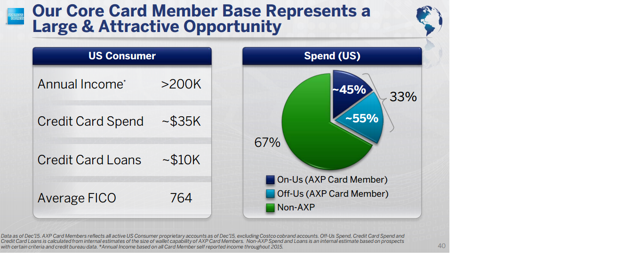 This is also where their exposure to the loans comes into play. With a more stable client base, the risk they face is much less. With a safer loan portfolio and a higher spending client base, they are able to generate a significant amount of revenue from interest income. In 2015, the company brought in $7.5 billion, almost as much as Discover (NYSE:DFS) brought in total.
Their above average cardholder base and higher spend amounts will continue to generate incredible amounts of revenue for the company. When we combine their closed-loop system with their cardholders we have an appealing business. The most appealing aspect of the business to me right now is the valuation.
3. Valuation
The company dropped 26% in 2015 and 2016 is not any more promising with shares down 10% so far. As I write this, shares are trading intra-day at ~$62. This price gives us a forward P/E of just 11 and a P/B of 2.8. There is still the possibility that AXP is a classic value trap but if the company can execute and maintain their EPS growth YoY this is a great value. The company is expected to generate $5.43 in EPS for 2016 for a 1% growth and 2017 is estimated to be 4%. The below FAST Graph paints a more vivid picture.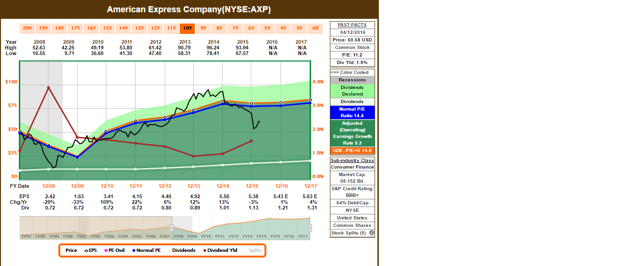 If EPS can continue to rise, we have an undervalued business. While right now it does appear that is a big "if" the company still generates an incredible amount of FCF ($9.6 billion in 2015) and has many levers it can pull to continue to grow.
Conclusion
American Express remains a very interesting company, especially given the negativity surrounding it. The negatives are well known, yet the company still has many strengths. One thing that I have found discouraging is the response from management on the performance of the company. On the other hand, the company is still growing and generating incredible amounts of cash so management may not feel like there is much to address. I will wait until after they report for the quarter on the 20th to make my decision on whether or not to invest. If they can beat estimates I feel like the company will begin to recoup some of those losses. I look forward to the discussion in the comments section and I appreciate you all for reading.
Disclosure: I/we have no positions in any stocks mentioned, and no plans to initiate any positions within the next 72 hours.
I wrote this article myself, and it expresses my own opinions. I am not receiving compensation for it (other than from Seeking Alpha). I have no business relationship with any company whose stock is mentioned in this article.