Welcome to the April 14th edition of Seeking Alpha's Eye on Tech newsletter.
Noteworthy Tech News
Seagate issues FQ3 warning, reports seeing desktop and enterprise weakness - That Seagate (NASDAQ:STX) is seeing PC weakness isn't a shocker in the wake of Gartner and IDC's Q1 data. But the fact that it also reported sales of mission-critical enterprise drives were worse than expected - and that sales of cloud-friendly 8TB nearline drives were strong - suggests SSDs and cloud storage are eating away at the mission-critical enterprise business at a rapid pace.
Also, Seagate's guidance for gross margin to drop to 23% (even further below the company's 27-32% target range) indicates the company is having trouble keeping margins steady as sales keep declining and the enterprise/data center mix shifts more towards lower-margin nearline drives from higher-margin mission-critical drives.
The warning helps affirm Western Digital's (NYSE:WDC) logic in acquiring NAND flash/SSD vendor SanDisk (SNDK), as well as previously making several smaller flash/SSD acquisitions. SanDisk and partner Toshiba (OTCPK:TOSBF) will face stiff competition in coming years from Samsung (OTC:SSNLF) in the 3D NAND market and from Intel (NASDAQ:INTC)/Micron (NASDAQ:MU) in both 3D NAND and next-gen memory. But given the long-term headwinds facing the hard drive industry, and that SSD makers buying their NAND from third parties (like Seagate) will likely be at a cost disadvantage, Western arguably had little choice but to make a big expansion into flash.
GoPro hires senior Apple designer Danny Coster to be VP of Design - A big hire for GoPro (NASDAQ:GPRO). Coster has been one of Jony Ive's top lieutenants within Apple's vaunted industrial design team - perhaps he wanted an Ive-like role for himself - and should help GoPro revamp the Hero camera line, whose designs have been criticized as stale/dated. He's also going to be working on software/services design and could help GoPro's drone hardware stand out in a market where China's DJI Innovations (DJI) looms large.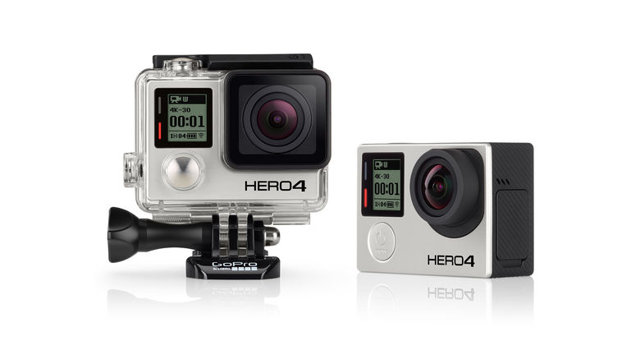 GoPro's Hero4 Black camera. Future camera designs created by Danny Coster's team could look very different.
However, hardware design hasn't been GoPo's biggest problem, as its action camera sales nosedived in recent quarters. Rather, it has been a relatively small addressable market for sports/action cameras - the company was hoping the cube-shaped Hero Session would meaningfully expand the market, but it didn't - and a slow upgrade rate among existing owners, many of whom have either decided their older GoPros are good enough or that they simply don't use the cameras enough to justify an upgrade.
Intel's new president criticizes company in leaked memo - Recently hired Intel President Murthy Renduchintala, in a memo obtained by The Oregonian: "Over the last three months I have conducted numerous project reviews with our execution teams, and there is a clear trend that has emerged in these reviews - a lack of product/customer focus in execution that is creating schedule and competitiveness gaps in our products."
He proposes dealing with the issue by creating three-person teams from across Intel business functions for six key products, with team members returning to their original roles after product development is finished. He sees the approach acting as a model for future product R&D.
The memo leak follows news that Intel's PC/mobile chip division and IoT division chiefs are leaving, and a report that the VP in charge of the company's wireless modem/radio chip engineering is stepping down. Chip analyst Linley Gwennap argued in December that Renduchintala and other recent Intel hires could bring about a culture change, leading the company to lose its "not invented here" mindset and go after new markets more quickly.
Intel launches robot and drone development platforms - Intel is looking to win over hardware OEMs in the fast-growing markets for inexpensive robots and drones with its Robotic Development Kit and Aero Kit. Both are powered by low-cost Atom CPUs. Intel's RealSense cameras - they enable navigation and object-detection - could help the platforms stand out amid fierce competition from rivals supplying ARM-based processors/platforms.
Tony Fadell defends Google's Nest Labs; Sergey Brin defends Verily - Following a slew of reports and accusations of employee discontent, mismanagement, and heavy turnover at Nest Labs, Nest CEO Tony Fadell defended the smart thermostat/home camera provider's performance at a Google (GOOG, GOOGL) all-hands meeting. "I don't believe specifically - that those articles represent our culture, represent our work ethic, represent the respect we have for each other inside the team... Every single year our annual sales have gone up nicely ... We have not had any slowdown in our sales growth. It continues. And, in fact, this quarter we actually beat our numbers."
Meanwhile, Google co-founder Sergey Brin defended the Verily life sciences unit, which has seen CEO Andy Conrad come under fire. "[I]n Verily's case, despite a handful of examples, their attrition rate is below Google's and Alphabet's as a whole... as whole our Other Bets are not yet profitable, but some of them are, including Verily on a cash basis and increasingly so."
Head of Google's ATAP advanced R&D lab leaves to head a Facebook R&D lab - Regina Dugan, once the head of the DoD's DARPA advanced research unit, is leaving Google to head a Facebook (NASDAQ:FB) R&D unit named Building 8. Facebook says the unit will work on technologies that "fluidly blend physical and digital worlds"; Mark Zuckerberg promises "hundreds of people and hundreds of millions of dollars" will be committed to the group.
Dugan: "Building 8 is an opportunity to do what I love most... tech infused with a sense of our humanity. Audacious science delivered at scale in products that feel almost magic." Under her, Google's ATAP was responsible for projects such as Ara, an initiative for creating phones whose various parts can be swapped out, and Tango, a solution that uses smartphones to create 3D maps of a user's surroundings.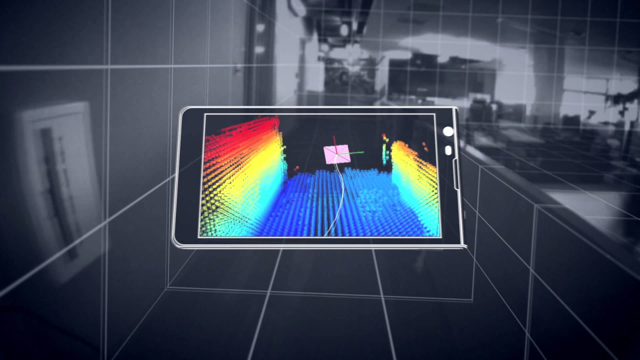 Project Tango, one of the initiatives Google's ATAP unit worked on under Regina Dugan.
Facebook unveils gigabit wireless solution for urban/high-traffic areas - Facebook's Terragraph technology uses the high-frequency 60GHz band - it provides a lot of bandwidth, but doesn't have huge range and isn't great at penetrating walls - to deliver bi-directional speeds of up to 1Gbps from nodes up to 250 meters away, along with total node capacity of 8.4Gbps (maybe 12.8Gbps in the future). A San Jose trial is planned.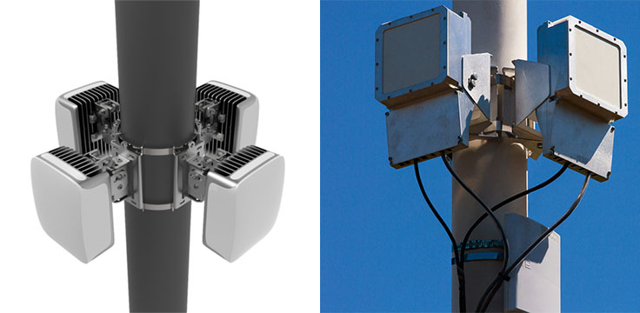 Facebook's Terragraph gigabit wireless nodes.
Also unveiled: Aries, a prototype 96-antenna base station that (by using MIMO technology) supports 24 simultaneous streams on the same spectrum, and is declared by Facebook to provide "incredibly efficient usage of spectrum and energy." Facebook, which considers expanding global web access a major long-term goal - see also its Aquila solar-powered drone and Free Basics service - sees potential for Aries to connect rural communities from city centers.
Facebook typically open-sources its data center/telecom hardware designs. If deployed on a large scale, Terragraph could pose a challenge to service provider Wi-Fi equipment vendors such as Cisco (NASDAQ:CSCO), Ericsson (NASDAQ:ERIC), Hewlett Packard Enterprise (NYSE:HPE) and Ruckus Wireless (RKUS, due to be acquired by Brocade Communication Systems (NASDAQ:BRCD)). Of course, large-scale deployment will require chipmakers and PC/mobile device OEMs throwing their weight behind the technology.
Over the long run, Aries could be a threat to mobile infrastructure providers such as Ericsson (OTC:ERIAF) and Nokia (NYSE:NOK). But it's also possible the technology gets built into 5G standards.
Facebook using A.I. to automatically identify/tag people in videos - The company is also working on automatically captioning videos. The efforts aren't too surprising given Facebook's long-standing efforts to use A.I. for automatic photo-tagging. But (like last week's Facebook Live revamp and video hub/search launch) they do further reinforce video's importance to the company's efforts to improve its core platform, as well as lift flagging user sharing.
Amazon launches Kindle Oasis e-reader, prices it a steep $290 - Amazon's (NASDAQ:AMZN) Kindle Oasis respectively costs $90 and $170 more than the Kindle Voyage and Paperwhite. As indicated by a recent leak, it comes with a leather rechargeable battery case and is quite thin (just 3.4mm thick) outside of the end a user is supposed to hold. It also has 60% more LEDs than the Voyage.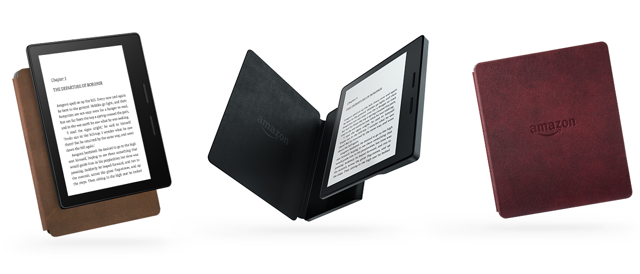 Amazon's $290 Kindle Oasis, rechargeable case and all.
As the following eMarketer estimates show, there are plenty of e-reader users still out there. But the base isn't growing rapidly.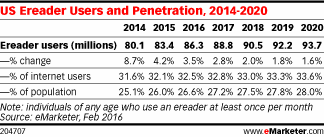 ZDNet: Microsoft prepping cloud business-management software for SMBs - The software, codenamed Madiera, will reportedly run on Azure and be partly built on Microsoft's (NASDAQ:MSFT) Dynamics NAV ERP software platforms for SMBs. One more cloud app for a company that has released many.
NetSuite (NYSE:N), currently a top player in the SMB cloud ERP software market, is among the firms Microsoft's cloud ERP apps compete against. The company's total Dynamics business app revenue (on-premise and cloud) was up 11% Y/Y in calendar Q4 in constant currency.
China's state-backed Tsinghua Unigroup discloses 6% stake in Lattice Semi - In spite of growing U.S. regulatory hostility towards Chinese investment/M&A transactions involving U.S. (and sometimes non-U.S.) tech companies, China appears intent on buying more U.S. chip assets. In this case, Tsinghua might be hoping Lattice Semi's (NASDAQ:LSCC) size - the company is currently worth just $756M, and its sales are a small fraction of those of larger FPGA vendors Altera (now owned by Intel) and Xilinx (NASDAQ:XLNX) - will allow it to strike a deal.
Notable Tech Commentary and Reports
Wired: The iPad Pro's Killer Display Proves Pixels Ain't Everything - Goes over how the 9.7" iPad Pro's use of two color gamuts and a new kind of anti-reflective coating yields an LCD display far superior to the iPad Air 2's, and arguably competitive with OLEDs, which Apple (NASDAQ:AAPL) is rumored to be looking to adopt in 2017 or 2018. The Pro's display could be a sign of things to come for the iPhone 7.
Fitbit sees several bullish analyst notes ahead of earnings - Raymond James' Tavis McCourt, responsible for one of the notes, stated a survey found 36% of respondents saying they own a wearable, and another 50% expecting to own one in the future. Within the former group, nearly half said they own a Fitbit (NYSE:FIT). Earlier this week, Morgan Stanley reported positive checks for Fitbit's newly launched Blaze smartwatch and Alta fitness band.
Ben Thompson: Facebook, Phones, and Phonebooks - In the wake of The Information's report that sharing of user-generated content is declining on Facebook, Thompson makes the case that Facebook should be content to let platforms such as Snapchat (CHAT) handle a larger portion of personal sharing/updates, and instead act as a more public-facing social platform and utility. "In the U.S. the phone book is Facebook and the phone is Snapchat... This isn't a bad thing. Indeed, it is an incredibly valuable thing: Facebook's status as a utility is exactly what makes the company so valuable. It has the data to target advertising and the feed in which to place it..."
Bloomberg: Digital Media Is A Slippery Pyramid - A look at the challenges online media firms face maintaining high traffic levels amid fierce competition, constantly shifting user tastes, and Google and Facebook's power as gatekeepers that are able to change the rules (i.e., their algorithms) on the fly.
Palo Alto Networks beats Cisco and Check Point in Piper security hardware survey - "Cisco and Check Point (NASDAQ:CHKP) have consistently been called out by resellers as the vendors most frequently losing to Palo Alto (NYSE:PANW)," writes Piper's Andrew Nowinski. He adds Q1 was the first quarter during which resellers cited unified threat management ("UTM") hardware vendor Fortinet (NASDAQ:FTNT) as competition for Palo Alto. Palo Alto's next-gen firewalls have been taking share from traditional firewall vendors Cisco, Check Point, and Juniper (NYSE:JNPR), and have squared off at times against Fortinet's hardware.
Disclosure: I/we have no positions in any stocks mentioned, and no plans to initiate any positions within the next 72 hours.
I wrote this article myself, and it expresses my own opinions. I am not receiving compensation for it. I have no business relationship with any company whose stock is mentioned in this article.