Intro
Wesco Aircraft Holdings (NYSE:WAIR), a distributor for the aerospace industry, has achieved consistent top-line growth since going public in 2009. The growth outlook for the industry is positive thanks to record airline profitability that has fueled record backlog for OEM customers. At a forward P/E ratio of 12 Wesco looks interesting, particularly given that last year's reported loss was the result of a large goodwill impairment charge. But beware. Earnings have not kept pace with revenues as the company has increased its use of contract agreements, which carry unfavorable terms and lower margins, to make revenues more predictable. All signs point to a continuation in this trend, which will further erode profitability. The firm's reliance on contracts also hurts working capital efficiency and cash flow quality. The steady decline in the ratio of OCF to net income (which was 0.53 in 2014) suggests that management is manipulating earnings. Thus, while WAIR may continue to grow revenues, it will not be the type of quality growth that is backed by earnings and cash flows.
Business
Wesco Aircraft Holdings provides distribution and supply chain management services for the aerospace industry. The company distributes c-class hardware (49% of sales), chemicals (40%), electronic components (7%), bearings (2%), and machined parts (2%). Its supply chain services include QA, kitting, just-in-time (JIT) supply chain management, and aftermarket services. Sales to OEM manufacturers for the commercial, military, and general aviation sectors account for 75% of Wesco's revenues, but the firm also serves industrial customers in the auto, energy, pharma, and electronics sectors.
Wesco generates 74% of its sales through contracts and 26% through ad-hoc channels. With contracts, Wesco delivers products on an as-needed basis to manufacturers. These agreements last 3-5 years and require WAIR to carry specific inventory items that match the forecasted demands of its customers. Ad-hoc sales typically involve orders for smaller quantities that are serviced out of WAIR's existing inventory. Sales through this channel are much less predictable, and usually arise when customers experience unanticipated product shortages. To reduce revenue volatility, WAIR is transitioning customers to contracts. In 2015, contracts accounted for 74% of sales, compared to 60% in 2013.
Sacrificing Profitability for Stability
Contracts make purchase volumes easier to forecast, but they also lead to lower margins, carry more risk, and are less efficient compared to Ad-hoc arrangements. Wesco's customers have significant bargaining power when negotiating contracts. The OEM industry is relatively concentrated among a small number of major players who are using the threat of backward integration to secure favorable terms (in 2014 WAIR had to offer discounts to extend a contract with a prominent buyer). These contracts are fixed price agreements with no guarantee of future sales volumes, and require WAIR to make significant inventory investments in advance to ensure that it can deliver products on time. Customers can opt out at any time, without a penalty, leaving WAIR to shoulder the risk of buying too much inventory and spending more than necessary on new hires.
Wesco has too much capital tied up in receivables and inventory as a result of its reliance on contracts. As contract sales have increased, receivables turnover has steadily declined because WAIR has offered longer payment periods to secure new contracts (Figure 1). The inventory reserve has increased significantly each year as excess inventory has accumulated. Charges to COGS as a result of write-downs were $95.1mil, $17.7 mil, and $8.7 mil over the past three years. $33 mil of last year's reserve increase was the result of a terminated contract for which the inventory had no other use. This illustrates the risks inherent in contract arrangements, and why inventory write-downs cannot be dismissed as non-recurring when analyzing underlying earnings. The company's rising inventory turnover is therefore illusory: Rather than reflecting improved efficiency it is the result of write-downs (which increase COGS and decrease the value of inventory).
Figure 1: Receivables Turnover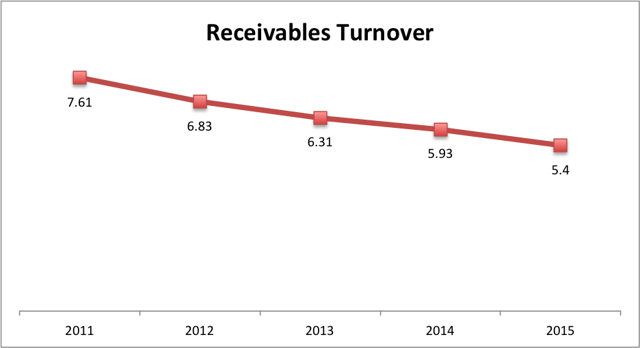 In September 2015, WAIR changed the way it estimates the inventory reserve for its hardware inventory. According to management, the new methodology "reflects the evolution of Wesco's business from a distributor buying and selling products for fluctuating demand to an integrated supply chain services provider whose customer demand is largely planned in advance with long-term contracts and forecast consumption."
In other words, it is congruent with the company's shift to contract arrangements. But rather than minimize inventory risk, it simply shifts it. With ad-hoc arrangements, the risk is that unpredictable demand patterns leads to an under or over-estimation of the inventory reserve and less accurate financial statements. The risk with contracts is that the company is more likely to carry excess or obsolete inventory. The change in methodology forced management to add an addition $43.8mil to its inventory reserve in 2015.
Questionable Accounting and Poor Cash Flow Quality
The company's cash flow quality has deteriorated as contract sales have increased. This reflects low working capital efficiency and reported earnings that are largely the result of accruals. There is a big divergence between reported earnings and underlying cash flow because the company purchases far more inventory than it sells and is taking longer to collect on its receivables. The ratio of operating cash flow to net income has trended down over the past five years, and was well below 1 in 2014. The fact that accruals account for a significant portion of earnings makes it more likely that management is manipulating results.
Figure 2: OCF/NI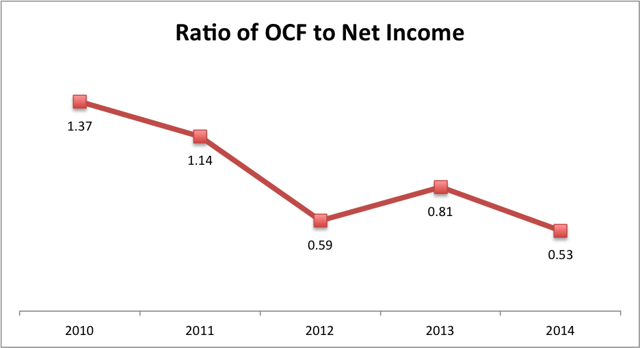 In the latest 10-K management reported a "material weakness in internal control over financial reporting". In other words, the company did not do enough to ensure that its financial statements were prepared and reported accurately. This occurred as a result of the Haas acquisition in 2014, which saw many of the senior accountants leave. Last year Wesco reported a $263.8 mil goodwill impairment charge for its North America Hardware unit. Firms often overstate the value of goodwill, which isn't amortized, in order to minimize the incremental costs that arise due to fair value adjustments when consolidating the target company's financials. Analysts are sometimes quick to dismiss impairment charges because they are non-cash expenses and tend not to recur. But it is important to consider what impairment symbolizes. In the case of North America Hardware, it means that management overestimated the future economic benefit the asset would provide, and paid too much for it. Management's claim that this adjustment was "long overdue" should not calm investors to the idea that past results already reflect some of the impact of these subdued expectations. Instead, it should make you wonder why management did not (or chose not to) recognize this earlier.
Looking Forward
We anticipate that Wesco will experience added margin pressure as it transitions more customers to contracts. This implies the company will require more top line growth to increase earnings and cash flows. The demand outlook from commercial customers is still strong, but cuts to the US defense budget present a headwind: 39% of Wesco's sales are related to military aircraft. Earnings and cash flow quality are low, and the firm's weak internal controls reinforce our view that management is overstating earnings. For investors seeking exposure to the aerospace sector, there are better options.
Disclosure: I/we have no positions in any stocks mentioned, and no plans to initiate any positions within the next 72 hours.
I wrote this article myself, and it expresses my own opinions. I am not receiving compensation for it (other than from Seeking Alpha). I have no business relationship with any company whose stock is mentioned in this article.